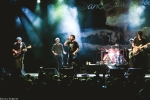 Oh hey NQ Live, you're looking mighty fine! It's been a while since I've stepped in but someone's invested money and done up the place so it does look pretty damn sexy. It feels like a venue rather than a dingy basement and with plenty of tours stopping off it's good that it's being recognised.
Violet are first up and unfortunately I'm able to conjure up an idea of their sound based on the fact that there are two frontmen; clean and screamed vocals. There was more energy from the screamer, initially inviting the sparse crowd forward and the uptempo rhythm of some of the songs really pushed him to give off more movement. The clean singer was incredibly melismatic in a very, dare I say it, Jonny Craig fashion. It's clear the band are influenced by Dance Gavin Dance and this type of American metalcore/screamo etc, further proven by the bassist wearing an A Lot Like Birds tee. The piano samples come through and do make a welcome change what I expected, reminding more so of Chiodos. I can't feel much of a connection and it all does feel very similar and they don't seem to be on the same level as the other bands on the bill. Still, this is the exact tour they need to be on to find the fans they're after; their new release should see them come back a lot stronger. (2.5/5)
On comes Affiance and before they leap into action, frontman Dennis Tvrdik explains that he blew out his voice a few nights before so will be singing an octave lower, joking "I hope you like dragon metal!" and for me, it works! I hadn't heard them before but fair play to Dennis for sticking at it. He gives a brilliant performance, vocally and visually (and after listening to their stuff I can imagine he's even better when 100%). In true frontman fashion he's projecting himself at those making up the front section of the crowd, full of eyes and deeper than usual vocals. He definitely carries the persona well and does in fact get a circle pit when he asks for one, surprising due to the few numbers at the front and lack of response from the crowd so far tonight.
For people new to the band, such as myself, a cover of 'The Final Countdown' by Journey was surely a highlight. Technically each member of the band is brilliant, but it's Dennid Tyrdik who steals the set. His humour with the crowd "give it up for yourselves for tea" and such interactions, as well as his stage presence, really do set them above Violet for what a support band should be, setting up the rest of the night splendidly. Later on I realise that they remind me of Killswitch Engage. Who are they supporting later this year in the US? Bingo; you've got a new fan here gentleman. (3.5/5)
Musically proficient and the tightest of tonight's bands, Closure In Moscow really are something else. I have been a fan for a while but I was incredibly pleased when they humbly crept on stage and serenaded the crowd into 'A Night At The Spleen' and realised they're as good, if not better, than on record. It's their first time in Manchester and Christopher de Cinque is such a brilliant frontman. He hits every note with such precision and effortless control, whilst also managing to contain his chaos and channeling it into being a frontman. Considering only about a third of the crowd here knew Closure In Moscow before the show they're certainly leaving a last impression. Christopher is affectionate towards us "northern monkeys" but I am slightly disappointed that 'Kissing Cousins' isn't played. Still, I've waited a long time and I'm more than pleased. Incredibly underrated bunch of musicians. New album 'Pink Lemonade' should, sorry, will change that. (4/5)
Dance Gavin Dance have been through a horde of members throughout their existence but for the first time in a long time there's a minimum of half of the band's original members onstage. New clean vocalist Tilian Pearson (formerly of labelmates Tides Of Man) manages all of the band's back catalogue well, doing himself justice on the high standard left from the wonderful Kurt Travis and the infamous Jonny Craig. Opening with 'Tree Village' is a brilliant example of everything that Dance Gavin Dance throw into their songs; post hardcore, rock, screamo and even a bit of jazz and funk, especially on the album 'Happiness' that this song resides.
It's great to see Jon Mess on the "unclean" vocals but he's incredibly static for a frontman. He does have a superb voice for this kind of stuff; I imagine a throat lined with sandpaper and bricks. I do feel as a frontman if he's engaged with the crowd instead of staring at the back wall their entire performance would've been received much better.
The new songs from the bands as yet untitled 5th studio album are reminiscent of their self titled album and that's certainly a good thing and a strong direction to take. 'Carl Baker' is a highlight for Tilian though as he really does go for it and it keeps me in high hopes that the band will be able to keep a stable clean vocal presence for the forseeable future. 'Rock Solid' is a brilliant track and the dual vocalists blasting out their lungs at the same time works well and creates a solid timbre that's forced on the crowd.
An encore is very tamely presented as the band finish off with 'Lemon Meringue Tie' and receives the best reaction of the night. A well presented set and choice of songs, but not enough presence that the band have been known to have in the past. (3.5/5)
3.5/5
Words by Mikey Brown (@MikeyMiracle)