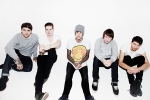 For a band that has played bigger venues in Manchester before, tonight's gig at Manchester Academy 2 is a surprising one and in high demand. With tickets selling out in a matter of hours after being put on sale it's a full packed venue tonight. Even before any bands come on stage, the venue is hot and sweaty, and will no doubt get even hotter.
With issues getting into the gig and the massive queues I unfortunately didn't get to see the first support band Empress, but from what I heard from other fans they played an impressive set.
Up next are Japan's latest electro-metal export Crossfaith who come out fast and certainly heavy. 'Monolith' starts the set off with some heavy riffs and fast drums, and as the electro flourishes come through, it sets the place off. Playing through songs off of their 'Zion' EP, the band brings some fast electro metal and cause numerous circle pits and walls of death. The crowd go extra crazy when a cover of Prodigy's 'Omen' is played and properly warm the crowd up for the arrival of BMTH. (3.5/5)
As the ethereal intro kicks in with Oli singing "can you tell from the look in our eyes", 'Shadow Moses' starts the set off perfectly for Bring Me The Horizon. The crowd responds throughout the song by shouting back "were going nowhere" and going absolutely crazy in the pit. The band brings out 'Chelsea Smile' as a second song which is surprising as it's usually left to right at the end. As the band play through 'Alligator Blood' a fire alarm kicks in and the sound is cut in half; with the issue resolved a minor blip is pushed aside and the band carry on with confidence.
Tonight's set contains a vast majority of new songs as no doubt the band are testing the water to see what works live and what doesn't work live. 'Go To Hell, For Heaven's Sake', 'The House Of Wolves' and 'Empire (Let Them Sing) are all aired and cause mass amounts of movement in the crowd as arms flail and body's move it's utter chaos. The band's new album 'Sempiternal' has seen lead vocalist Oli Sykes spread his vocal chords by choosing to sing a lot more, and tonight he does just that. 'And The Snakes Start To Sing' is one song that he sings with confidence tonight, with a little too much bass tonight his soft vocals are at times in-audible and hard to hear.
Of course songs from the last album are also played as 'Blessed With A Curse' and 'It Never Ends' bring the chaos to tonight's pits as young fans' bodies flail around. The band finishes the set with a massive sing along to 'Antivist' and get the crowd to go crazy for one last time.
Tonight was a great set for the band the choice of venue was surprising as the band could have easily sold out bigger venues in Manchester. With a set consisting of only twelve songs lasting forty five minutes, I'm surprised they didn't play for longer. No doubt next time the set will be longer. But it's safe to say the band destroyed Manchester tonight and next time it'll be on a much bigger stage with much bigger crowds. (4/5)
(4/5)
Words by Aaron Wilson