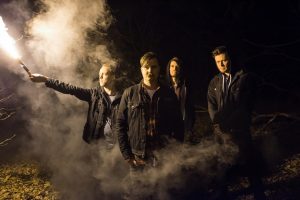 Embarking on a tour a week after releasing a new album can be a blessing and a curse for some bands. Its gains momentum for the new songs instantly, sure. But you're also asking for a level of commitment from your audience to have all the new songs absorbed within seven days to perform a show where those songs take precedence. In an age of rampant media attention and shortened attention spans, that can feel like a chore for a lot of people. Unless of course, the album you're committing to is 'All That Divides' by Black Peaks.
And tonight, the audience at King Tuts demonstrates they've done their homework with enthusiasm, though it's clear they're reserving it for the headliners. Granted, Watford supergroup-of-sorts Gold Key (3/5) are enjoying a hefty turnout, but the group's enthusiasm isn't reciprocated. Admittedly, the rough-and-tumble sound mix doesn't match the silky production found on the Pink Floyd-esque meandering of debut album 'Hello Phantom'. But it doesn't stop the four-piece from smashing out 'Creep Is Slowly' and 'Circle the Moon' which much aplomb. They might not have this crowd in their hands, but closing with the mega-chorused 'Mechanical World' proves Gold Key have the songs to move bigger audiences than this.
Kent quintet Bossk (4.5/5) have been quietly lurking in the background as the UK's underground metal scene has made it's steady ascent to the rest of the world's attention. But, judging by their stage presence, lurking is their style. Completely obscured by smoke machine, Bossk appear onstage as silhouettes, often emerging from and disappearing back into the thick clouds of smoke in case like ghouls. This works most effectively when vocalist Sam Marsh makes sparse appearances to perform, not appearing onstage until midway through second track 'Heliopause'. Their entire performance is spectacular visually and musically, as their lethargic blend of post-metal, stoner rock and doom from 2016 masterpiece 'Audio Noir' provide gargantuan grooves to put massive grins on the face of any riff connoisseur.
Bossk's performance is indeed headline-worthy, but Black Peaks (4.5/5) have the goods to follow it up, as 'All That Divides' opener 'Can't Sleep' quickly proves. Halfway through the track, frontman Will Gardner lets the audience know up front that he needs the show to go off. "I wanna see every fucking one of you moving" he commands in his wonderfully course guttural voice, and sure enough the centre of King Tuts are slamming each other's bodies into different corners of the venue. It's a powerful display of movement en masse and the band revel in every moment of it.
Keeping the momentum going through 'The Midnight Sun' and 'Electric Fires' Black Peaks take delight in the force they command, as members Joe Gosney and Dave Larkin trade each other looks of disbelief they trade melody after melody. Naturally, launching into material from 2016's beloved 'Statues' gets a further positive response, as 'Crooks'' washout riffs have the room leaping in union, before 'Saviour' builds steadily into total chaos during it's "don't say a word, sleep beyond the sun" chants.
It's a shame that as hard as they're playing, the audience doesn't always match their furore. The bold songwriting of 'All That Divides' doesn't seem to translate to the audience after it's opening salvo, save for a solid wall of death during 'Eternal Light's' intro. Even the easily anthemic 'Home' gets a lukewarm response when they play it as an encore, to our dismay.
Perhaps this is a consequence for playing the shows so soon after the album's release, but considering the manic response to established anthem 'Glass Built Castles', Black Peaks don't need to worry about their blade being dulled down any time soon. By the time they finish touring with Enter Shikari and return to headline, the whole crowd will be ready to give them the hell they're looking for.
4/5
Words by Andy Davidson (@AndyrfDavidson)