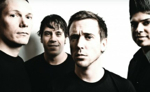 Whilst on one hand you could be sat at home after a hard day at work, university or whatever else you do as part of your daily routine, on the other, you'd be considered foolish for not letting your hair down and set foot towards Manchester Academy for a night of shenanigans with three bands.
First up on stage and being greeted to a half filled room are rising Brit rock stars Don Broco who come in leaps and bounds with their fun filled catchy dance punk vibes. For an opening band they work well at engaging with the crowd and manage to orchestrate a wall of death and a command for everyone to climb aboard another person's shoulders. Whilst such results can be admired, there are moments when the band do come off as an annoying sibling that won't stop pestering you whilst you're doing an important errand but over time one can warm to them, only ever so slightly. (3/5)
Coming out of nowhere, AWOLNATION from Los Angeles present themselves with an absolute hapless swagger and charm that is warming to the touch. Utilising a sound that involves the garage hard rock stylings of The Stooges and grumbling modern synths, this band are a very unusual spectacle on the stage they play on. From a cool and smooth croon and space like slow jam to a ballsy all out loud and shouted rock 'n roll frenzy, AWOLNATION definitely win themselves some fans tonight. (3.5/5)
The moment Canadian quartet Billy Talent finish their quiet ballad 'Lonely Road To Absolution' on to the stage is the exact moment that an unsuspecting net drops onto the floor and scoops all those present into the unshakeable frenzy of 'Viking Death March' the results of which cannot be shaken or cut from the skin.
The band is a tight unstoppable flaming wrecking ball that just rolls with hit after hit; 'Devil In A Midnight Mass', 'Line & Sinker', and 'This Suffering' are huge examples of this blaring energy which sees no sign of slowing but remains at an ever rising pace without any slip ups. Such professional tenacity remains untamed during slower numbers such as 'Surrender' and 'Rusted from the Rain' without losing the subtle sombreness that embodies such ballads. Ben Kowalewicz consistently retains a charming and maniacal pose as he draws the crowd closer into his out of this world mannerism. Striking a dagger into the heart of the dance floor, Billy Talent leave their mark into the excited lot after favourites 'Try Honesty' and a wonderfully extended version of 'Devil On My Shoulder' securing a deliciously poisonous foundation that calls for chants of their return during a small brief interval.
These chants are soon answered with a sandwich that features the revolutionary outcries of 'Surprise Surprise' which is the filling for old bread winners 'Fallen Leaves' and 'Red Flag'; a satisfied appetite later, the only conclusion and verdict that can be made of the overall evening is that it was a fun filled memory which shouldn't of ceased. (4/5)
4/5
Words by Aaron Lohan (@ooran_loohan)