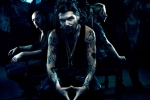 With six albums now under their belt and having emerged as the UK's chart topping, festival-conquering rock band in recent years, playing arenas is quickly becoming second nature for Biffy Clyro.
Dallas Green's City & Colour has the difficult task of opening for the Scottish trio and it quickly becomes apparent the intimacy Green's music is aiming to do is unfortunately lost in an arena setting. Although with a mixture of material from his last two albums, Green and company prove to be comfortable on a big stage but with a spluttering of disinterested attendees talking throughout the set becomes a distraction at times. Nevertheless Green's voice is still able to leave you mesmerized and proves how powerful it can be in a more intimate setting. (3.5/5)
With a twenty-six song set, Biffy Clyro triumphantly show why they're one of the UK's best rock bands and for nearly two hours its clear they've adapted to playing big arenas with ease. With an elaborate stage set made up of tree roots and a stunning light show, the trio showcase the recent double album 'Opposites' to an appreciative level whilst they occasionally delve into their back catalogue by delivering 'There's No Such Thing as a Jaggy Snake' and 'Glitter and Trauma.'
Whilst Simon Neil may not be the prima-donna, arena rock frontman you may have hoped for, throughout he's capable of holding the crowd on his own; 'God & Satan,' 'The Thaw' and 'Many of Horrors' are captivating and the latter has Sheffield's Motorpoint Arena singing in unison. 
Newer songs 'The Joke's On Us' and 'Stingin' Belle' are made for shows like this with their large choruses before ending on 'Mountains.'
It's clear that Biffy Clyro are at home on the big stage, and with their combination of intriguing songwriting, abstract structures and arena-sized songs in their arsenal, they can't do anything wrong. For a neutral, the Scottish trio won me over  for all the right reasons. (4/5)
4/5
Words by Sean Reid.