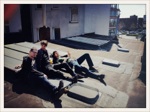 Shorts are on as the sun makes a brief appearance over Kingston. It's a Friday, it's pretty warm and Already Heard's sponsored tour is in town, featuring Forrest and The Winter Passing.
The Irish lads and lady that make up The Winter Passing are first up  and singer Rob admits that he only talks in between songs because no one else will. The thing is though, it doesn't matter. The music does all the talking; indie, punk, emo and even a dash of folk are filtered into the mix, with male and female vocals overlacing and intertwining with their emotive lyrics about growing up and many of the struggles we can relate to. Each song is as honest as the next and hopefully it won't be too long until we have more new music to bathe our ears in.
Next up is the second of our sponsored acts Forrest. The South Wales lads knock the energy levels up a notch and exert each emo/punk song with a delightful Welsh charm. The songs are belted out one by one and it's pretty clear that the lads have had a bit of experience already seeing how comfortable they are on stage as well as with each other. Again, we need more music soon gents! Still, a splendid show and every Welsh man and woman should be proud of what their beautiful little country can produce.
Gnarwolves have certainly been getting many mentions recently so it was good to see what the hype was all about. My only, but what I feel more than fitting description is that Gnarwolves are 'if Title Fight were a skate punk band' There are blast beats and double time for you the punk at heart but the slower and picked emo sections woven into the otherwise melodic yet chaotic tapestry. Shouted and soft vocals from the two front men are patched on top and it all feels quite 90s but still very relevant to now. Big things to come, especially when the new EP drops.
Last but not least for tonight is Bangers; full on punk rock all the way from Cornwall. It's simply punk, punk and more punk and it's clear to see why the band are headlining tonight. Also, they mention about supporting Blink 182 soon?! Later research shows that they're playing with Blink on the following Sunday at The Eden Project. Yeah, I don't understand either but still, that's more than good going for the guys. By the time you've read this they would have already played that show, so check them out on Facebook and see what people had to say.
The crowd could have, and should have, had more attending. Those who weren't there missed out and those of us who did turn up have discovered some diamonds hidden within the scene. Get out to your local show and keep an eye on each of these bands. Top stuff from each band that will certainly be even better in the future.
3.5/5
Words by Michael Brown (@MikeyMiracle)