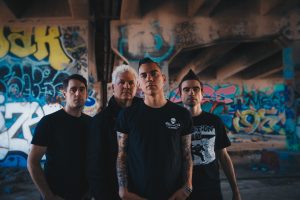 Anti-Flag have been making a nuisance of themselves since 1988 and with a wealth of material under their belt, they've brought their brand of punk rock anarchy to the UK with a couple of heavy-hitting bands in support.
Brooklyn's Worriers (3/5) are bolstered by Em Foster from Nervus on second guitar. It's a solid performance, which might have come over better if anyone could have heard them properly. The sound system is doing no one any favours tonight, and Lauren Denitzio's voice often gets lost. Hence the crowd is pretty unresponsive, which is a shame as the band work hard. On some songs, their punky style really flies, but others leave you wishing they had as much fire as their mid-set speeches. (3/5)
After playing a string of tiny hardcore shows to promote their new record, Cancer Bats (4/5) bring a storm of energetic riffs to the stage. Yet, to begin with, it's wasted. Maybe it's the rubbish sound mix, but the packed room just isn't into it. Four songs in, when even the crushing breakdown on 'R.A.T.S.' doesn't stir more than a tapping foot, vocalist Liam Cormier takes the crowd to task. Oozing charisma, he's warm and friendly, but when he says "You're tired, I'm tired…" he's blatantly lying (energy crackles from him as he leaps around the stage). However, the pep talk works. Subsequent song 'Hail Destroyer' opens up a massive pit. The whole room nods along to a crushing rendition of 'Lucifer's Rocking Chair' while 'Trust No One' and an untouchable airing of 'Bastard's Waltz'  finally receive the response the band has worked so hard for.
If you're going to take the stage after such a savage display, you'd better be damn sure of yourself. Anti-Flag (4/5) certainly have the experience and the songs, but half the crowd has left by the time they arrive on stage. The remainders are in for a real treat, as both Justin Sane and Chris Barker have a tonne of stage presence and boundless energy. They play with a huge American flag as a backdrop and their incisive bouncy punk has never seemed so relevant, as they're keen to point out during their frequent calls to arms.  You can't escape their political rhetoric; it's just a shame they string together defiance into limp near-meaningless ramblings. Luckily, their songs work brilliantly.
Clearly, the set has been designed with the biggest choruses in mind and Barker delights in getting the crowd to sing back his lines. Every song has a little trick to keep people entertained, be it the pauses in 'Turncoat' or the solo on 'Broken Bones'. Newer songs sit comfortably beside numerous cuts from 2006's 'For Blood and Empire', which provide the best response. 'The Press Corpse' is amazingly slick and even a fairly ropey rendition of '1 Trillion Dollar$' prompts a sing-a-long. This short blip is quickly swept away by 'This is the End (For You My Friend)'. Played like this, it belongs in an arena. Finally, on 'Brandenburg Gate', they drag the drumkit into the crowd for a huge finale.
4/5
Words by Ian Kenworthy (@WhisperingSand)