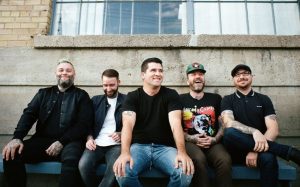 It seems fitting that legendary Canadian post-hardcore outfit Alexisonfire chose return to London where they played their 'last' show before their hiatus. Not that it should be considered a cynical cash grab. The band have been toying with reuniting since their last Reading and Leeds Festival appearances, and while they may have publicly stated that Alexisonfire are officially back, such a sweeping assurance has since been backtracked upon.
Whether the reunion is permanent or not, judging by how quickly tickets for this show sold out, fans are just happy to see them grace our shores again outside of a festival setting. The line inside the venue is long, but the tenacity of fans travelling from all over the world to see them here is admirable, with many bearing the calling card heart skull and cardinal tattoos.
What better way to celebrate the return of Alexisonfire than by having their longtime tour mates Cancer Bats warm the crowd up nicely. From the lethargic, sludgy riffs of 'Lucifer's Rocking Chair' to the tempo furious punk cuts like 'Hail Destroyer' and 'Deathsmarch', frontman Liam Cormier makes the most of the vast stage despite seemingly being more at home in smaller club venues. Despite being hampered by an instrumental mix fluctuating from sounding visceral one moment to flat and bloated the next, Cancer Bats soldier on through arguably the best songs from their entire discography, even bringing Alexis frontman George Pettit on for the fist pounding classic 'Pneumonia Hawk'. (3/5)
From the moment Alexisonfire finally take to the stage cloaked in moody lighting and the first chords of 'Young Cardinals' ring out, its evident that this show is going to be special.
George Pettit's blood-curdling screams are every bit as potent as they are on record, as the audience's participation in heartfelt choruses of fan favourites 'This Could Be Anywhere In The World' and 'Boiled Frogs, fill the entire venue with spine-tingling, angst-filled energy. The ferocious guitar riffs of '44 Caliber Love Letter' and 'Dogs Blood' combined with George Pettit's command to 'fuck this place up' entices even older fans to come out of mosh retirement. Elsewhere, Dallas Green's seductive clean vocals in particular, are on point, showcasing his malleable range as he soars to the crucial high notes.
For the most part Alexis lets a 'Crisis' era heavy set do most of the talking for them, however midway through Pettit informed the crowd that not only are Alexisonfire shows safe spaces, but they are unsafe for people who are racist, homophobic and transphobic. A rallying cry which feels sincere rather than a ham-fisted attempt to be 'woke'.
Despite the main chunk of the set being only 10 songs long, an encore, filled with slow burners 'The Northern' and 'Happiness By The Kilowatt' closes a truly memorable night. Time will tell if Alexisonfire decides to come back for good, but for now, fans are left drooling with anticipation of what The Only Band Ever potentially have in store. (5/5)
5/5
Words by Ashwin Bhandari (@GIVEUPOX17)