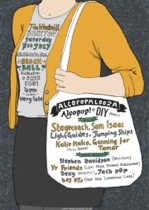 With a free beach ball on entry it was clear that good times and summer vibes were to be had despite whatever weather South London would decide to deliver. Also, this is a long read, so grab a brew and get comfy!
It's here that I admit I am a fool as I missed the first act. Jack 'Alcopop' Clothier himself was first on the bill as part of the first half acoustic acts. Why did I miss him, you ask? I wasn't late, I was there on time and sitting, waiting. But the problem was I was sat staring at the stage inside, when in fact the acoustic magic was happening outside! (I am a muppet, I know) Sources tell me that Jack did conjure up an Ace Of Base (?!) cover, so I'm sure everything was great and a more than worthy start to the magic ahead.
The first act (for me at least) is Dexy, slicing together tasty little riffs and spreading them out between acoustic melodies, sandwhiched together in a set of some more gentle, pickier sode of things, not forgetting a harmonica to truly showcase his versatility. Rounding off his set with his own interpretation of Jimmy Eat World's 'The Middle' it seemed a bit unfair that more people weren't singing along as the alcohol hadn't quite taken its toll yet!
Warren (and I think it was Martin) from The Attika State jumped on stage next, bringing a more upbeat affair to The Windmill's acoustic laden beer garden as they played versions of their full band songs and deservedly gaining the biggest cheers of the day so far. The microphone is ditched for one song by Warren as 'the reverb was putting me off' and it really doesn't matter. His voice is so strong and compelling that the audience is still captivated by his honest, heartwarming and relevant lyrics. A unique cover of Dolly Parton's '9 to 5' is the penultimate song, followed by another original, followed by more clapping and hollas to round off a fantastic set and the best of the day yet.
Another gent joining us without his usual band friends, Stephen from Tellison plays familiarTellison songs in a mellowed out new skin. Like his predecessors, Stephen also throws in a cover although I didn't quite catch the name, however I do remember that he learnt it the night before and it seemed to go rather smoothly to my understanding. Aptly named song 'Scottish Girl' about a Scottish girl he once saw in a café is a delightful treat. The anecdote before the song itself brings out quite a large number of chuckles as well as lyrics such as "Are you from Glasgow or Dundee, or Edinburgh like me" and then finishing off with two more songs from Tellison's sophomore album 'The Wages Of Fear'.
Yr Friends, aka Lex from Jonny Foreigner plays songs that seem to be a million miles away from any thing JoFo have ever done. Even the mild talking from the crowd seems to have ceased as everyone takes notice of Lex, until some locals nearby laugh a little too loudly and everyone cracks up. "I grew this beard for today because I thought that's what singer songwriters do" has to be the quote of the day. Lex finishes up as the Alcopopalooza goers stand up, expectedly ready to devour free food for the BBQ break.
This is certainly a music review, but it has to be said that the BBQ was a tour de force of its own! Many pastas, salads and meats on offer as well as 3 different types of potato! It's certainly an impressive selection on offer and clearly a lot of effort has gone into it. Promoters: more BBQ breaks please.
As the food settles the crowd slowly drift back inside, although some do miss the start of Katie Malco's set. Alcopop!'s finest lady truly does it for the women and impresses more than enough men. If her brilliant control over her soothing vocals or pop glistened acoustic folk songs aren't enough to wow any newcomers to the Malco camp then surely her impressive cover of 'Wait And Bleed' by Slipknot is, as many in the crowd whisper 'It's Slipknot!' ever so enthusiastically, ending on her very own 'Johnny'. Katie – 1, crappy pop music – 0.
Another member of the Clothierfamily is on stage as Jack's brother's band Her Parents deliver an absolute storm of frantic panic in the form of 4 men, their voices and the respective instruments for their first ever show. Mathy, somewhat confusing to some before it's best to just expect anything from this lot. Imagine, if you can, music from Take A Worm For A Walk Week if they could ever be tamed and lyrics edging towards early Future Of The Left stuff. For example, the song 'What's Your Dad Called' breaks down into a rampage of noise as the band shout out various names of what your Dad may be called, such as 'CHRIS!' and 'NEIL!' My answer is Phillip. Throw in a song about Justin Vernon and their 'secret slot supporting Bon Iver' and you're still only halfway to imagining what I witnessed. 2 words to summarise? Holy heck.
The Alcopop! family is a talented bunch and the Gunning For Tamar lads are certainly no exception by any means EVER. Old songs such as 'Chocolate Hooves' and 'Astronaut-Abort' are welcomed with cuddly yet open arms by the audience, whereas sneaky new songs slipped into the set are welcomed just as much and make you realise that all new things from theGFT camp are going to really elevate this band. Get on it now! And yeah, I have a definitive smile on my face at this point in the night.
That smile stays. Jumping Ships open with a new song that ends with a 3 part vocals mastered to what is probably the vocal equivalent of perfection as they bound straight into 'Movers & Shakers.'  The guys have more energy than Charlie Sheen on Charlie Sheen, showcasing what wireless kits are so good for as bassist Rich and guitarist Mike disappear off into the back of the venue to show the lazy lot sitting down/the locals exactly what they're missing down the front. More new songs are explored by the realms ofJumping Ships and 2 were only written a mere 2 weeks ago. This means nothing to those four gents though. The new album due in September will be an absolute monster and everyone needs to hear these Biffy sized stadium songs. 2013 already has a lot of potential to be a fantastic year.
A heavy juxtaposition arrives in the form of Sam Isaac. Not by talent, silly! Purely by style. After the hectic moves of Jumping Ships, Sam calms the mood back down to earlier in the day, but this time with more sweat and a hell of a lot more sing alongs. Female vocals provided by a lady friend of his gel together ever so sweetly with his own vocals for many a harmony and even a round or two.  The devotees who were, I expect, down at the front back in 2009 cling on to every word as he showcases new material that's free on Bandcamp here. Once the new songs are out of the way, Sam delivers 'the hits' as he so rightly says to the pleasure of the 30 strong crowd singing along at the front. Call and response aplenty and without the microphone for the final verse of the very last song so he can hear every single word sang back to him. Touching for everyone and worth the 3 year wait.
And finally, after all the sweat, beer and beach balls (I think the general consensus was that many found them annoying after a while) Stagecoach take to the stage (resisting any and all puns on that one thanks) as the crowd avidly watches as they set up. Launching into 'We Got Tazers', the crowd are dancing away and don't really seem to stop. The band play everything the crowd want in their way of their infectious brand of quirky indie/pop songs and there's probably a few loose resemblances to Motion City Soundtrack in their, but with a mandolin. Bodies jiving, beer flowing and an all round perfect end to a perfect day.
It's very easy for me to say that this day was excellent. I would like to finish on a little anecdote though. I did get free entry to the show as I would be reviewing it, as you know as you're reading it. However, after seeing so many incredible British acts and an amazing BBQ I felt strongly compelled to pay up like everyone else. I spoke to Jack Alcopop about it but he wouldn't let me. He told me to spend it on an Alcopop! release instead and I think that really does sum up Jack perfectly. Those who know him will understand that he really does have such a passion for the bands he enjoys and puts out and that it never will be about the money and always about the music.
Thank you very much to Jack Clothier and Alcopop! Records for an absolutely fantastic day. Here's to the next 10 Alcopopalooza's.
5/5
Words by Michael Brown (@MikeyMiracle)