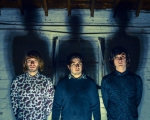 East Sussex trio Let's Talk Daggers have announced they will release a new mini-album titled 'Fantastic Contraption' on 25th March through Tangled Talk Records.
1. The Bear of Bad News
2. Round and About
3. #1 Spicy Bugger
4. No Business Being Alive
5. Have a Gabble
6. Humannequin
7. Footnotes
A new full-length is expected to be released later in the year, and the band head out on tour next month.
March
05 Portsmouth, Eastney Cellars
06 Southampton, Talking Heads
07 Leciester Soundhouse
08 Basingstoke, Sanctuary
09 Bridlington, Shades
10 Leeds, Royal Park Cellars
29 TBC
30 Skintfest, Chesterfield
31 Canterbury, Beercart Arms