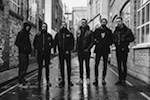 UK "supergroup" Krokodil have premiered their first song – 'Shatter'.
The track will be released alongside another song called 'Dead Man's Path' as part of this Saturday's Record Store Day. The blue 7" vinyl will be limited to 500 copies, hand numbered by the band, and features exclusive artwork by Krokodil guitarist, Daniel P. Carter.
Krokodil includes members from bands such as Sikth, Cry For Silence, Gallows and Hexes. They are currently working on their debut album, which is expected to be released later this year through Spinefarm.
Hear 'Shatter' by clicking read more.