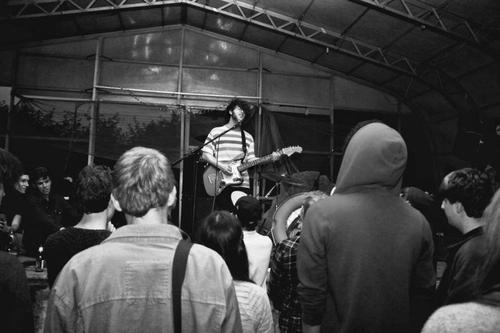 Oxford indie artist King of Cats, the project of Max Levy, has announced the release of his debut album 'Working Out', which is available on the 17th November via Art Is Hard and Reeks of Effort.
The first track from the record, 'Dead Lamb', can be heard over at DIY. The tracklisting for the record is also available as such:
1. 'Orb Weaver'
2. 'Dead Lamb'
3. 'Brasso'
4. 'Arthritis'
5. 'Swelling Up'
6. 'Ulcers'
7. 'Letter from Under the Knife'
8. 'Summertown'
9. 'Dr. Strangelove'
10. 'Chugger'
If that wasn't enough, Levy will be heading out on tour this month with playlounge. The dates are as follows:
September
7th Nerd Hutch, Travelling Man, Newcastle w/ Something + Euan Lynn
8th The 13th Note, Glasgow w/ Min Diesel, Something
9th Cellar 35, Aberdeen w/ Pinact + Min Diesel
10th Cabaret Voltaire, Edinburgh w/ The Spook School
11th Fuel, Manchester w/ Gorgeous Bully + Manuals
12th The Moon Club, Cardiff w/ Trust Fund, Totem Terrors + Something
13th TBC, Liverpool
14th Tye Die Tapes HQ, Sheffield
15th The Mother's Ruin, Bristol w/ Two White Cranes + Something
16th The Green Door Store, Brighton w/ Tyrannosaurus Dead + Something
You can hear the new song by clicking read more.