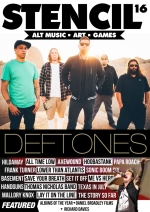 Our good pals over at Stencil Magazine have released their sixteenth issue.
The latest issue includes interviews with Deftones, Papa Roach, Lower Than Atlantis, All Time Low, Frank Turner, Basement, Handguns, Sonic Boom Six, Me Vs Hero, Save Your Breath, Mallory Knox, Hildamay, and more.
Issue 16 of Stencil Magazine can be viewed here or by clicking read more.
Open publication – Free publishing – More all time low