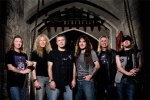 Iron Maiden's Trooper Premium British beer has been confirmed as the Official Ale of Sonisphere Festival.
The beer is a special batch brewed especially for the festival and as such will be cellar fresh, filtered and served chilled.
Iron Maiden frontman Bruce Dickinson:
"Pints of Trooper at Sonisphere will be pretty special because of just how fresh they will be! They will be brewed and transported at the very last minute to ensure that MAIDEN fans get them as close to perfect as they can possibly be. Add in the fact that they will be chilled and this really will be a special festival pint of ale! We've also worked on the way it will be served to minimise queues and also give the best pint actually in the glass that we possibly could. We're really proud to be bringing it to our fans this way and I know we'll convert some non-ale drinkers too. Ultimately we're delivering a special beer for the very last show of the MAIDEN ENGLAND Tour. What could be better?"
Sonisphere 2014 takes place at Knebworth Park from Friday 4th July to Sunday 6th July.