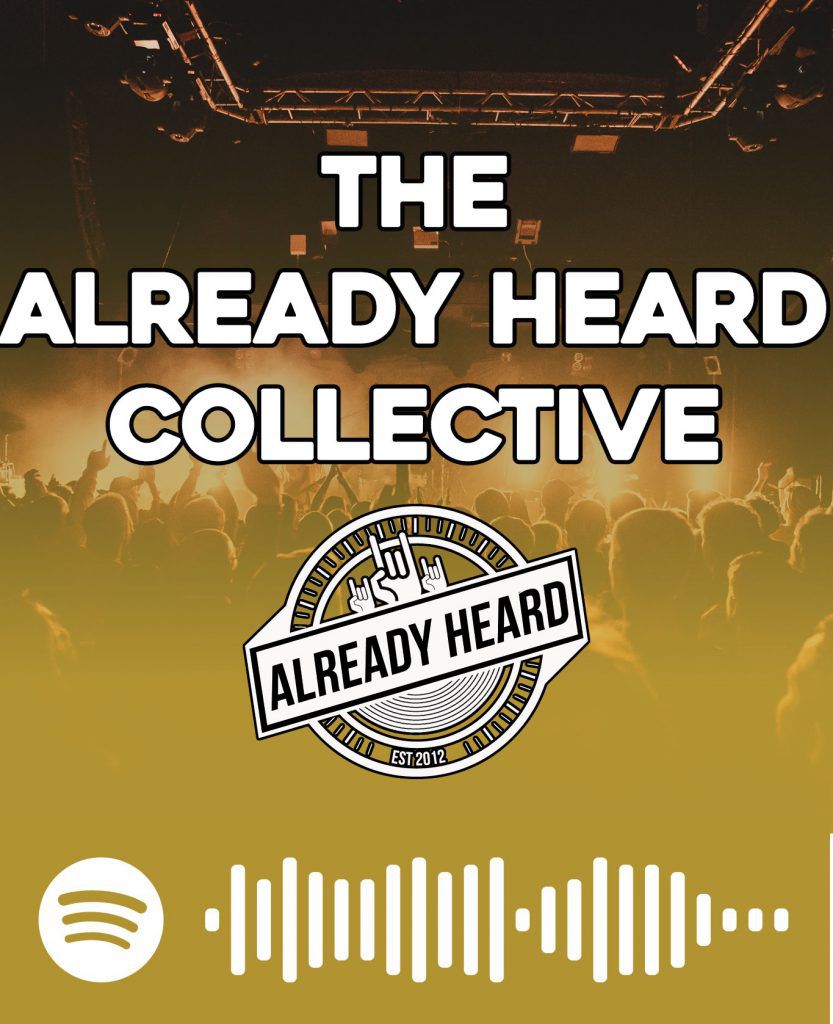 Today we're launching a standalone playlist called 'The Already Heard Collective'.
The playlist consists of our personal favourites from the Already Heard team along with contributions from our Patreon supporters.
We want to show our readers there's no divide between us (the AH team) and them. So, we're offering all Patreon supporters the chance to contribute to the playlist.
'The Already Heard Collective' will regularly be updated with songs being added and removed.
Sêan Reid
IDLES – Danny Nedelko
ItoldyouIwouldeatyou – Young American
Touché Amoré – Flowers and You (Live)
Grandson – Blood // Water
Brockhampton – San Marcos
Andrew Davidson
The Plainviews – I
Vodun – Started From
Sam Seaton
Melvins – A History Of Bad Men
Employed To Serve – Void Ambition
Snail Mail – Pristine
Zeal and Ardor – We can't Be Found
Jpegmafia – Rainbow Six
Edward Layland
Catch Fire – Petrifaction
Canavar – Devils in the Details
Black Peaks – Eternal Light
Kathyrn Black
Frightened Rabbit – Break
Spanish Love Songs – The Boy Considers His Haircut
Peter Stewart
All Get Out – You'll Survive
Stand Atlantic – Bullfrog
Can't Swim – 'Sometimes You Meet the Right People at the Wrong Times'
Ben Mills
Incendiary – Still Burning
Connie Taylor
10 Gauge – Hand You're Dealt
Skindred – Big Tings
Ian Kenworthy
Blind Summit – Subservient
Yourcodenameis:Milo – Rapt. Dept.
Drones – Inferno
Jez Pennington
Elder Brother – Wish You Were Here
The Dangerous Summer – This Is Life
Foxing – Won't Drown
Thrice – Brand In The River
Tigers Jaw – Window
Ashwin Bhandari
Ravetank – Blue Raspberry Wine
Drug Church – Unlicensed Hall Monitor
Adam England
Finding Aurora – Haley
Carrie-Anne Pollard
Palm Reader – Internal Winter
NF – No Name
Aurora – Churchyard
Anthony Shaw
Alkaline Trio – Heart Attacks
Dylan Whitty
Emma Ruth Rundle – Light Song
Daughters – Satan In The Wait
Cult Leader – Share My Pain
Action Bronson – Live From The Moon
True Widow – S:H:S
---
Patreon Picks
Want to promote your band or have a song that you think everyone should here? As a supporter of Already Heard on Patreon, you can contribute songs to the 'AH Collective' playlist.
Mark Bussey
H_ngm_n – Matchsticks
Hopewood – This is Cairo
John Allen
Phinius Gage – Battered & Bruised

---