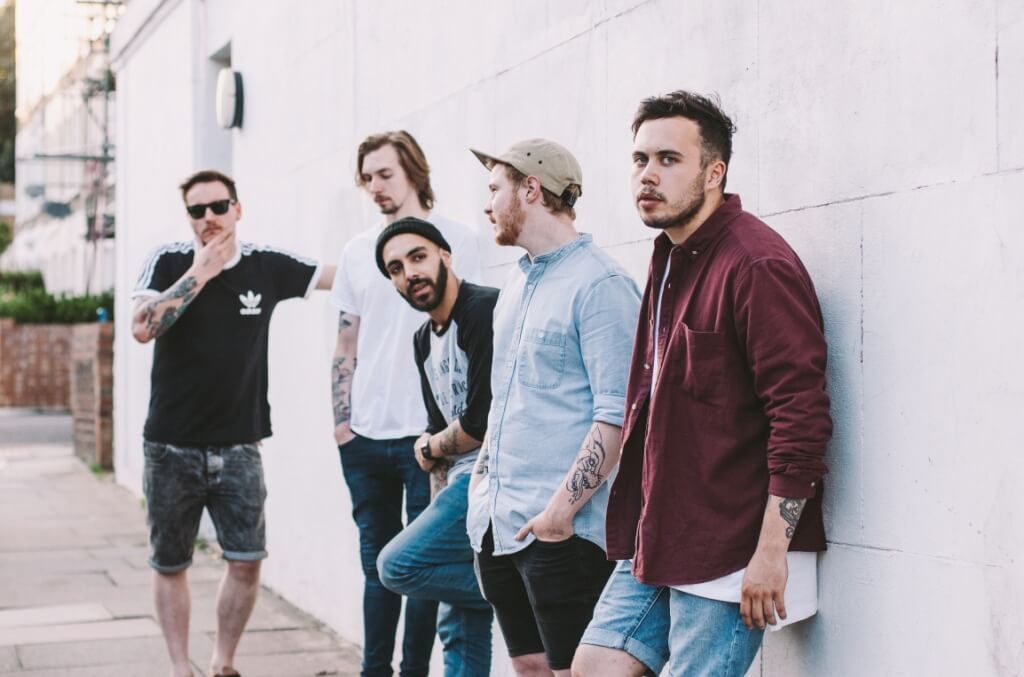 "Boy meets more boys, plays music, 'Bonjourno Deano'!" states Youth Killed It vocalist Jack Murphy when asked to explain the band's origins. However, if you dig a little bit deeper, there's more than the simple offering Murphy makes.
Jack and company were once part of Kings Lynn metal rap-rockers Under the Influence. While they achieved limited success; extensive touring the UK, Europe and America and a deal with Hassle Records, they became stylistically frustrated. "We wanted to take the style somewhere completely different and play music more similar to what we enjoy/listen to," says Murphy. While some members of Under the Influence departed for new ventures, they had Carlos Montero, a longtime fan, and occasional guitar tech ready, waiting in the wings to join Youth Killed It.
"I came into the band as a fan and [an] outsider near the end of Under The Influence, explains Montero. "[it's] kind of like when [John] Frusciante joined the [Red Hot] Chili Peppers after being a fan for years."
With its members in place, YKI would develop a sound that lends itself to British indie-rock of the mid-2000's; Murphy identified Arctic Monkeys and Hard-Fi as key influences. After honing their sound through two EP's, they caught the attention of Rude Records at the turn of the year. Their debut album, 'Modern Bollotics', was released last month and proved to be a fun, infectious record. And while it contains tongue-in-cheek songs about Murphy's cat ('Molly'), there is a serious undertone to what YKI offer on, using the experiences of his old band as an influence.
"That was the learning curve to where we are at now. It taught us how to avoid mistakes we made and work towards having above all things fun," Murphy tells us. "Music is not a job, it's a way of life, if you're not having fun, you're doing it wrong."
In regards to the odd burst of seriousness, Jack goes on to say "it's my special way of dealing with social issues. I was very against Brexit and that result made me hate people for a while, so I wrote a song about how I would rather spend time with my cat."
"There's definitely a juxtaposition between the bright and often happy instrumentals and the lyrics, which can be quite deep, at times," adds Montero "We're more about wordplay and making you think and laugh at the same time!"
Undoubtedly on the surface, Youth Killed It play into the stereotypical "lad" culture, yet Murphy's tales of being unemployed, being unprepared for adulthood, reminiscing about days gone by, and the frustration of being a struggling musician adds a level of relatability to 'Modern Bollotics', even if it's unintentional.
"To be 100% honest with you, I never read through or plan anything that I write," states Jack. "It's only when listening back, I realise sometimes how serious some of the undertones are. It is probably my way of escaping dealing with things, expressing worries and emotions. I'm legitimately the most 'happy go lucky' person but everyone always has their hang-ups."
While Carlos goes on to say "there's a lot of stuff we still need to talk about through our music, and that's all being developed in some new demos we're working on."
Although 'Modern Bollotics' is sure to divide opinion; the humorous "lad banter" might not be for everyone, it's a spirited debut that carries a strong, positive underlying message as Murphy explains:
"Expectations and achievements are all subjective. As long as you are happy and enjoying yourself don't ever give a 'monkeys' what anybody else thinks. Do 'you' the best you can and have a bloody laugh doing it."
'Modern Bollotics' by Youth Killed It is out now on Rude Records.
Youth Killed It links: Facebook | Twitter
Words by Sêan Reid (@SeanReid86)