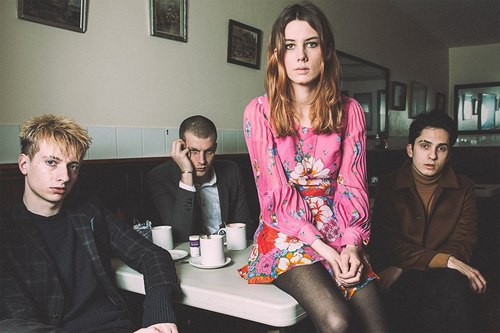 Hailing from North London, Wolf Alice have gradually been building an acclaimed following since their formation in 2010. From their early folk-pop beginnings, the quartet have grown to become a refined indie rock with a grungy edge.
Their latest EP, 'Creature Songs', displays the band's use of quiet, loud dynamic. Tracks like 'Moaning Lisa Smile' are bold with a grunge-esque core whilst 'We're Not The Same' shows the bands softer, calmer side. It's a sound that has been welcomed by critics and even saw the band be part of 'BBC Radio One Rocks' initiative earlier this year.
After a summer of playing festivals all over the UK and Europe, Wolf Alice ended their summer at Leeds Festival where we spoke to vocalist/guitarist Ellie Rowsell and guitarist Joff Oddie. The pair discussed their festival highlights, told us about the 'Creature Songs' EP and their future plans.
AH: How are you finding Reading and Leeds so far?
Ellie: Really really good. We've had a great weekend.
AH: Is this your first time here?
Joff: It's our first time in Leeds. All of us have been to Reading before.
AH: You played on the Festival Republic stage earlier today. How did it go?
Ellie: Really well. We were all really happy with it.
Joff: There was an amazing crowd. The crowds over the last couple of days have been really great. We've been proper lucky.
AH: That stage has a history of hosting bands who have gone on to do bigger things. Is that something you'd like to follow in the footsteps of?
Joff: Yes (laughs). I would very much hope so. It feels like we've got our foot in the door of a big festival, so next year it's up, up and up.
AH: Earlier this year you signed with Dirty Hit Records and released the 'Creature Songs' EP. For those who haven't heard it. What can you tell us about that?
Ellie: We recorded it in Brussels with a producer called Catherine Marks. It's kind of got two sides to it. There's a heavy, party, energetic side and a more darker, quieter side. So yeah it's kind of a bit of progression from our EP before it. So check it out.
AH: You've been playing a few festivals over the summer. Has it been a good opportunity to win over new fans?
Joff: Definitely. I think festivals are the best kind of opportunity to grab people who are walking past or maybe someone has bought there friend down who hasn't seen us before. It's a great, great way of exposing yourself to an audience who haven't seen you before.
AH: What have been your highlights over the summer?
Ellie: This weekend has definitely been a highlight. I think we really enjoyed Benicassim in Spain. We had a surprisingly big crowd. We were really shocked but happy with that. And Glastonbury was a milestone. So yeah a lot of highlights.
AH: You were part of 'BBC Radio One Rocks' shows earlier this year, which celebrated new UK rock. What do you make of the so-called comeback of guitar music? Did it ever go away?
Joff: As long as I've known people have always said "guitar music is coming back." I don't think it ever goes away.
Ellie: I think it's coming back on the radio a bit more, which is why people are talking about it, but yeah it's good. That show was really fun. Slaves were incredible. It's definitly looking up.
AH: There are a lot of up and coming UK guitar bands. Are there any bands we should know about or recommend?
Ellie: Well Bloody Knees have played Reading and Leeds. They're a really great guitar band.
Joff: Happyness.
Ellie: Gengahr. There's lot of stuff.
AH: Looking ahead to the end of 2014 and early 2015, what are your plans going forward?
Ellie: Record an album would be a good start. Just carry on playing these kind of shows.
AH: Are you in the process of writing an album at the moment?
Joff: We've written it.
Ellie: We're just finding a good time and place to record it.
AH: Any touring plans?
Ellie: We've got two shows in October. One in Manchester, one in London. Then we're not sure after that. We're going to see how those goes.
AH: For those who haven't seen you this weekend, why should they come out to those shows?
Ellie: I think your own headine show is really different from your festival show, so its interesting to go and see a band rather than at a festival. Because we're only doing the two shows, we're going to make them as special as possible. Maybe a bit more performative, and showcase new material.
Wolf Alice links: Website|Facebook|Twitter|Soundcloud
Words by Sean Reid (@SeanReid86)