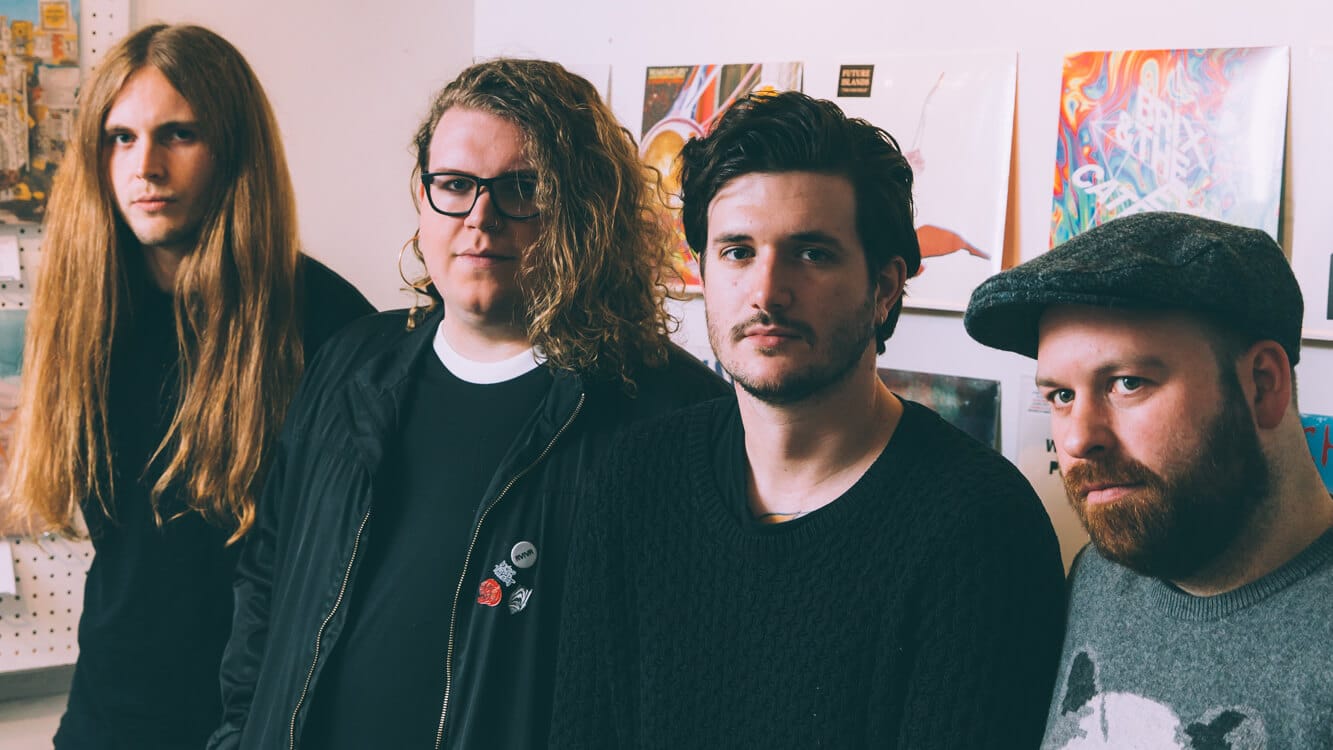 "I can very much only speak from my own experiences and if other people can find solace or can relate to what I'm saying, that's great"
If you've been paying close attention to the UK rock press in recent weeks, then Nervus is a name you'll be familiar with. Spurred on with tours alongside names such as Creeper and signing with respected independent Big Scary Monsters, the quartet has seen their status grow over the past 12 months. However, they're far from quitting their day jobs. Away from the occasional tour and recording their second album, 'Everything Dies', Nervus have kept themselves busy to the point where they haven't noticed the attention they've been receiving.
"It's weird. To be honest, I don't necessarily notice it," says frontwoman Em Foster on a snowy Thursday evening. "We don't necessarily pay too much attention to people's reaction because it's so changeable. It can be damaging to a band to pay too much credence to people's reactions.
"We're at a point where we're not doing much more than when we did 'Permanent Rainbow' but there's a lot more expected of us, so that's a difficult element of it. You're expected to be able to do more [but] there's not more money for it, so you're giving it more time."
The aforementioned 'Permanent Rainbow', Nervus' 2016 debut record, was never meant to be. Written by Foster as a way to cope with alcohol addiction and gender dysphoria. The cathartic bedroom project would eventually turn into what would become Nervus. Although 'Permanent Rainbow' wasn't released to a huge fanfare in November of 2016, its mix of infectious hooks and confessional lyrics gradually gained momentum, leading to high hopes for its follow-up.
While they have been given "more time", Foster is eager yet frustrated with the lead up to the release of 'Everything Dies'. "When you make music, you're always waiting to put it out there, so it's not yours anymore, but at the same time, making something and then sitting on it can be quite frustrating. However, it's been a fun process."
On the surface, 'Everything Dies' serves as a direct sequel to 'Permanent Rainbow', but when you delve into its lyrical content, it soon becomes apparent that Foster has grown as a person and as a lyricist.
"I definitely felt more confident in terms of being able to say not exactly what I mean, otherwise it makes it too diaristic and personal then other people can't relate. I was able to be a bit more clear-cut, and not having to play things down that I felt I had to do on the last record."
While last time out Foster's songs took an inward approach as she experienced gender dysphoria, 'Everything Dies' sees her accepting herself as a person and questioning society's stance towards trans people.
"It's much more direct in the things I'm addressing in the songs," explains Em. "I'm not cloaking absolutely everything in metaphor, there's still a fair amount of that, but it's a lot angrier. 'Permanent Rainbow' was very vulnerable, and on this record, I'm still vulnerable but also quite angry and direct."
Though 'Everything Dies' is more direct, even at times confrontational, and while it has been well-documented about the personal nature of songs such as 'Congratulations' and 'Sick Sad World', Foster believes their meanings can be moulded to listener's own understanding.
"I think everything is open to interpretation, which is when I get asked to talk about what the songs about, I don't necessarily want to talk about them in too much detail," says Foster. "I think of all my favourite songs, I don't know what they're about but they're able to change shape with you. As you get older and you listen to music, you want them to mean something to you.
"Some of our songs have changed shape in what they mean to me and have taken new meanings. There's definitely room for people to make them their own, and I think that's massively important in any music that is worth listening to."
In spite of their ability to be interpreted, it is Foster's experiences that is the catalyst for the songs Nervus produce. Having come out as a trans woman on 'Permanent Rainbow', 'Everything Dies' documents her experiences since. Unfortunately, there are parts of modern society that remains uncomfortable with the concept of transgender people. On 'Congratulations', Em sings "They fill your head with guilt and shame," as she highlights distressing reaction she has been on the receiving end of. Whereas on 'Skin', she states "If you're feeling uncomfortable, that's common ground." Yet on songs such as 'It Follows', 'The Way Back' and 'Fall Back', Foster gives the impression that she accepted herself.
In the run up to the release of 'Everything Dies', the usual plethora of advance reviews have seen the light of day with some highlighting Foster as a key voice for LGBTQ+ punk community. However, as she explains, it's a mantle she doesn't want to take.
"I can very much only speak from my own experiences and if other people can find solace or can relate to what I'm saying, that's great but I realistically would never want to be a self-elected spokesperson for a group of people.
"I try and make it clear as possible that I'm only talking to and from my own experiences. I'm middle class, white and fairly lucky that I have a stable job and stuff. A lot of people in LGBTQ+ community don't have that. I don't think it should be for me to speak for people who have it worse off then I do. I speak to my own experiences and I try and stick up for what I believe to be right in the best way I can. I'm not claiming to be a leader or spokesperson for anyone other than myself."
Although there has been much focus on Nervus' lyrical side, as a collective, 'Everything Dies' benefits from their time together as a band. Foster explains by saying that "on the first album, we weren't really a band. Those songs were written for five people, we ended up being a four-piece, but for the new album we settled into how we sounded as a band. We knew how things worked, knew how things sounded, and knew our strengths and weaknesses and how to play to those, which is something you necessarily find unless you've been touring.
"We knew each other for years as mates before we started the band, but we hadn't really settled into how we sounded and how this project sounded. I think comedians use the term 'their voice' and I think that's probably true on this record, we've found our voice."
Having found their voice, and while their status has grown, they are rooted to their DIY background. From the outside, the chance of opening for Creeper at the tail end of 2017 would have been an easy experience for any band yet for Nervus, it was an intimidating prospect.
"It was a little weird getting thrown into that environment. We don't have a tour manager, a booking agent, a manager or tech or sound people. The main thing we found was the stage sound was completely different, which is really boring," jokes Foster. "You're a lot further away from what you're used to, so you've got to adjust what you're thinking in terms of what you're getting in your monitor. If you don't ask for things, you're not going to hear them which you don't get when you're playing in a little pub."
Nevertheless, their forthcoming tour – supporting fellow Venn Records alumni Milk Teeth – sees them returning to more familiar surroundings. However, with festival season fast approaching, Foster considers festivals as "tricky" especially when they don't have a booking agent: "Those slots are fairly coveted. I think the booking agents representing a whole load of bands, definitely get the pick of stuff and unless you have 'an in', then it's quite difficult to get on stuff. We've been really lucky with Big Scary Monsters, to be able to do Truck and Great Escape. Otherwise, we're still booking ourselves, seeing what we can do."
Despite the fact that keeping things DIY can be a hindrance, Nervus have, to an extent, embraced it in recent months through the routine stream of music videos, even though Foster gives the impression that their creation aren't entirely for DIY reasons.
"I think with videos it's really difficult to get them right. You spend all this time on an album and making sure the parts are right, recording it, making sure its mixed right and that the lyrics are spot on, spending all this time making sure you have this album that sounds great, then by the time you come round to releasing it, you have to tack on another idea on to the side of it in order to make it marketable. I think that's kinda bullshit.
"I know there are many, many talented people making music videos, but I find it a real pain, so if anything it wasn't necessarily to be DIY, but it was something we could do that didn't require too much effort and didn't distract from the music. If anything, it was more of a chance to do something fun and stupid."
As evident from the videos for 'It Follows', where the usually energetic keyboardist Paul Etienne ironically stands still, and 'The Way Back', which sees the band's LGBTQ+ fans celebrate themselves as 'legends', Nervus have added a fun and interactive element into considerably unwanted task of creating music videos.
"That was something we really wanted to do," Foster explains. "Making sure people know you can still do this sort of stuff, where you can be in a position where you're expected to do certain stuff [a high budget music video] and still not do it, and make people aware this stuff is accessible. You can throw any old crap together and still be passable.
"Getting fans involved with 'The Way Back' video was, I would say heart-warming, getting all these emails. I thought I'd get 30 emails to sieve through but we ended up getting hundreds and seeing all these submissions, seeing them celebrating themselves and being happy was great. I really enjoyed that. It was fun making it. There's a lot of great people involved."
From the hundreds of emails, the increasing fan interaction, and growing attention, Nervus are deservedly on the rise. 'Everything Dies' carries itself with a direct, optimistic and authentic message of acceptance. It is one that should be heard, praised and embraced. Their message may not be much of a financial gain to them, but like other bands within LGBTQ+ DIY punk community their voice is increasingly vital.
'Everything Dies' by Nervus is released on 9th March on Big Scary Monsters.
Nervus links: Facebook|Twitter|Instagram|Bandcamp
Words by Sêan Reid (@SeanReid86)