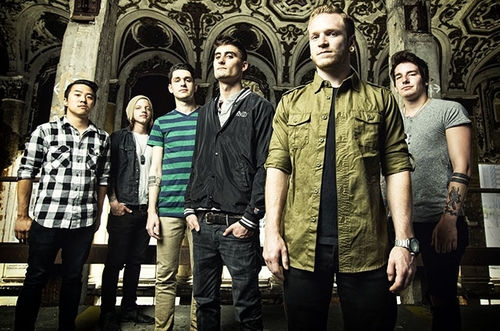 In 2014 we've seen quite a lot of Michigan's We Came As Romans. Having kicked off the year touring with Chunk! No, Captain Chunk!, The Color Morale and Palm Reader, they were back in the UK for Download in June and most recently they were back once again for the Reading and Leeds Festival.
We caught up with the band at the Leeds Festival, and with the release of their new live DVD, 'Present, Future, and Past', being imminent at the time, we questioned Andy, Lou and Joshua about the release, playing Reading and Leeds for the first time and their US headlining tour. The trio also discussed the importance of staying in fans consciousness whilst trying to write a new record.
AH: For starters can we get your name and role in the band?
Andy: I'm Andy and I play bass.
Lou: I'm Lou. I play guitar.
Joshua: I'm Joshua and I plasy the other guitar.
AH: This is your first time at Leeds and Reading. How are you finding it so far?
Andy: It's awesome. Lots of friends on the same bill and everything like that. It's cool running into everyone and saying "hi." The kids yesterday were awesome. Overall it should be a good time.
AH: What did you know about the festival before you came over?
Joshua: I don't think we knew a lot other then that's massive. Being from the States and to hear of festivals overseas you know nothing about but you know the name, the headliners and it's obvious that the festival must be huge if Paramore and Blink-182 are headlining. It's insane to be part of it. We played Download earlier this year, and that was our first really big UK festival, people were like "oh man if you guys like Download, Reading and Leeds is going to be sick!" Yesterday was really awesome. The fact we get to do it two days in a row is pretty awesome.
Lou: It's insane to say we're playing the same festivals with some of the bands we grew up listening to, that we idolise.
AH: I talk to a lot of American bands and it seems the whole European festival scene seems very different to the States?
Joshua: Yeah I honestly feel like over here you get catered to a little bit better. It's pretty cool. Kids in the States are awesome. A lot of bands don't get the chance to come over here, so when they do kids intend to go a little more nuts as they don't know if it'll be the last time they come over here. Overall I enjoy both. Coming over here is a treat.
Andy: The whole way festivals are run over here with catering, backstage areas. In mainland Europe too we did a bunch of those this summer, last summer and the summer before that, it's awesome. They build little cities back there. Behind our stage right now there is like trailers that are green rooms. Every band has their own little house, and you just hang out all day then you go and play an awesome show. It's great.
AH: Have you had chance to see any bands yesterday or today?
Andy: We saw Architects yesterday.
Lou: We had to leave Mice played. We will definitely see them tonight.
Joshua: They're good friends of ours. We've toured together when they were just starting out, and we were too. Yesterday we had a ton of press, we were there for three hours. We decided to do this whole thing ourselves. We only had one crew guy with us, then after that we were all setting up all our own stuff at the stage. It's kinda cool. It's fun. It's something we haven't done in awhile. It's cool to see your hard work pay off. You have a great show and then you're like "I actually did all that. I loaded all my stuff on stage. I restrung my guitar." Thankfully in the States we're blessed enough to tour with a crew in a bus and it's great. We've worked for six years now to get to that point, and to throw it back a little bit where we're doing all the work ourselves is rewarding.
Andy: I like doing it too.
Joshua: It's cool to be hands-on again because sometimes you're on the road all the time for like three months at a time, and we will be like "I don't care. I wanna go home. I'm over it. I've been doing it for two weeks straight." But now it's cool to be hands-on with everything.
AH: You were here for Download a few months ago. In terms of the crowd, did you find much difference between that crowd and the crowd at Reading?
Lou: I actually saw a few familair faces from Download. We did a signing at Download too, and there were a few kids who bought us drawings and little gifts that I saw in the crowd. That is really cool because it takes something extra in a band to get somewhere in the UK, not that you're picky but you really have to be dedicated. So to see returning fans a month or so later, especially at a festival where it's not cheap to get into. It's not a club show where you go and see five bands. So that was insane personally on my side of the stage. I was like "I know you from a month ago when we played here."
AH: What have you been up to since Download?
Joshua: We took some time off. We're starting to write for a new record, so Andy, Lou and I we all have recording programs on our laptops. We all have interfaces and we all play stringed instruments, so we all just trying to hammer out some new tunes and figure out what direction we want to go in. So thankfully we had some time off to do that, now we're in for a little long stretch. We play straight to Japan from here, then we fly to Detroit back from Japan and start a US tour the day after.
AH: Like you've just mentioned the Japanese tour. Are you looking forward to going to Japan?
Andy: Yeah. It will be our second time. Last time we just played Tokyo two nights in a row which was super awesome. We had a lot of fun. We played last time with Crossfaith, and we're going to go back with them. They're awesome dudes, good friends of ours. We're excited because we get to go beyond Tokyo and other places. We get to do more travelling. Hopefully this time round we do more exploring, meet new fans and check out new stuff. I'm kinda looking for some inspiration too whilst I'm out there seeing crazy mountains or something cool that will help with the next record. We're all looking forward to it then get back to the States and do an awesome headliner.
AH: Then you've got the US headliner with For Today, The Color Morale and Palisades.
Joshua: Crossfaith were on that tour and unfortunately their guitarist has a stress fracture in his hand, so for our Japanese tour he's sitting out and they've got a friend to come and fill in. But unfortunately they've had to cancel the US tour, which is a bummer as we've been friends with those dudes since the first time we went to Japan in 2012. They're all really awesome. It was just last week that we found they had to drop off that tour. As of last week it's For Today, The Color Morale and Palisades.
AH: Are you looking forward to it?
All: Yeah.
Andy: I love headlining.
Joshua: It's always fun because when you're not headlining you play a half hour set, hundred percent energy and you punch it out.
Andy: You get to play to fans who may never heard of your band, and they are there because you're playing with all these bigger bands.
Joshua: Yeah it's always fun doing that but headlining is kind of a different animal. It has it's pros and cons. I love it. We get play a bunch of old stuff then some middle stuff and then some new stuff. It's kind of nice to show what you've been up to and give them a real show. We all sat down and thought of the best way to have our set all laid out and everything we're going to do. It's just cool to unveil it and show everyone our hard work. We're excitied and we're going to play a long, long set and have fun with kids.
AH: Also that coincides with the release of the 'Present, Future, and Past' live DVD?
Andy: The tour is actually named after that. Louie came up with that. we were like "we don't know what to name it. Call it anything." Then Louie sent the mail, the golden email we refer it to. The DVD is a live show from our last headlining tour.
Joshua: We did some cool fan interaction stuff. We were doing meets and greets everyday. There were kids that were saying "I've listened to your band for five years, seven years. I've got your tattoo." We just wanted to chronicle our band from start to this point and kind of where we going to in the future. It will be cool. I know our true die hard fans will pick it up, but if anyone is curious about it I really think it is worth it and I'm not just trying to sell it, I actually think it's worth it.
AH: It's really captured your live show?
Andy: Yeah we've watched live DVD's like The Used, Story of the Year, Pantera and we always watch and when we're done we say "we've got to go and make something crazy." It's really inspiring for us to watch other bands live DVDs, so maybe some fans will watch ours, or some kids that are playing in local bands will get inspired from ours. So maybe in a couple of years we will be opening for them, you never know. That's how it went for us and hopefully that can inspire our fans to take the same route. Do something awesome, do something great.
AH: Looking forward to 2015. You mentioned you've been writing a new album. Is that the main aim for next year?
Andy: Yeah. We took a lot of big steps on our last record. Josh was saying earlier with our last record we didn't do anything crazy like reinvent the wheel but we definitely took some big steps. It took a bit of a different direction, and I think we're now just trying to hone in on it more and really try and touch base on what we ultimately have as a sound. We're doing a lot of cool things, and I don't want to say we've got a lot of tricks up our sleeve, but we've got a lot of good ideas brewing up. Some really good concepts and a good overall vision of what we want to do, so that is going to be our main focus.
Lou: After the US tour I don't think we have plans for months.
Joshua: It's our fourth album and we thought the last one was important in our career, then get to this one and we're like "oh my god!" This is the album that is important.
Andy: It's like Graduating. We Graduated Middle School, we got to High School and now we're like Graduating High School and moving to College. Or failing. (all laugh)
Joshua: We've got put every effort and try and make the best CD. We need time to do that, you can't rush it like that. You've got to feel it and there isn't really a time limit on that. You kind of roll with it and see what happens.
AH: Yeah. There is a saying "you have a lifetime to write your first album but only six months to write your second."
Andy: Yeah. In this day and age too the turn around time is crazy. Some bands used to take three or four years, now two is even pushing it.
Joshua: A year and a half is the max. Fans have the insatiable thirst for new music all the time and we're trying to give it to them.
AH: Also because there are so many bands in this day and age, if you're not active you're quickly forgotten about.
Andy: Yeah. Honestly staying on the ball and keeping everything rolling is super important. Touring is another huge thing. If you're not constantly touring and being like "hey! we're here." You have to do everything possible or else you fall short behind. The work load is the same but it's done differently. You really got to keep pressing on, stay out there and stay relevant. I think we've been doing a pretty good job at that.
Joshua: It's crazy. Like Andy said you've got to keep touring all the time because then that keeps your bands name in the conversation of all your fans. Then on top of that you have to release new music every x amount of months, and it's so hard to write on the road, so you have to take time off to write then you're not touring. It's an insane balance that so far after six years of touring we're starting to get the hang of it. I guess we'll see.
AH: To finish off do you have any final words to share with the Already Heard readers?
Joshua: We've got a live DVD coming out, if you want to pick up it Nuclear Blast are releasing it in the UK and Europe. Hopefully you guys will enjoy that. We're going write some new stuff and we will be back in the new year to hopefully play it for you guys.
'Past, Present, Future' DVD by We Came As Romans is out now on Nuclear Blast.
We Came As Romans links: Website|Facebook|Twitter
Words by Sean Reid (@SeanReid86)