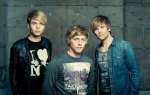 Ok I'll admit UK Pop-Rockers Twenty Twenty aren't the ideal fit for a site like Already Heard. For those who are familiar with the trio, in the past they've supported major pop acts such as The Wanted, The Saturdays, Avril Lavigne, Scouting For Girls, and Selena Gomez. With the end result seeing Twenty Twenty building a strong, (mostly) young fanbase. You see why I was slightly apprehensive about having the band featured on AH, right?
However the band made up of brothers Sam and Jack Halliday and Sonny Watson-Lang are ready to change things up with their new album '25th Hour,' which sees Twenty Twenty aiming to produce a rockier edge to their sound. Tracks like 'Over Your Spell' and 'Killing Your Cancer' take the bands pop hooks and combine them with bright and bold guitar riffs with the end result seeing the band being compared to the likes of All Time Low, You Me At Six, Boys Like Girls and We Are The In Crowd.
Now with their new sound and '25th Hour' out there, Already Heard spoke to Sam Halliday to discuss the record, the change in sound, using Pledge Music to raise funds for the album and more.
Already Heard: Can I ask who I am speaking to and can you tell us your role in Twenty Twenty?
Sam Halliday: This is Sam, and I am the vocalist and guitarist in Twenty Twenty
AH: Since your formation you've had your fair share of criticism from certain areas of the media for being a pop band with guitars. Is your new album '25th Hour' a statement of intent and attempt to be taken more seriously?
Sam: I wouldn't say this record was just aimed for us to be taken more seriously, but also to show people that our musical and lyrical abilities stretch beyond what was on our début album. We love to surprise our audience and would like to think people who wouldn't ordinarily listen to us might pick up this album and say; 'Actually, that's a great song' or 'What a brilliant lyric!'.
AH: How has the bands sound developed on the record? Is it a more rock-orientated record?
Sam: Yes, we definitely aimed for this record to be more 'ballsy'. We purposely chose producers that were used to recording hard-rock bands so that this album would be a bit more hard-hitting in it's production.
AH: What was the motive for the change in direction?
Sam: I wouldn't say it's necessarily a "change" in direction, but more of a development. At the end of the day we write pop melodies, but we've grown a lot as songwriters and individuals over the last few years and we wanted to experiment with a few different sounds on this album.
AH: What bands would you compare your new sound to?
Sam: I would like to think that anyone who is a fan of Simple Plan, All Time Low, and even Paramore will enjoy our new album.
AH: Having built a big following from supporting a variety of pop acts, how has the new record been received by those fans?
Sam: The response we've had from fans has been amazing. They have commented that the new album is definitely different to our previous material, but they're also loving it!
AH: What songs on '25th Hour' best represents the bands revamped sound?
Sam: 'Over Your Spell' is definitely unlike any song we've ever written so that's definitely one to check out. I would also say songs such as 'Trouble', 'Killing The Cancer' and 'You & I'. They're a good example of guitar led songs, but still with big catchy choruses.
AH: For the making of the album you used the Pledge Music campaign service. How was the response from fans to your campaign and why did you decide to use that service?
Sam: The response was amazing. A lot better than we thought it was going to be. The main reason for using Pledge Music is that we wanted to give the fans an all-access insight into how an album is written/recorded as well as offering them unique experiences with us that they wouldn't get anywhere else. When we were growing up and listening to our favourite bands we loved watching studio updates and hearing snippets of songs before they were released, and that's what we wanted to give our fans with this album.
AH: How beneficial can Pledge Music be and would you recommend it to other bands?
Sam: We would definitely recommend it to other bands with a solid fan-base. I think it also shows that you're willing to get directly involved with your fans, which (in the current climate of the music industry) is the best place to be. We've learnt that the more you can give your listeners, the more they tend to give back.
AH: I understand you recorded the album in Sweden. Can you tell us about how '25th Hour' came together?
Sam: We actually wrote and recorded '25th Hour' in Sweden. We went out there in February (2012) to work with various producers and to pen a few song ideas and even before we finished our trip Jack, Sonny and I all said "This is where we want to finish writing and recording this album." The direction of the material we wrote out there along with the production style was exactly what we were looking for. After our February trip everything fell into place pretty quickly, we went back out there after our tour in June to finish writing the rest of the album, and recorded the album in July/August in Stockholm.
AH: What do you hope new and old fans take away from '25th Hour'?
Sam: We hope that we've broadened our fans expectations of us. Old fans will notice that there are a few hard-hitting tracks reminiscent of our earlier material, whilst we hope all our new fans are enjoying the big catchy melodies we enjoy writing so much.
AH: More importantly do you think it will make people change their opinion of Twenty Twenty?
Sam: We hope so, and that we're not as predictable as most people think we are.
AH: Any final words to close the interview?
Sam: Thanks to everyone who's supporting the new album, and if you haven't heard it yet make sure you get yourself a copy!
'25th Hour' by Twenty Twenty is available now on through the band's Big Cartel site.
Twenty Twenty will also be playing five headline shows in December.
December
03 – The Garage – London (SOLD OUT)
04 – HMV Institute – Birmingham
05 – The Roadhouse – Manchester
06 – Classic Grand – Glasgow
08 – The Garage – London (second show added due to popular demand)
Twenty Twenty links: Facebook|Twitter|Youtube|Big Cartel
Words by Sean Reid (@seanreid86)