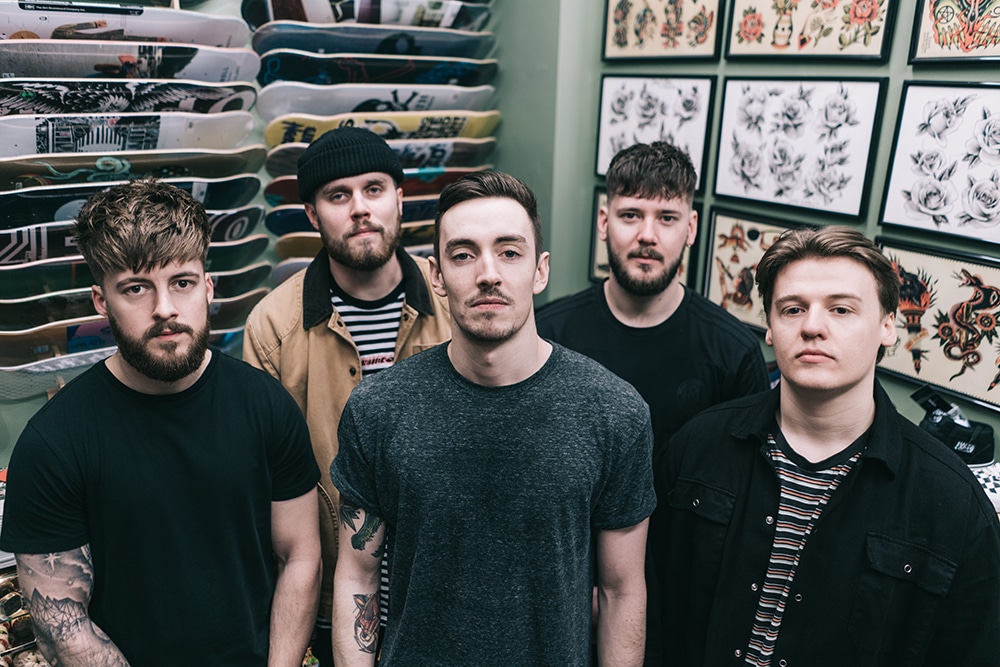 "I tend to just question my responsibilities and my decisions"
Being the frontman of a band can be a difficult task. More often than not, you're the centre of attention. The responsibility can put a weight on your shoulders. Add to that life away from your band and it can all become too much to handle. For Trash Boat vocalist Tobi Duncan, it is these experiences that serve as the catalyst for the band's second album – 'Crown Shyness.' Although he's achieved and experienced a lot in recent years, the album's title reflects the realisation that there are areas of his life that don't overlap and are disconnected from one another.
"I started thinking about the fact that you see all the edges of the canopies, they're all there and all so broad. They're just surrounded by all these other trees but they never touch," Tobi explains. "That resonated with me as a metaphor in of itself because I'm surrounded by all these people, hundreds of friends, a lot of them close friends, but sometimes you feel you never really connect, because your own life is so personal. That immediately hit me as the foundation to start writing an album. Not every song is about that necessarily, but it's the base. It's the jumping off point for a lot of the material."
Since forming just four years ago, Duncan along with guitarists Ryan Hyslop and Dann Bostock, bassist James Grayson, and drummer Oakley Moffatt, Trash Boat have surged forward from a crowd of, loosely affiliated pop-punk, UK bands. 'Crown Shyness' arrives two years on from their debut full-length, 'Nothing I Write You Can Change What You've Been Through'. However, it has been a period of considerable growth for the St Albans quintet.
While its predecessor maintained the expected pop-punk tropes with hints of hardcore smattered about, 'Crown Shyness' strides forward with more confidence. For Tobi, it sees him grow as a songwriter and vocalist. On the pulsating opener 'Inside Out,' he roars "All eyes on me. Spill my blood and show my shame," setting the blunt and honest lyrical approach he takes throughout the record, with the closing line of "Joy, peace, guilt, release, love, hate, react, relate" summing up its emotional narrative.
"I tend to just question my responsibilities and my decisions. A lot of songs kind of dig deep into my thought processes and the reasons why," says Tobi when asked about the honest nature of his lyrics. "I'm desperately scrambling trying to figure out how my brain works and why I think, feel and do certain things. It's just a personal journey for me.
"I feel a lot of songs I write, especially when it comes to personal responsibility, it's so much easier to keep myself on the right track. If I write a song and release it to the public, then I have total accountability because it's out there and it's true. It's the foundation of a lot of songs I write."
As for the making of 'Crown Shyness,' the experience is considerably different to that of 'Nothing I Write You…' Recorded with producer Andrew Wade (Neck Deep, A Day To Remember) over five weeks in Florida, the band benefitted from being in a laid back environment. "We were staying in an apartment next to the studio. We could just wake up, roll into the studio and just work with Andrew. He had a great attitude. He sort of became the sixth member of the band for a bit," Duncan tells us about the easy-going setting. "Just having a whole week of pre-production and really digging into the songs, refining them, was great. We weren't stress at any point. We even had a bit of time to spare. During the last couple of days, we were just nitpicking because we could. It was a great feeling.
"In general, before we even went to the studio, we really took our time and I think it has heavily worked in our favour. For 'Nothing I Write You…', we did the whole thing in two weeks and I did vocals in four days. It was tough because not only was I not a very experienced vocalist, but waking up at seven in the morning in January in England. My voice wasn't warming up properly."
Besides Trash Boat's overall growth in confidence on 'Crown Shyness,' there certainly has been improvement in the vocal department. From speaking to Duncan, you get the impression that he'd admit to not being the best vocalist. Nevertheless the touring opportunities 'Nothing I Write You…' provided to the band has benefitted Tobi's delivery. "We spent the entirety of 2017 touring, just playing shows, especially with New Found Glory. That was a long tour, but that gave me the discipline I don't have when I'm at home. I don't want to do that when I'm not on tour, I want to be lazy but when you're on tour, you sing every single day. I just found out new things about my voice I didn't know before. I pushed it, and just refined it. I love how it sounds right now. I've still got a long way to go, but from where I was then to what I can do now, is a massive change."
Undoubtedly, 'Crown Shyness' is the sign of a band more assured in their own abilities. The combination of melodic hardcore blasts (see 'Controlled Burn') with the occasional pop-punk bounce ('Shade' and 'Undermine') strung together by Duncan's direct and cathartic lyrics results in Trash Boat finding their identity.
Currently in the middle of their first (and last) Vans Warped Tour run, 'Crown Shyness' should solidify Trash Boat as one of the UK's most promising exports as they travel up and down North America's highways. And although they've had a handful of unfortunate issues on the tour; buses catching fire, being stranded in the Nevada desert, collapsing stages, and having a Trump-supporting driver, Duncan told us in the lead-up to the tour, he just wants to "experience and learn from it."
'Crown Shyness' by Trash Boat is out on 20th July on Hopeless Records.
Trash Boat links: Website | Facebook | Twitter | Instagram
Words by Sêan Reid (@SeanReid86)
---
If you have enjoyed reading this article and would like to help us produce more content and promote more great new music, please consider donating to our Patreon page.