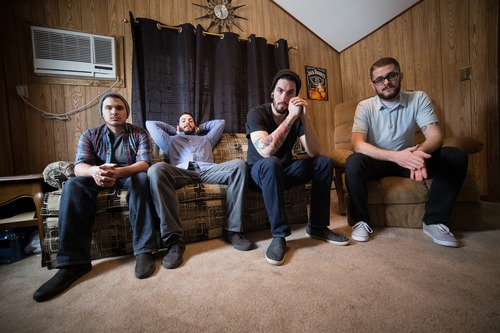 Let's admit it, the US pop-punk "scene" is ever-growing and producing new bands. One of them being Massachusetts quartet Traditions who's brand of emotionally-driven pop-punk makes them stand out from the crowd, and as they point our aren't merely "riding the wave".
Next month Traditions release 'Cycles', their debut EP. A meaningful collection of pop-punk songs that sees the band wearing their hearts on their sleeves. It's no surprise that their influences include The Wonder Years and The Swellers.
We're sure 'Cycles' will certainly be welcomed by pop-punk fans and be hearing more from Traditions in the future.
We spoke to vocalist Randy Burlingame about 'Cycles', the bands formation, and 'Eyes Of A Man' which is being exclusively on Already Heard.
Already Heard: Hey! Can you introduce yourself and tell us what you do in Traditions?
Randy: Hey, thanks for having us! My name is Randy Burlingame, and I sing and play guitar in the band.
AH: Let's begin with how the band started. I understand Traditions sees you all bringing your previous musical experiences together?
Randy: I think Traditions was a thing just waiting to happen. Jack (Dunphy – Bassist) and I have been friends and playing music together since middle school. Matt (Cyphers – Guitarist) was the first friend I made in college (we eventually became roommates for a couple years), and Mike (Gelinas – Drummer) was already in my other band at the time (Arrows Over Athens). We all were writing together for a little while when AOA decided to call it quits, and that's when Traditions became a serious project for us all.
AH: In the press release for your new EP, you're compared to the likes of Taking Back Sunday, The Wonder Years, and The Swellers. Who do you consider as influences?
Randy: The fact that we've been compared to such great bands is really humbling, especially because those three particular bands are three of our bigger influences as a group. If I had to pick a few more (at least for me personally), I would definitely add Bayside, The Story So Far, and probably a bit of Yellowcard too.
AH: From hearing 'Cycles', I get the impression Traditions are more than your standard pop-punk band especially in your lyrics?
Randy: Yeah, I can agree with you there. To be honest, we were just fortunate (well, unfortunate really) to have meaningful things to write about. One of our best friends had taken his own life about a year before we started writing, my girlfriend of a few years just broke up with me, and Matt was basically living out of his car at the time. As terrible as those things were, they provided lyrics for the record. I think that's what makes it unique.
AH: How would you sum 'Cycles' in one sentence?
Randy: No matter how high life brings you or how low it pushes you down, don't give up.
AH: What impression do you hope people leave with after hearing 'Cycles'?
Randy: Writing and recording 'Cycles' was a healing process for me. It made me feel better about everything that had been going on in my life previously. I'm not saying it's going to do that for everybody, but I do hope it creates a positive impact to everyone who listens. Life is hard. Sometimes it's almost TOO hard. But your life is really an amazing thing when you think about it. Do your best to not spend too much time mulling over the negatives and just enjoy it while you can.
AH: With the pop-punk being so popular and new bands constantly emerging, how does Traditions stand out from the crowd?
Randy: A lot of new pop-punk bands are sort of, "riding the wave". New trendy bands will come out, and the next 10 bands will try to emulate their sound to a tee, and so on. I think we did a pretty good job of avoiding this "copy cat" technique and making a sound that is our own, while still tapping into all of our influences.
AH: We're premiering 'Eyes Of A Man' from the EP. Can you talk us through what the track is about and how it came together?
Randy: 'Eyes of a Man' is really the summary of the whole EP, and is the closing track on 'Cycles'. The rest of the songs talk about hardships we've endured, and how they changed us as people. 'Eyes of a Man' is us looking back on those songs and experiences and saying, "none of it really matters". Why? Because one of our best friends took his own life. Being depressed about breakups, losing a job, bills, school, friend drama, family life, and whatever else is all normal. It's part of being human. But compared to death? It's all so irrelevant. We're all only given a certain amount of time on this planet to be alive, and while enduring those things can be taxing on a person, we all have to do our best to enjoy our time here. Other wise what's the point? Even after losing our friend, it took me a while to understand that. So in short, 'Eyes of a Man' is about David Marcus. It's about being frustrated that he never was able to fully feel and understand how amazing he really was.
AH: What do you have planned in terms of future material? Can we expect a new EP or even a full-length in the near future?
Randy: We're constantly working on new material. We'll be touring on 'Cycles' for most of 2014, but expect us to be hitting the studio towards the end of the year to start recording our first full-length. Very excited for it!
AH: Do you have any final words to share with the Already Heard readers?
Randy: Out of all the things you guys could be doing, you took time out of your day to check out our music and read this interview. Thanks for your support, and we hope to see you all soon!
'Cycles' EP by Traditions is released on 11th March on Take This To Heart Records.
Traditions links: Facebook|Twitter
Words by Sean Reid (@SeanReid86)