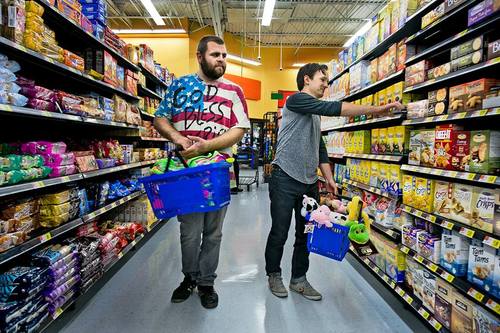 With a title like 'The World Is A Terrible Place And I Hate Myself And Want To Die', on paper the debut EP from Philadelphia duo The Weaks doesn't sound like a cheerful affair. Nevertheless Chris Baglivo and Evan Bernard have turned out a fuzzed out collection of emo/pop-punk that is reminiscent of Weezer's early power-pop days.
Frankly its an EP that has certainly caught our attention and has received its fair share amount of praise so far. Tracks like 'Dunce Pageant' and 'Nietzche's Harvest Song' are short, sweet, poetic, and honest with comparisons being made to bands like Pixies, Say Anything and fellow Philadelphian's Modern Baseball.
We recently spoke to Chris and Evan to find out more about 'The World Is A Terrible Place…', where the title came from, and we question whether Philadelphia really does have the best punk scene in the US?
Already Heard: Can you introduce yourself and your role in The Weaks?
CB: I'm Chris Baglivo, and I am a songwriter, vocalist, guitarist, keyboardist, whatever.
EB: I am Evan Bernard and I am a songwriter, vocalist, guitarist, keyboard player also. I am also the band dungeon master and occasionally go by the name "the unstoppable party."
AH: For those who are unfamilair with The Weaks. Can you talk us through how you came together? I understand you used to play together in a band called Dangerous Ponies?

CB: Evan and I have been friends for years, and we started Dangerous Ponies with Chrissy Tashjian (now of the rad band Thin Lips). Our drummer Mikey Tashjian was also in the Ponies for the bulk of its existence, and he has been Chrissy's brother his entire life. While we were in the Ponies, Evan and I decided to challenge ourselves by writing and releasing a song every week (hence The Weaks). Once the Ponies split, we decided to do the Weaks full time as a band instead of a recording project.
AH: I read your influences range from Weezer to Thin Lizzy to The Ergs. How would you best sum up The Weaks sound?

CB: Heavy pop.
EB: An amalgamation of all of the music we like. What's more exciting than diversity?
AH: Some may know you for your 'Song A Week' project. How did that idea come about?
EB: Chris and I wrote a lot of songs in the ponies that got passed on and overlooked because they weren't a great fit for the band. So we thought "why not just make a project we can do whatever we want?"
AH: You've just released your first full EP. From the title ('The World Is A Terrible Place And I Hate Myself And Want To Die') it doesn't sound like the upbeat collection it turns out to be. Whats the story behind the title?

EB: Over the summer I was trying to book a show for my friends from Willimantic Connecticut and I was having trouble nailing down a venue. We all thought it would be a bust, but two days before the date of the show a house venue got back to me and let me know we could do it there. So now atleast we had a show booked, but I had to pull together a new lineup. So there's a more well known band from Willimantic called The World Is A Beautiful Place & I am No Longer Afraid To Die. I thought it would be a funny little inside joke to make a band for a day and parody the name. So my designer buddy/ Weaks guitarist Austin Jefferson came up with a design and I decided to screen print some shirts for the show to hopefully sell some and be able to give the touring a decent amount of gas money. The show was a success, and I liked Austin's design so much I wanted it to be more than just a limited run fake band t-shirt. It was right around the time we were finishing up the EP, so we figured why not?
AH: The EP has been streaming online for the past day. How has the response been so far?

CB: My mom loves it.
EB: Not bad. Most comments on the Brooklyn Vegan website have to do with how much people hate walmart (where we took the photo used in the article).
AH: For new listeners, what would you consider your "introductory" track?
EB: I'd say 'Nietzsche's Harvest Song' or 'How To Put An Audience To Sleep…'
AH: Your hometown of Philadelphia was recently labelled as having the best punk scene in the US right now. Why does it keep producing so many great bands?
EB: It's the cheapest major metropolitan city to live in on the eastern seaboard. We can spend more time honing our various crafts here and supporting others rather than hustling to pay rent.
CB: Cheesesteaks. The liberty bell? Ben Franklin.
AH: Is the statement of "having the best punk scene" true?
CB: I can't claim to know. I suppose we'll have to ask the punk rock anthropologists in 100 years. But I certainly think so.
AH: How important is the "community" factor in the Philadelphia scene?
CB: Very. That's what makes me love Philadelphia so much. This scene is made of people who are here to support one another across genre lines and levels of success. We're all friends here, and we want each other to succeed.
AH: What venues would you recommend to tourists visiting the city and looking to see a show?
CB: Johnny Brenda's, Boot and Saddle, KFN. But if you want to get down to the nitty-gritty of our scene, make sure you catch a show at Golden Tea house. It's the house shows that really defines Philly for me.
AH: Here at Already Heard, we're fans of local Philly bands such as The Menzingers, Modern Baseball and Hop Along. Are there any hidden gems from the city we should know about?
CB: I notice Cayetana isn't on your list. I had the pleasure of doing sound for them once, and I was blown away. I also recommend you scope Ma Jolie.
EB: I loooooove Mumblr. They're great. Amanda X is about to drop a new record that I'm super excited about, I listen to Gunk so often I think I'm developing a problem and Dogs On Acid is about to be the next big thing, just you wait.
AH: The EP is being released through local label Lame-O Records. What is it an easy choice to work with a local label?

EB: It's the best. I can go to the HQ and drink black chocolates with them to my hearts content, whenever I want, all the time. Eric just came over and helped Chris and I screen print the blank side of the LP until ridiculous hours in the morning, despite his grueling work day today. That's dedication.
AH: How beneficial is it to be working with a local label like Lame-O?
CB: Quite simply, we know them. No hierarchy of A&R agents, no songwriting sessions with four producers, just us and our friends putting out an album together.
AH: Besides the EP, what are your touring plans for the coming months?
CB: We have a 10 day tour in February with Evan's other band Holy Death hitting and we also have a couple days In April lined up with (the excellent band I mentioned before) Ma Jolie. I'm already looking forward to it.
AH: Do you have any final words you'd like to share with the Already Heard readers?

EB: I've always wanted to end an interview with "Roast Beef & Cheese Is Sure To Please" because Jesse Michaels did it once.
'The World Is a Terrible Place and I Hate It and I Want to Die' by The Weaks is available now on Lame-O Records.
The Weaks links: Facebook|Bandcamp
Words by Sean Reid (@SeanReid86)