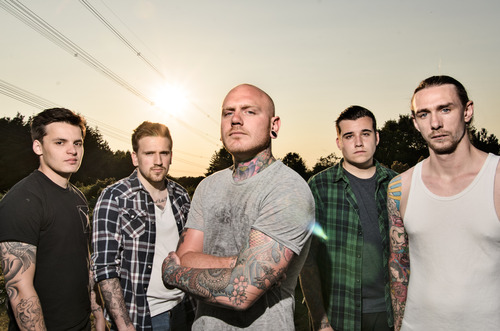 With the likes of Bring Me The Horizon, Architects, and Bury Tomorrow achieving plenty of success at home and abroad, UK metalcore is certainly on the rise and Southampton's The Valiant look to follow the path set out by the aforementioned bands.
Having worked with renowned producer Lewis John on their recently released debut 'Empress Heights', The Valiant has been receiving widespread praise for their take of metalcore. Packed with pummelling drums, riffs, melodies, breakdowns and complimenting clean and scream vocals, 'Empress Heights' is an impressive debut that delivers all metalcore fans want from a record.
Since forming in 2009, The Valiant are now seeing the results being paid off for their hard work and dedication.
We caught up with drummer Dan Moss to find out more about 'Empress Heights', how not to be a predictable metalcore band, and more.
Already Heard: Can you introduce yourself and tell us what you do in The Valiant?
Dan: Hey, I'm Dan Moss. I play drums in the band.
AH: I understand the band has been together for nearly five years now. How has the bands style developed over the years?
Dan: Yeah, we got together in 2009! When we started we didn't really know which way we wanted to go with our music and to be honest we weren't very good at our instruments … but over the years we've really helped each other progress and get better at our craft. We've already started writing new songs which we're taking a completely different approach with by really taking our time with every song and getting it exactly how we want it, arranging structures differently and throwing around new ideas is a lot of fun!
AH: You recently released your debut LP 'Empress Heights'. For those who haven't heard it yet, how would you describe the record to them?
Dan: Well it's our first release and all we wanted to do was to make it heavy, fast, ballsy and chuck in a little ballad for good measure which is what we hope comes across on the record.
AH: 'Empress Heights' has been receiving praise from a range of publications. Did you expect such a positive response?
Dan: We honestly didn't! We were really nervous about all the reviews and features we've had in the press recently, it's been over a year of hard work and hurdles for us and we're stoked it's all paid off and truly humbled with all the kind words we've had from everyone.
AH: I understand you wrote a lot of the record whilst on tour. Do you find it easier writing on the road?
Dan: We were playing a lot of shows around the time we started writing and as the start date of recording was getting closer and closer, we really had to pull it out the bag and get our heads down to finish the record. We feel we didn't have as much time as we would have liked but we're happy with the outcome! A few bits were changed in the studio as well, as myself writing drums for a song on the spot, we're excited to be writing again with a little more time on our hands which allows us to really focus and play around with new ideas.
AH: Does the factor of being away from home influence your writing in anyway?
Dan: Well we haven't been on tour in a while now but this year we'll be hitting the road probably more than we ever have before, which we really can't wait for!
AH: You recorded the album with Lewis Johns who's known for working with a bunch of UK hardcore bands. What was it like working with Lewis and what did he add to the record?
Dan: It was really cool working with Lew on the record, he assisted on our first EP and then went on to start recording on his own and we really liked the stuff he was doing plus we got on with him pretty well (despite his constant ridicule, mockery and hurtful words) so it just made sense for us to stick with him…
AH: It seems there is a common idea that the metalcore genre can be pretty predictable musically, as a metalcore band how do you work your way round it?
Dan: It's understandable that people think that but all we have ever done is what we want to do and that's what we'll keep doing because it's fun and that's the whole point in being in a band, isn't it? If it's not fun anymore then you're definitely in it for the wrong reasons in my opinion.
AH: The album has seen you be compared with a variety of major UK bands such as Architects, Bury Tomorrow and Bring Me The Horizon. What do you make of those comparisons?
Dan: It's always good being compared to bands we look up to and especially our friends in Bury Tomorrow, I've seen first hand how hard those dudes have worked over the years to get where they are now and to be compared to them is always a pleasure.
AH: With Bring Me The Horizon playing Wembley later this year, and much-anticipated releases from Architects and Bury Tomorrow coming soon, would you agree that the UK metalcore/heavy rock "scene" is in a good place right now? If so why do you think that is?
Dan: I think it's probably in the best place it's ever been, UK metalcore is really making it's mark on the music scene right now and these bands are really raising the bar.
AH: Now the album has been released, what other goals and plans do you have for the remainder of 2014?
Dan: Keep writing and hit the road hard, playing as many shows as we can.
AH: Any final words to share with the Already Heard readers to close this interview?
Dan: Thanks to everyone for reading, we really hope you like the record and hopefully we'll see you at a show some time soon!
'Empress Heights' by The Valiant is out now.
The Valiant links: Facebook|Twitter
Words by Sean Reid (@SeanReid86)