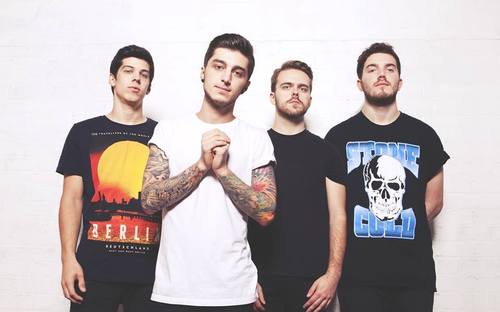 For a new band like London quartet The One Hundred, playing a festival such as Sonisphere is a huge opportunity to get seen by many new faces. However, having witnessed their 30 minutes of genre-mashing blend of metal, rap and electronica, it is safe to say The One Hundred made a significant impression to those who woke up early on Sunday to see their set in the Satellite tent.
Having successfully made their festival debut, we spoke to vocalist Jacob Field and guitarist Tim Hider to find out what they thought to their festival debut. The pair also discussed their forthcoming debut EP and we find out what lessons they've learned from Sonisphere 2014.
Already Heard: So Sonisphere is your first ever festival?
Jacob: Yeah, first proper festival. It's been incredible, that's all I can say. It has been a pleasure, more than a pleasure.
Tim: It's been a crazy experience. So many great bands and then we're playing as well.
Jacob: It's an added bonus. You see these festivals and you go, "I'd love to go there" then they tell you "you're playing it" and you go "ok cool." I get to see some bands and I'm playing it. Brilliant!
AH: Have you been here all weekend?
Tim: Yeah I've been here since Thursday.
Jacob: The party animal has been here since Thursday morning.
Tim: I'm still going strong. He's been here 2 days and he's already tired and wants to go home (laughs).
Jacob: I don't want to go home. I'm just bit of a princess, I'm not gonna lie. I need my beauty sleep, that is how I see it.
AH: You can't beat having your own bed.
Jacob: No, exactly and I don't live too far out so I might as well drive back home, have a little nap and come back again later, haha.
AH: What bands have you seen over the past few days?
Jacob: (Limp) Bizkit!
Tim: Yeah Bizkit, The Prodigy on Friday night. They were wicked.
Jacob: They were spot on.
Tim: Saw Iron Maiden last night. I saw Baby Metal on Saturday, that was interesting (everyone laughs.) Yeah they were an experience.
Jacob: You also saw The Hell.
Tim: Yeah I did.
Jacob: I saw Glamour of the Kill. They were really, really good. That was the first time I've properly seen them. They smashed it. So yeah we've seen some good bands. Today has been a bit of a write off though hasn't it?
Tim: Yeah we've been busy.
AH: We saw you play earlier at 11:30am. How was that?
Jacob: Surprisingly, it was really good actually. It was nice to see people alive after Saturday. After yesterday everyone was kind of not with it at all, it was a very very drunk night.
Tim: We were thinking "were people going to turn up on Sunday morning?"
Jacob: And for some reason a lot of people turned up.
AH: It's always difficult playing that early set. You don't know how people are going to be or if they're going to be around.
Jacob: We were really lucky. The kids got really into it. I couldn't ask for more.
AH: We caught the second half of your set. I enjoyed the last song you played.
Jacob: Yeah that's the new single 'Downfall'.
AH: When can we expect to hear that properly?
Tim: In the next couple of weeks probably. There will be a music video for it at some point.
AH: Is that already done?
Tim: Not yet. We're yet to do that, but it will be coming out at the end of the summer along with the EP.
Jacob: Yeah, I think it's all going to be tied in to the ongoing process of the EP etc.
AH: So is the EP finished now?
Jacob: Yeah it's all done. Written and finalised. That comes out early Autumn.
AH: For those who haven't heard you before, what can they expect from the EP?
Jacob: Its quite a cliche thing to say but it really is quite different. There's a lot of things on there that will appeal to a lot of different people from different genres of music. There are certain tracks that have that hip-hop vibe to it, there's some nu-metal tracks, there's some more poppier parts with hip-hop elements to it. We're really proud of it. We just hope people dig it as much as we dig it.
AH: So it best represents who you are?
Jacob: Yeah exactly. We're kind of a rap, grimey metal band so if you like the rap sections of it, there is going to be a lot of them. If you love synths and DJ elements, there is a lot of that in there and there is a lot of riffs and screaming, so if you're into any one of those things you should definitely check it out.
AH: So all bits of different genres thrown together?
Jacob: Yeah, it shouldn't work but somehow it does. That is how we go with it.
AH: Besides from Sonisphere, do you have any other festivals lined up?
Tim: Yeah we've got Redfest in a couple of weeks, and then we've got Hevy and Altfest in August. There's another one in Wales which we can't announce yet, but there is one there for all the Welsh fans out there. Then after that its a tour at the end of the year.
AH: As this is your first festival, what lessons have you learned from being at Sonisphere?
Jacob: I haven't learnt much, but what I have learnt is that him and our bassist (Phil) need to stop drinking as they stumbled in at half 5 this morning, 5 hours we're meant to be at our stage soundchecking. I don't know how Phil looked better than me in the morning when he was up all night, and I managed to get some sleep but somehow he did. Your lesson to learn Timothy is to stop drinking so much, and mine is to be a better role model for you to follow, haha.
Tim: Yep it's your fault.
Jacob: My fault for not being there, so I'm sorry for that as well.
AH: So with the EP and tour, anything else in the works?
Tim: There is a cover track in the works that we're working on. We're not announcing what that is yet.
Jacob: Apologies for us because we're going to be rammed down your throat an awful lot. There's alot of things we are announcing but we're not fully announcing. We'll just give you a little insight.
Tim: There is loads of stuff coming but you've just got to wait for it.
AH: Any final words to share with the Already Heard readers?
Jacob: You should check us out – www.theonehundredband.com. You can download our single and watch all our videos there, see all of our tour dates and there is no excuse to not download our track as its free.
The One Hundred links: Website|Facebook|Twitter
Words by Sean Reid (@SeanReid86)