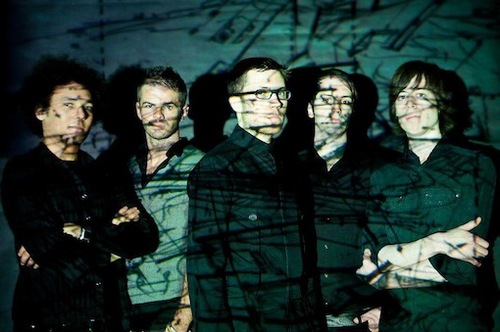 Returning with their first album in six years, 'Balancing' sees Hertfordshire's The October Game showcase dynamic growth and versatility with a brooding undertone throughout. Although the initial aim wasn't to make a record, 'Balancing' documents the bands efforts over a two year period, with the end result being a focused and compelling collection of songs that each stand out by their own merit. Tracks such as 'Beg Cycle' are rich with sweeping strings, whilst lead single 'We Built This Wall To Destroy It' is a groove-centered rock number that highlights the bands pop sensibilities.
Already Heard recently spoke to Luke Williams and Nick Kozuch from The October Game to discuss 'Balancing' in more detail; the writing process, its various packages, working with Scylla Records, and more.
Already Heard: To begin with can you introduce yourself and your role in The October Game?
N: I'm Nick. I do guitars and electronic bits.
L: I'm Luke. I sing and play guitar.
AH: We know 'Balancing' is your third record, can you give us a brief history about The October Game to date?
L: We started life as a 3 piece and recorded with a session drummer/friend for our first album 'Box Of A BIllion Lights' (2006). We toured the arse off of that album playing about 200 gigs in the UK, Czech Republic and Iceland. In 2007 Ollie Taylor joined the band on drums and after playing lots of gigs we recorded and released our second album 'Wildblood'. Our track 'Concrete' from that album did us well and got picked up and championed by Tom Robinson (BBC6 Music) and off the back of that we had some great BBC Introducing slots at some major UK festivals as well as more touring of our own. Nick Murray joined the band in 2010 playing Viola & Keys and over the period of a couple of years of demoing/playing etc we started to piece together 'Balancing'.
AH: 'Balancing' sees you entering into various genres from alt rock to indie pop to electronica. Is this a new approach or has this been something The October Game has done for some time?
L: The ingredients are there in all 3 albums, just in different quantities. Our music has always been very varied.
AH: With such an expansiveness style, what was your mindset when you were writing this record?
N: Unlike our previous album ('Wildblood'), which had an identity and (for want of a better word) a theme throughout its entire composition, with 'Balancing' we wrote each track without any particular overarching aim or guiding intelligence. We weren't even set on the idea of making an album. Instead, we tried to give each track its own independent character and identity; to do all we could to bring the most out of each track without too much of a reference to the others we were writing. The result was that we ended up writing and demoing around 30-40 tracks that were just sitting on a bunch of hard drives. We decided to piece the album together retrospectively from what had already been composed. 'Balancing' is our attempt to create a record, in every sense of the word, of what The October Game were up to between 2011 and 2013.
AH: In terms of influences, from hearing the album I can imagine them being quite varied. Correct?
N: I love nothing more than hearing new (to me) music; I am constantly trying to listen to something I've not heard before and. Given that, drawing inspiration from all these different sources (/ripping them off?) I'm pleased to hear our influences sound varied to you…. You are correct!
AH: The lead single from the album is 'We Built This Wall To Destroy It'. With an album with so much depth, why did you decide to release this first?
L: The first track we actually let people hear was a track called 'Beg Cycle' but 'We Built This Wall To Destroy It' was an obvious choice for the first single proper, it's one of the most concise songs we've ever written. It has a big chorus, a cool groove and plenty of balls.
AH: You worked with producer Jake Robbins on the album. What was it like working with him and how the enhance the record?
N: For the previous 2 albums I have been doing most of the production and I wasn't initially convinced my ego would take the knock of not being the decision maker in the recording process. However, it turns out Jake is brilliant and it quickly became liberating to trust someone else with the engineering and just concentrate on the music. We also did a lot of pre-production demoing in advance which, I think, gave us a lot of confidence in what we were aiming for before we went in.
AH: The length comes in at just under an hour. Was the length of the record a concern especially when it seems most records barely 45 minutes these days?
N: Haha, it's shorter than our other 2, I didn't even consider it as being a long album. I think 12 tracks is fairly standard, so if our album is that much longer than others' it might be an indication that other bands have given up on writing anything that isn't just a 3-4 min pop song. I love pop songs, and try to write them, don't get me wrong, but sometimes you just need to sit on a groove for an extra few bars – maybe people should be more patient, haha.
AH: As a band does it make it more challenging to keep a listener's attention for a longer period?
L: We love writing and with the 5 of us in a room the ideas are flying from every direction. I don't think it's ever really a concern, some songs lend themselves to be more sprawling whilst others can achieve their purpose in a bullet. When making an album I just think you always want to present the best record of your best material at that particular time, whether that be ten '3 minute pop songs' or three '20 minute epics'.
AH: You also worked with Scylla Records for the release where you've offered various packages. Do you think this increases the importance of the album in anyway?
N: It feels like a bold idea to me, I'm pleased we've done it. We've elected only to release this album in 2 ways: either as a download, if you want the quick, easy and cheap option; or as a package containing double heavy-weight 12", CD and download all in one. I don't know if I'd say that makes it more important so much as it just means that if you want a physical copy you can get every format at once… Maybe we should have done minidisk or cassette too.
L: Our primary concern was to make the best possible album and then with that, to create the best possible product for people to buy. Even in the short time we've been a band, we've noticed that people aren't buying physical product in the quantities they used to so it was really important for us to produce a limited run of a very special and interesting package. 'Balancing' has exceeded our expectations on all counts really, we're extremly proud of it. It's our first release on vinyl too which obviously makes it extra special for us indeed!
AH: What drew you to working with Scylla Records?
L: Scylla helped us out with distributing our second album 'Wildblood' and they also released a split EP with did with Toodar a couple of years ago. They are genuine music lovers and most importantly we have always felt 100% support for our music from them. To feel proud to be on a label, surrounded by people who love music as much as you do is not something many bands are fortunate enough to be able to say.
AH: 'Balancing' has been streaming for a few days now. How has the response been so far?
L: Overwhelming really. It's strange when you make an album because you live at such close quarters with it for such a long time it's impossible to be truly objective about it. There are always key people (fellow musician etc) whose opinions mean a lot and thankfully for us they came back unanimous that we've made our best album by a considerable distance.
AH: Are there any particular tracks that have had a better response more than others?
N: Aptly the response I've had has been quite balanced across most of the tracks. I think this album does have some of our darkest moments, alongside some of our most tongue-in-cheek moments ranging from extrovert and brash to introvert and subtle. It seems the people's responses completely vary as a result.
AH: What impression do you hope people take away after listening to the record?
L: "Oh my god that's amazing – I'm going to buy it and tell all my friends." That would be nice.
N: All I want is for people to want to listen to the whole thing, start to finish, more than once… And then maybe set up a generous trust fund in our name.
AH: Do you have any final words to close the interview?v
L: Thanks for your time. Hope you enjoy the album!
N: Thank you so much for your interest. And thanks to whoever has read this all the way through, please check out the album.
'Balancing' by The October Game is out now on Scylla Records.
The October Game links: Website|Facebook|Twitter|Bandcamp
Words by Sean Reid (@SeanReid86)