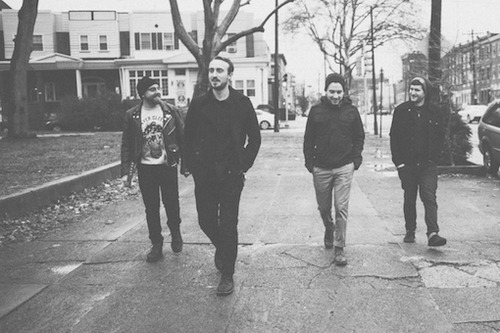 Next week Philadelphia indie punks The Menzingers release one of the highly anticipated records of 2014 so far. 2012's 'On The Impossible Past' received widespread acclaim from critics, something which the band didn't expect.
Nevertheless two years on, The Menzingers are back with 'Rented World'. In parts, it picks up where 'On The Impossible Past' left off but it also shows the bands growth as songwriters and musicians. The bands tales of personal relationships and introspective lyrics are still in place, but this time they are delivered in a more refined manner.
With the release of 'Rented World' fast approaching, we recently spoke to Greg Barnett to discuss the album, the pressure of following up 'On The Impossible Past', their forthcoming London show and the Grozerock Festival.
Already Heard: For starters can you introduce yourself and tell us what you do in The Menzingers?
Greg: Hi I'm Greg and I play guitar and sing in the band.
AH: The release of album number 4 'Rented World' is getting closer by the day. How does it feel to be releasing the album at last?
Greg: It feels pretty great obviously. The lead up for an album being released is like this weird calm before the storm. We've been working on all this stuff for a while now so its definitely exciting.
AH: Your last LP, 'On The Impossible Past' received plenty of praise and topped our very own Record of the Year list in 2012. Did you feel any pressure when writing this record because of what you achieved with the last one?
Greg: Well thank you for that! There was some initial pressure when we started the writing process but that quickly went away. We try to not get caught up in all that stuff and just do what we enjoy doing. I think 'OTIP' became something bigger than a record for a lot of people, including us. That being said, the pressure wasn't necessarily "topping" that one or anything, just making sure every song felt important and had a purpose within the record. I'm pretty confident we nailed that.
AH: Lyrically it seemed 'On The Impossible Past' took on a sense of Americana imagery. Is this something that has continued with 'Rented World' or has there been a shift in what you've been writing about?
Greg: There's no muscle cars if thats what you're after with Americana imagery, haha. Since we're Americans it's kinda hard to shift away from Americana type imagery and to be honest I never really grasped that description of our songwriting. I'm from a small town called Lake Ariel, PA and if I was to explain it to someone outside our country I guess it could come off as traditionally American. Maybe that's it? We hung out in diners, got drunk in the woods, dealt with jocks and rednecks and racists. We'd escape from everything and go to local punk shows on the weekends. Pretty common stuff I guess. I've been living in Philadelphia for about 7 years now and I think this record reflects that more than the former ones do. If 'Chamberlain Waits' was about Scranton and 'On The Impossible Past' was about living in Philadelphia but being caught up in our past lives elsewhere, this record is much more about our present in Philly. I love Lake Ariel to death but I haven't lived there in forever. Same goes for Scranton. Maybe one day I can move back there and feel comfortable again. As for now, I love Philly and its certainly feels like home.
AH: You recorded the album with engineer Jonathan Low and I understand you didn't want someone with a punk background. How was it working with Jonathan and how did he enhance the record?
Greg: Well it wasn't that we specifically didn't want someone with a punk background, it was more that we were intrigued that he doesn't typically work with bands like us. In the end it was super beneficial for the album. Jon doesn't follow the typical "rules" that most producers and studios abide by which was an insanely liberating feeling. I can't sing his praises high enough. One of the most talented dudes I've ever met.
AH: 'Rented World' as recorded at Miner Street Studio in Philadelphia. How important was it for you as a band to be close to home when recording?
Greg: It was a big deal for us. We've never recorded at home so it was a completely new experience. The Philly arts scene is absolutely amazing and we're really proud to be part of it.
AH: The album was announced alongside the release of the video for 'In Remission'. How did you find the process of making that video?
Greg: We had a blast! It was a simple concept and only took a day to make. We filmed it on Super Bowl Sunday (hence the opening football scene). Really glad everything came together the way it did. Working with Rob Saucy was a blast. He's a wild guy for sure.
AH: You're heading to the UK for one-off show in London to support the release. What can fans expect from the show?
Greg:
I don't even know what to expect but I know it'll be great! London might actually be our best city in the world and this tiny show will definitely go down as one for the books. Looking forward to that one for sure.
AH: Can we expect any more UK shows this year?
Greg: Absolutely. We're putting the finishing touches on our European headline tour slated for later this year. More details on that coming soon. Pretty excited about the lineup for that one.
AH: You're also set to play Groezrock in May. The lineup is once again very impressive. Are there any bands you're looking forward to seeing or catching up with?
Greg: Groezrock is one of my favorite festivals we've ever played and this year's lineup is fucking insane. I'm really excited to catch up with some friends and see Brand New for the first time.
'Rented World' by The Menzingers is released on 21st April on Epitaph Records.
The Menzingers links: Website|Facebook|Twitter|Tumblr
Words by Sean Reid (@SeanReid86)