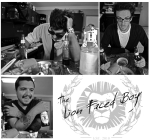 Hailing from Tampa, Florida The Lion Faced Boy are a rock trio that have been compared to the likes of Alkaline Trio, Bayside and Transit and with their forthcoming mini-album 'Suspended Disbelief' they've produced powerful mix of radio-ready rock and lyrically passionate songs that are focused throughout.
Formed out of vocalist's Rob Scanlon solo project in late 2010, The Lion Faced Boy's latest release sees them once again working with Ramona, California label Pacific Ridge Records, which they had previously worked with on last year's Alkaline Trio tribute album and are set to appear on a tribute album to The Movielife in the near future.
Already Heard caught up with guitarist Mark Dongivin to find out more about the band, their influences, and told us what the track 'Push Comes To Shove' is about.
Already Heard are exclusively streaming 'Push Comes To Shove' by The Lion Faced Boy.
Already Heard: Who am we speaking to today and can you tell us what you do in The Lion Faced Boy?
Mark Dongivin: My name is Mark and I play lead guitar in the wonderful thunder-dome that is The Lion Faced Boy.
AH: For new listeners, how would you sum up your sound?
MD: I think the best summation would be to just say we are a rock band.  There are a thousand genre/sub genre comparisons that could probably be made, as well as a bunch styles we draw from, but at the end of the day, it's all just rock n' roll to us.  Loud instruments, heart, balls, and attitude.
AH: You've had a few comparisons to bands like Alkaline Trio and Bayside. What do you make of those comparisons?
MD: We don't mind at all.  I think it's because those two bands in particular are huge influences on us collectively and that comes through in the writing.  They just have such a style and wholeheartedness about them.  Everyone in the band definitely has there own tastes and likes different things, but those two among a few others are a common denominator. If we had a band Venn diagram, they would be pencilled in the middle.
AH: What bands would you compare yourselves to and what bands have influenced you?
MD: The list goes on and on as far as influences go.  From the aforementioned Bayside and Alkaline Trio, to Say Anything, Taking Back Sunday, Foo Fighters, and Fugazi.  We are also big fans I Am The Avalanche and Brand New.  We could do an entire interview just on that topic alone.  That being said, we ultimately try to cut the comparison portion out of our minds and writing process.  There are a million things we could be or want to be, but when it comes down to it, we just end up being us.  We want to sound like The Lion Faced Boy.
AH: You're set to release a new record called 'Suspended Disbelief' soon. What should new and old fans expect for it?
MD: Yeah man, the record comes out on November 6th.  It's has some previously released material that our current fan base will be familiar with, mixed with a few brand spanking new tracks that we are super proud of.  Our current fans who have stuck around thus far, will be happy to know that the older tracks are completely remastered and have such new life breathed into them.  We are still at the beginning stages of TLFB and are brand new to the world, so this collection of songs is really what we want to put out there as a flagship release, especially with a label.
AH: The album is being released through Pacific Ridge Records. You've previously worked with the label on their Alkaline Trio album last year. What drew you towards the label?
MD: We first got hooked up with PacRidge through our producer Brooks Paschal on the Trio compilation.  The label head Wayne liked what he had heard of us and took a chance.  It's been a love affair ever since.  We really like his dedication and passion in what he does.  He believes in our band as much as we do and that's rare to find.  Honest people who will work with you to accomplish your goals, is all you can really ask for.  We had done a couple small self releases previously, but it really wasn't how we wanted to do things.  After developing a relationship with the label through the Alkaline Trio and The Movielife comps, we approached Wayne about taking us on and releasing this new record the right way.  Thankfully he agreed. It's an exciting time.
AH: 'Suspended Disbelief' also features a cover of The Movielife's 'Spanaway.' The track is also going to be featured on the labels forthcoming tribute compilation to that band. Why did you pick that Movielife song to cover?
MD: That one was my baby.  The Movielife were so ahead of their time, that really anything from their catalogue could easily translate to today.  I was just sitting around getting reacquainted with their tunes when I came across that song.  I instantly had all these ideas run through my head of what that track could be.  It's already a pretty heavy song lyrically and musically, so I brought it to the guys and we ran with it.  I had most of the arrangement and tempo ideas already going in, but it was there in a room with all of us that it really took shape.  I gave Danny everything I had for it and he just took it to a whole new place with the drum tracks, especially with the first chorus and bridge parts.  Then pile Robs vocals and Brooks' production on top of that.  It's safe to say we are pretty stoked about it and can't wait for people to hear it.  We actually played a show with I Am The Avalanche shortly after we did that and we got Vin's blessing on it.  It was a proud moment.
AH: Here on Already Heard we're exclusively streaming a track called 'Push Comes To Shove.' Can you tell us a bit about the track?
MD: Push was one of the first full band songs we recorded.  It's one of those tracks that just keeps growing on you every time you listen to it.  It's very unassuming in that it sounds like a straightforward rock song, then out of nowhere Rob just go off during the bridge and the soft fade out of vocals at the end.  It's bits and pieces like that, that keep things fresh for us.  It's definitely one of our favorites to play live.
AH: Lyrically what has inspired 'Suspended Disbelief'?
MD: The central thesis of this record is Rob is a nut case, but he is our nut case.  Haha.  Joking aside, I think it runs the gamut lyrically. From broken homes, to death and relationships, to love in the middle of a zombie apocalypse.  Rob kind of takes his experiences good, bad, pretty, or ugly and weaves them into this colorful web of words. For instance, 'Alchemy For Beginners' is about killing the one you love to save them from themselves  That is one of the things I love most about this band, there are no barriers. I think most people can relate at one point or another to what we write about. There's nothing more enlightening than reaching someone on the most intimate of levels. 
AH: You recorded the album with Brooks Paschal. What did he add to record?
MD: Brooks brings so much to the table as a producer.  We like to think of him as the lost member of The Lion Faced Boy, even though he is far too talented for that.  He really gets our band and works well with us.  He has this twist on everything he does that we really dig.  It definitely adds a little more of that "something special" to our sound and outlook musically.  One of my favorite parts of being in this band is going up to record new material with Brooks.  Plus he has the voice of an angel.
AH: What thoughts do you hope old and new fans take away after hearing 'Suspended Disbelief'?
MD: Honestly, if they can take anything out of it at all, or it helps them in some small way, even if it's just 3 minutes of escape or a smile and some blood flow, we will be happy.  Most importantly, I hope they press repeat and come hang out with us at a show.
AH: Any final words to close the interview?
MD: I think we are just pretty stoked to get this record out the way we are and to get the ball rolling on all that is The Lion Faced Boy.  I think 'Suspended Disbelief' encompasses everything that we are as a band and as people at this point in time.  Hopefully everyone digs it and will join in on our little world, because frankly we are not much good at anything else. TLFB- It's a movement.  It's a lifestyle.
'Suspended Disbelief' by The Lion Faced Boy is released on 6th November through Pacific Ridge Records.
The Lion Faced Boy links: Facebook|Twitter
Words by Sean Reid