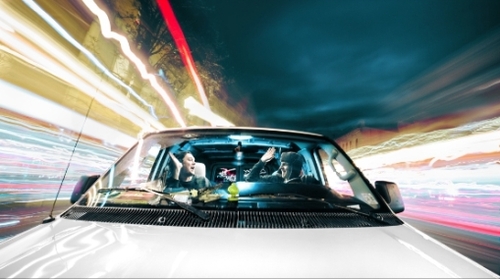 Back in the UK for their first headline tour, New Jersey's The Front Bottoms are set to unleash their sophomore 'Talon of the Hawk' in early June. With their brand of acoustic indie/folk punk, album number two sees the duo, comprising of vocalist and guitarist Brian Sella and drummer Matt Uychich, becoming a quartet with Tom Warren and Ciaran O'Donnell joining on bass/keys & trumpets respectively. As we find out, 'Talon of the Hawk' is a group effort and sees the band building on 2011's self-titled début, showcasing a fuller, more rounded sound.
Following their set at the Hit The Deck Festival in Nottingham, we sat down with the band to find out more about the new album, how the new members have changed the bands songwriting, how life on the road has influenced the record, their thoughts on the Hit The Deck Festival and more.
Already Heard: First of all how does it feel to be back in the UK?
Brian: So far, so good. Everything has been pretty amazing.
AH: These are your first headline shows here right?
Brian: Yeah, this the first time we're playing shows, headlining them and people coming down, which is incredible.
AH: Last time you were here with The Menzingers. How was that?
Brian: That was an amazing tour too. That was awesome because that was only our second ever time over here in the UK and those shows were selling out.
AH: Your new album, 'Talon of the Hawk' is due out in June. What can you tell us about that?
Matt: We're pretty stoked on it. We're proud of it and can't wait to play the songs.
Brian: Yeah, it's like we've been playing these older songs for so long.
AH: I hear the new album is an extension of the first?
Brian: For sure. It's the same vibe more or less. I think it's a little developed, like naturally developed. We didn't force anything. We're all pretty proud of it.
AH: From hearing your set earlier, the new songs sound fuller?
Brian: Absolutely.
Matt: Well we had Tom and Ciaran writing a lot of the parts when we were making the song, and we went down and recorded all together.
AH: With the first album there was just the two of you, now there's four. How has that changed the songwriting process?
Brian: Honestly the songwriting process still feels pretty natural. It doesn't seem forced which is a good thing, and is one of the main reasons we have to keep these guys (Tom and Ciaran) around. They're making us sound great!
AH: Since the last album you've toured throughout the US and the UK. Have the experiences influenced the new album?
Brian: Yeah, definitely. I mean, I wrote a lot of the lyrics on the road, right off the bat. There's references to things that were mostly happening on the road. I get a lot of inspiration from being on the road too.
AH: Do you find it easier to write on the road?
Brian: Yeah…well easier? I'm not sure. I mean the construction of the song is easier to do, but the ideas come from the road.
AH: What do you think to the Hit The Deck Festival as a whole?
Brian: It's been awesome so far…
Matt: Its pretty rushed for us…
Brian: Yeah it's awesome to show up, throw your stuff on stage, play, get your stuff back in the van and hang out all the day.
AH: What do you think to festival in terms of variation?
Brian: I like it. I think it's good. It's music I would listen to without a doubt, but if its music I wouldn't necessarily listen to, its great to see it live.
AH: How does it compare to festivals in America?
Brian: We've only played a couple of festivals.
Matt: It kinda reminds like a CMJ.
Ciaran: There's a lot more pie here.
AH: Next week you're heading to Groezrock. Are you looking forward to that?
Brian: Absolutely. Just the fact we're playing festivals in Europe is insane so we're excited. Even if it was in someone's basement we would be stoked to play.
AH: The new album is on Bar/None Records. Is that a label you've worked with previously?
Matt: Yeah they're good. It's just, like, two guys in an office. They don't pressure us or anything. Brian: They're more professional than us. They are able to do things that we would not be able to do, like be organised.
AH: Anything else you want to share?
Brian: Well I'm trying to get into professional wrestling and my name is 'The Swing.' Everybody in America knows 'The Swing' so I'm trying to bring it over the pond. I just want to introduce myself as 'The Swing.'
'Talon of the Hawk' by The Front Bottoms is released on 3rd June on Bar/None Records.
The Front Bottoms links: Official Website|Facebook|Twitter
Words by Sean Reid (@SeanReid86)