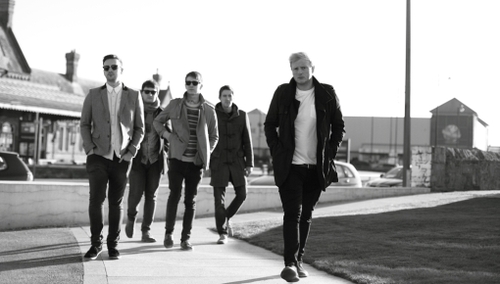 In a time when bands are becoming more self-sufficient and rely on growth by word of mouth, Manchester band The Cape Race have combined the two with the creation of Ten Letters, a collaborative music group which allows fans to support the band with the main emphasis being the opportunity to spread the bands music one person at a time.
Fans can offer their creative resources to suggest ideas for promotional content or help out behind the scenes which allows them an insight on how things happen within the music industry. 
For The Cape Race, it's a brave yet interesting move but with a sound that matches their ambitions, it proves to be a unique idea. Their forthcoming record, 'Home, Truths' follows their 2011 mini-album 'Now, Voyager' and builds on its foundation; powerful, cinematic rock with a honest and sincere approach. 
Guitarist Matt Sayward recently spoke in-depth to Already Heard about the Ten Letters concept, its formation, its influences, the importance of social media, 'Home, Truths' and much more.
AH: Hi Matt. Can you tell us what your role in The Cape Race is?
Matt Sayward: I write songs and play guitar in the band.
AH: You recently announced plans to release new material through your own label – Ten Letters which has been described as "the world's first collaborative, fan-powered record label." Care to tell us more?
Matt: It's kind of a shared opportunity. At the moment, The Cape Race doesn't have much of the traditional team in place that you'd have when you're releasing a new record from an industry point-of-view, in that there is no-one external working our PR from a web, print, radio or TV angle. I've spent the last 3 or 4 years working with an indie (LAB Records) so I have a good understanding of the role a label plays for a band and vice versa. Whilst there's no-one in the industry doing those things for us, what we do have as a resource to draw upon is a good number of folks who are genuine fans of what we do. I tend to find that a healthy percentage of people who are deeply passionate about music are also interested in a career in the industry, and it's rarely easy to get your foot on the ladder in that respect. The main problem with trying to do everything in-house is simply that there isn't the hours in the day to get everything you need to done. So by inviting those people to help out at out a label, we get some much-needed help from a different source than you'd traditionally get it. If something comes of it, the people onboard get to take that experience forward to whatever it is that they want to do next.
AH: How did the idea come together and what influenced it?
Matt: On a personal level, I'm kind of obsessed with what's coming next, and I spend a lot of time thinking about it and looking for opportunities to stay ahead of the curve. Not just from a music industry standpoint… things like "How will the distribution of media evolve in the next few years?", "How will the technology in our pockets change in the immediate future?", stuff like that.
In the case of Ten Letters, I imagined a scenario where the industry infrastructure as I know it just didn't exist, was a complete non-sequitur, and thought: "Where do you start from here?" And the answer to me, strangely, was the same as what the best way to grow is with that infrastructure in place – to win people over a fan at a time, and grow through the people that love what we do sharing it. Growth by word of mouth is the best way to be discovered if you want to have any longevity in my eyes – then it's based on real people and genuine fans. You can get a degree of hype via bought-and-paid-for press opportunities and advertising but to me it seems hard for that to lead to a sustainable career. You fall as fast as you rise most of the time. If you want to receive attention from the mainstream, and you want that to last, then I think the best way to go about it is to have your own little niche, and to grow it until it's too big to be ignored by the mainstream.
AH: Some may think the idea is ambitious and requires a lot of effort to succeed. Is it a case of you only get out of it from what you put into it?
Matt: Definitely. It will take a lot of hard work to succeed.
AH: How much of an influence is the use of social media on the Ten Letters label model? Is it vital for the label to work?
Matt: Pretty key for the word-of-mouth growth stuff. Actually, taking it further than that, we use a private Facebook group to communicate between members, and we used Twitter to find the people to be involved in the first place. So it would be only fair to say that it's been vital for us.
AH: For The Cape Race, how important is it to be self-sufficient?
Matt: It's not the be-all-and-end-all, honestly. Especially in fields that aren't our area of expertise. It's not that we aren't open to signing to a label, or working with a press team who can bring things to the table. Ten Letters can be, and is, completely transitional. We called it a label because we've started it off by releasing songs through it, but I guess something more vague like 'music group' would be more appropriate. It just does what it needs to do at the time. We could sign to a label and take it with us as an imprint, or we could change its role altogether. Its main goal is to expose us to new people. There's always new ways to do that. Over self-sufficiency, the most important thing to me is that we can be nimble and adaptive. Alongside creative control, obviously.
AH: Fans can collaborate with the band in variety of ways. Could you tell us how they can get involved?
Matt: Creatively, in any useful way that they can think of; they've been pitching video ideas, alternative ways to promote ourselves and the ways we can market ourselves… Elsewhere, they've been helping diminish our workload with a few of the more menial and time-consuming 'officey' jobs; collating and updating our press list and so on. It's essentially a startup. If you have an idea, share it with us and you'll probably see it executed. You'll probably head up running it, too.
AH: How valuable is having trust in fans/collaborators in making Ten Letters work?
Matt: Really valuable. Having such an intimate involvement means getting access to things before they're released et cetera… we have to hope we have folks onboard who aren't going to leak the record!
AH: As a whole, Ten Letters is an intriguing project. How has the feedback been since its launch?
Matt: Overwhelmingly positive, and very curious. A lot of people seem to be interested in how it will play out. Hell, I am.
AH: Going back to The Cape Race, you spent last summer recording your début full-length ('Home, Truths') and is the follow up to your mini-album 'Now, Voyager.' How has the band developed inbetween releases?
Matt: Artistically, I just think we've found our feet as songwriters. It's the most accomplished version of us.
AH: However 'Home, Truths' does include songs from 'Now, Voyager.' Why have you decided to keep those songs rather than a complete new set of songs?
Matt: 'Now, Voyager' was (I hate this term) a bit of a soft launch for the band – it was our first release and we're under no illusions that we aren't a big name yet. I think there's some really strong songs on that record that deserve a bigger push and to be heard by a bigger audience. And there's no reason not to give them that chance.
AH: The first song released from the album is 'Digging For Gold.' What was the reason behind choosing this as the first song?
Matt: It's one to announce to the people that know about us that we're back. It's a fairly long song at just under six minutes, so it isn't one that we were thinking would be a traditional single… and honestly, we wanted to hold those ones back while built our momentum up as much as possible. It's also a fairly good representation of the album as a whole; there's elements of our whole sound baked into that one… the quiet / loud dynamic, delicacy and fragility running parallel with urgency and abrasiveness.
AH: The song is about dealing with the lost of someone close; mourning their absence. Does it give a good idea that 'Home, Truths' is a lyrically a deeply personal album?
Matt: Yes, it is indeed. We usually like to leave things a little vague so that people can find their own meanings, but I think lost is something everyone can relate to. The album is incredibly personal – there's a lot of metaphor that stops it being a completely literal autobiography, and there's a fair amount of social commentary in there too, but all-in-all, it's very much our story. David has done an incredible job on this record lyrically.
AH: When can we expect to hear more about 'Home, Truths'?
Matt: You can expect to hear more very soon indeed. Our next single is called Home Truths (Like the album but without the comma) and we'll be announcing the release date for that very soon. I just saw the first cut of the music video this week actually. It was directed by our talented friend and sixth member Duncan Howsley – and it's my favourite video of ours to date. Very excited to let that loose on the world.
AH: Alongside the release of the album and Ten Letters, what else can we expect from The Cape Race in 2013?
Matt: A ton of music videos, and shows where the people would like to see us.
AH: Any final words to share with the Already Heard readers?
Matt: If you haven't heard us yet, and anything you've read here has piqued your interest, it would mean the world to us if you would exercise your curiosity in one of the various places we reside online, which I'm presumptuously assuming Sean will be kind enough to link to just below this!
'Digging For Gold' by The Cape Race is available now on iTunes.
Further information on Ten Letters can be found at www.tenlette.rs.
The Cape Race links: Official Website|Facebook|Twitter|Tumblr|Youtube|Bandcamp
Words by Sean Reid.