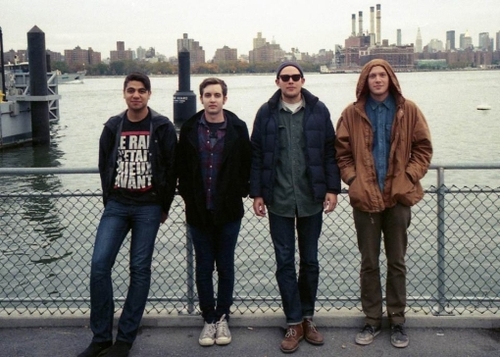 Fresh from their recent tour with The Story So Far, Already Heard caught up with guitarist Jeff Wright from The American Scene at the sold out Manchester show. After conversing at length about Primark, we actually decided to sit down and talk about some more relevant topics of conversation…
Jeff discussed how the bands first UK shows have been going, growing up Berkeley, California, working with producer Sam Pura (Basement, Balance & Composure, Transit, Man Overboard) and more.
Already Heard: What is your name and what is your part in the band?
Jeff: I'm Jeff and I play guitar and do backup vocals in The American Scene.
AH: So you're on tour with The Story So Far and Gnarwolves at the moment, how has that been?
Jeff: It's been great. It's been really fun and we've been on tour with TSSF for awhile before this too so it's really cool to be out with our friends and meeting Gnarwolves for the first time. Those guys fucking rule! You can definitely tell, even if you didn't know they were in a band and they walked up to you you'd be like "those guys are in a skate punk band". Yeah I love those guys, those guys are like the equivalent to what we are in the states to other bands. We're usually like the grungey, weirder guys on all the tours we've been on in the states, it's awesome to come over and find someone who's grungier than us.
AH: Is this is the first time you've been over here?
Jeff: This is the first time our band's been over here, I've been here visiting before a couple of times.
AH: What are you making of the shows so far? Have they been well received?
Jeff: I feel like they've been as good as they could've been. It's our first time here so not a lot of people have heard of us yet but it's cool just to play and have a bunch of kids there listening and it's cool to be overseas as it's our dream. To just hop along the water and play shows on another continent it's like when you start playing music as a kid that's the first thing you think about. It's like "okay what can I do with this?" travel to a place very far from here.
AH: Lots of the shows have been sell-outs as well so it's been pretty decent sized audiences for you…
Jeff: Yeah, it's been real cool.
AH: Have you seen any other UK bands so far (apart from Gnarwolves)?
Jeff: On this tour there's only been one show with a local opener – Pavillions who were pretty cool from Liverpool. Right before Chris (Purtill – guitarist) and I came here we went and saw Foals in California and that was like, top 5 shows. We're all very into that band and all of their records so it was very cool.
AH: So you're from Berkley, Calinfornia. What was it like growing up there musically? was there a good music scene?
Jeff: Yeah! It's really eclectic, there're a lot of different styles of music that come together. There're a lot of scenes, there's not just one that does well, there're a ton in one place doing well alongside each other and that really influences the way we play music because we listen to a lot of different types of music from pop punk stuff to indie stuff. We played in bands alongside each other for a long time, I played in a weird technical band and they played in weird technical bands and as kids we played in metal bands, more screamo bands I'd say. We actually grew up in a town about 20/30 miles away from Berkley, we all live in the Bay area now, and that was a smaller town. Once we branched out and went regionally over to SF we got to see a lot of different styles of music, and that really influenced us as far as what we were even listening to when we were writing music.
AH: Was that how you met each other previously, through playing in other bands alongside each other?
Jeff: Yeah basically! Some of us went to school together, Matt (Vincent – vocalist/bassist) and Charles (drummer) are brothers, but Chris was in a band and I was in another band and then basically I think Chris' band broke up and my band broke up and then we came into this band.
AH: You worked on the new record ('Safe For Now') with Sam Pura, how was that?
Jeff: Sam has been apart of our musician lives forever. Even some of our other bands have recorded with him and we've known him for a long time. He's one of our really good friends and he's a great engineer and producer. Recording with him is really easy for us because we're just friends and he knows what we're thinking so we don't have to try and break it down for him.
AH: You did a 'Waiting Room Session' as well. Was that something you did because you knew Sam?
Jeff: Honestly I don't even know how we ended up doing that. We did definitely get asked to do it but we were all talking about doing it anyways, but as to who did it first, I'm not sure!
AH: So 'Safe For Now' came out August of 2012, what's the reaction to the record been like?
Jeff: I think it's been great honestly. The whole time we were writing it and recording it we were like "man this is really weird" compared to all the other stuff we'd previously put out. It's just cool to see that people can grow with music because it's definitely a lot different from all the other stuff we've done. In that sense it's been really good.
AH: I think it's opened you up to a lot more fans purely just from having people I know telling me to listen to it.
Jeff: That's really cool!
AH: Are you working on new material now at all or are you focusing on touring 'Safe For Now' material?
Jeff: Definitely working through and trying to finish up touring. Matt's doing Warped Tour – he's doing it solo with some songs from 'Safe For Now' but he's also doing some solo stuff from a split with Al from The Tower And The Fool, that should be out pretty soon. It's not us, but Matt's in our band and we support everything he does obviously and every one should pick that up in June. If we don't do anything in the fall we probably plan on writing then.
AH: So that's all tour done once you're back?
Jeff: Yes, that's it for us – like I say Matt has Warped Tour but we'll be going home and working jobs for the summer!
AH: Is there anything else you'd like to add?
Jeff: Support Pure Noise – Jake works harder than anyone I probably know in life. They just signed this band called Gates that we all really like and all the other bands obviously are amazing too.
'Safe For Now' by The American Scene is available now on Pure Noise Records.
The American Scene links: Facebook|Twitter|Tumblr
Words by Rosie Kerr.