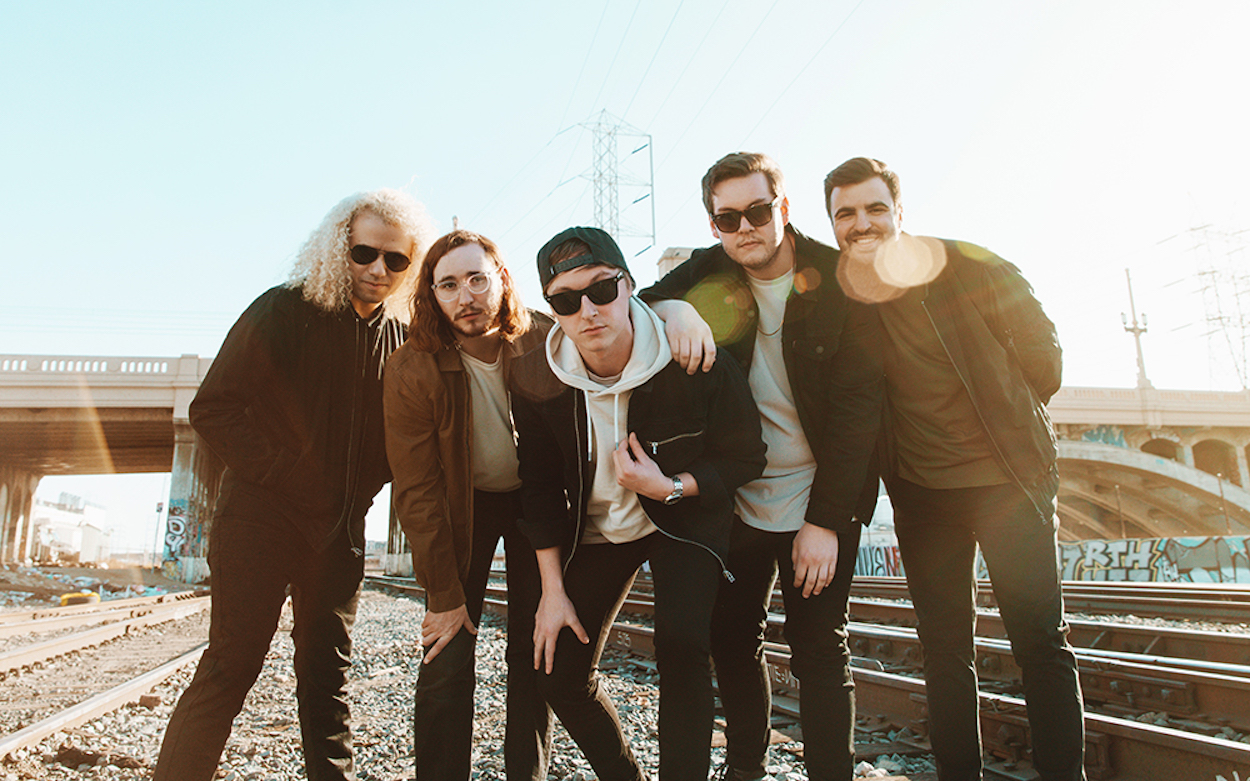 Ever since emerging from their native Albany, New York, State Champs have risen up the pop-punk ladders to the point where every new release is greeted with more anticipation. In the weeks leading up to the release of their third album, 'Living Proof,' the quintet visited the UK briefly as part of the Slam Dunk Festival. Having made their UK festival debut there four years ago, their return and notable billing is a clear sign of how far State Champs have come.
"It's cool because I see a lot of familiar faces every time we come back, and those familiar are bringing their best friends, who bring their friends," explains vocalist Derek DiScanio. "It has become a vastly growing community that we're very interactive about and always want thank them for that and engage as much possible. That's a big part of our band."
"We've learned a lot of ourselves; the do's and don'ts of being in a band and how to put on a show."
Undoubtedly, with each returning visit, State Champs have found themselves playing to bigger crowds whether it be as headliners or as support for arena-playing bands such as All Time Low. While the thought of playing to larger crowds may seem daunting, DiScanio gives the impression that the band are more than willing to face up to the challenge.
"The fact that we've grown and been able to do numerous headline tours in the clubs, and the clubs have been getting bigger. The shows have more production. We've learned a lot of ourselves; the do's and don'ts of being in a band and how to put on a show. We try not to think a lot about the pressure but more so 'what are we going to do that is going to blow out that last tour'?"
Considerably State Champs' ascension has been rapid and has seen them be given plenty of opportunities. For 'Living Proof', they worked with acclaimed songwriter and producer John Feldmann yet retained elements their past, bringing in former collaborators Mike Green and Kyle Black on production and mixing duties respectively.
"It's a big dynamic between those two but they are two brilliant, brilliant producers and songwriters in general," states Derek. "So the fact we got to mix it up and have half here and half there, but still send it back to Kyle and have him mix it, make it cohesive no matter where each song was recorded."
"There's something for everyone on this record"
While on paper the amount of personnel contributing to 'Living Proof' may come off as "too many cooks in the kitchen," the album itself maintains the stylistic tropes that have shaped State Champs' career so far; bright, neatly-produced pop-punk numbers with a hint of lyrical sincerity. For some, their growth has inevitably seen the five-piece on the receiving end of criticism; becoming more 'pop' and losing their identity. Nevertheless, DiScanio, along with lead guitarist Tyler Szalkowski, rhythm guitarist Tony Diaz, bassist Ryan Scott Graham and drummer Evan Ambrosio, still have full control of who and what State Champs should be. Besides collaborating with the likes of Feldmann, Green and more notably, blink-182's Mark Hoppus and All Time Low's Alex Gaskarth, they decided to retreat to New York to return to their origins.
"This time around we did want to take a break from these writing sessions that we had been doing with other people," Derek tells us. "Getting other people in the room is fun and it makes us think outside of the box and try new things, but then we wanted to go back to the roots of State Champs which is just the five of us in a room. So we went back to New York and wrote a handful of songs by ourselves. We then took them to Mike Green or John, mainly Mike, and shaped them into 'Living Proof' songs. That was special for us. There's something for everyone on this record."
For Derek, writing 'Living Proof' was a new experience, allowing himself to open up with outside collaborators. "Normally I need to lock myself in a room and I don't want anyone around me, knowing what I'm thinking or pouring out emotionally. It took someone Alex coming into the room and making me start being able to pour things out. You find out that your friends and peers relate to those things that you're trying to say too, that helped a lot.
"The thing with Mark [Hoppus], we had never met him before and I think within 20 minutes of meeting him, he wanted to go outside, walk around, write lyrics together and talk about life. He made it very comfortable. It was surprising to me that it was, not easy, but natural and organic for me to get into that mindset. It was definitely nerve-wracking as hell."
One benefit Derek has learned from writing with outsiders is making State Champs' songs more dynamic. He explains by telling us, "I'll write a song, however specific it is to me, and whatever that personal situation sparked that song idea, it could be mean totally different and relatable in a vastly different way to the fans. I think that's really special, that there is a dynamic and that we should share things that can be specific to anyone in any way.
"You have to keep the songs broad but you still find little details to put things in peoples heads and it sparks things for them. That starts the whole engagement of our fans."
It's clear that State Champs' fanbase is a priority to the band, noting the importance of giving them a show they'll remember and tell their friends about. Leaving a lasting impression is something they have fine-tuned in recent years. Now as regular headliners, they now have a responsibility to give opportunities to up-and-coming bands. With plans to return to the UK pencilled in for later this year, they'll be taking out two emerging bands on the October run; Australia's Stand Atlantic and Scottish quartet WOES, as well as longtime Canadian pals Seaway.
By being in a position to provide such a platform, Derek and company know all too well how vital opportunities like this are. "We were those bands for a long time. We knew when things started clicking and getting shots to really do it. We weren't taking things for granted such as All Time Low taking us out on our big first support tour, that was something that sparked it for us.
"We saw all of their crazy fans who are getting to the shows before we even get there, and then we're talking to them after the shows. Those become the kids that come to our headline shows and do the same exact thing. It's this big generation of things that are kind of redeveloping.
"We only want to give new bands that we think are exciting and that really have a chance and know they're not going to take it for granted. We want to put them in that spot to do the same thing."
'Living Proof' by State Champs is out now Pure Noise Records.
State Champs links: Facebook | Twitter | Instagram
Words by Sêan Reid (@SeanReid86)