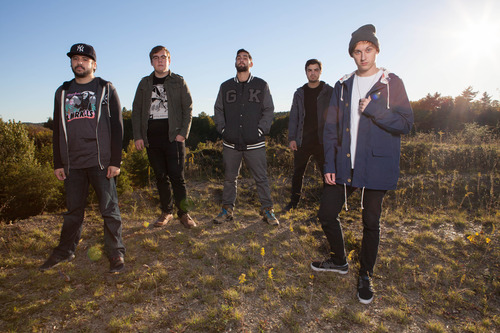 It's no doubt that Albany, New York's State Champs are one of the hottest US pop-punk exports in recent years. With their debut full-length, 'The Finer Things', receiving widespread support on both sides of the Atlantic and coming off the back of their first UK tour supporting The Wonder Years, the quartet played to packed out crowds at the Slam Dunk Festival.
We grabbed guitarist Tyler Szalkowski for a quick interview at the final date of the Slam Dunk Festival to discuss their first time at the festival, handling the pressure from the success of 'The Finer Things', and his expectations to playing this summers Vans Warped Tour.
Already Heard: For the record, can I get your name and role in the band?
Tyler: My name is Tyler. I play guitar in State Champs.
AH: Ok, this is your first time touring the UK. How has it been so far?
Tyler: It's been awesome! We're finding it to be really great over here. There has been awesome shows, awesome vibes. All the fans have been amazing over here. We can't wait to come back.
AH: So this is your first Slam Dunk appearance. How have you found Slam Dunk so far?
Tyler: Slam Dunk is seriously the sickest! We love it. The last 2 days has been 2 of the most insane sets we've ever played. I hope we can do it every year. It's like nothing else. It's awesome!
AH: Did you know much about the festival before you came over?
Tyler: I definitely used to see flyers online and stuff. Kids would share it and I would be so jealous. "Ah man I hope we get to play Slam Dunk someday." The line-ups are always insane, and now here we are. It's really cool for us.
AH: Has it been much different to playing shows in the States?
Tyler: Yeah. We've never played to that many kids who are that into or involved in our set. In the States we play to a crowd of something like 2000 kids but not all of them knew who we were. This is the first time where it has been our crowd.
AH: Your album 'The Finer Things' has received tons of praise since its release. Did you feel any pressure to match expectations before coming over?
Tyler: Not really. If there's one thing I'm confident with our band its our live show. In my opinion, there is not many weaknesses in our set. I think coming over here, with all the expectation, I felt confident we would deliver and I think we did. Everyone who has seen us has been really happy with the setlist and the performance.
AH: I've heard the room was packed out on Saturday?
Tyler: Yeah, on Saturday they had to close off the room. The room was at full capacity. It was insane!
AH: You're back over here in the UK for the "Pop-Punks Not Dead Tour". That's a great line-up with New Found Glory, The Story So Far, yourselves, Candy Hearts and Only Rivals.
Tyler: It's going to be an awesome tour.
AH: Before that you're off on Warped Tour. Is this your second time on Warped Tour?
Tyler: No we played one date of Warped 2 years in a row, the Boston, Massachutes date. But this is the first year we're actually part of the tour.
AH: What are your expectations for Warped Tour?
Tyler: Everyone tells me it's the best worse experience of your life. You'll have the most fun but when you're not having fun, it can be the worst time ever. I'm expecting it to be awesome. I'm going to try and be positive the whole time, and not let people tell me it sucks. Everyone says its "Punk Rock Summer Camp" so I can't wait. We kinda got a taste of it here. A few of the bands playing here are on Warped Tour; Devil Wears Prada, We Are The In Crowd, Real Friends, Neck Deep. We're hanging out with all of them, and its the same sort of festival vibe but with more friends. I truly can't see it being a bad time.
AH: I can imagine at the age you are, it's a type of "dream come true" scenario?
Tyler: It truly is. We grew up going to Warped Tour. I went to my first Warped Tour 10 years ago, so being able to play is unreal!
AH: Any final words you'd like to share?
Tyler: Thanks for reading this interview. Thanks for supporting this band – keep it up!
'The Finer Things' by State Champs is out now on Pure Noise Records.
State Champs links: Facebook|Website|Twitter|Tumblr
Words by Sean Reid (@seanreid86)