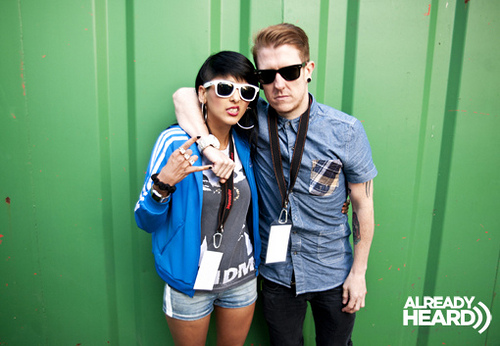 Sonic Boom Six are a band that many dismiss as just another ska-punk band. But with new single 'Virus' and a new, self-titled album released today, the band want to break out of that somewhat restrictive label whilst also staying true to their roots.
They are certainly a band that values their past and the scene which has nurtured them to this point but they are also ready to expand and reach out to a bigger audience. Whilst it may annoy ska-punk purists, Sonic Boom Six seem ready to develop and become this bigger, more important band. 'Sonic Boom Six' may well propel them into the big leagues and there's not a band more deserving. 
Already Heard caught up with Laila K and Barney Boom from Sonic Boom Six at the Merthyr Rock festival in South Wales to talk about the new album, the future of the band, the UK Ska-Punk scene and more.
Already Heard: Welcome to Merthyr! You played 2000 Trees this summer and some other smaller festivals. How have those shows been for you?Laila Lalia K (LK): Yeah, brilliant. We've kinda done the sort of more of the local, smaller festivals this year, like this one.
AH: Yeah, I'd noticed that. I've seen you play the main stage at Reading, which shows do you prefer?
LK: If the crowd is good, it doesn't matter where it is. It could be Reading, could be Glastonbury or could be Guilfest, if it's an amazing crowd and everyone's going off then that's great.
Barney Boom (BB): If there's 3000 people staring at you or 30 people staring at you and nobody's moving then neither is better than the other. If there is 30 people or 3000 people going mental, then neither is better either. It all depends on the crowd, not the festival. They are a many headed beast. The maggots, we call them…
LK: The maggots is what Slipknot call them
BB: Us and Slipknot. I think Slipknot got it off us, but… (laughs) If the "Maggots" are happy then we're happy.
LK: We're the kind of band that 30 staring maggots, we will turn them into…
BB: 29 staring maggots?
LK: 30 maggots going mental at the end. I refuse to get off stage until I get the crowd going.
AH: Your covers today certainly helped that. (Sonic Boom Six played a set littered with covers, see the rest of our Merthyr Rocks coverage for a review and photos)
BB: Yeah that's what we do, we play better songs by better artists and people enjoy it. LK: we try to show everyone we don't take it so seriously, that its' party music, have a good time and don't feel awkward. I mean, look at me, do I look like I'm serious all the time? At a festival people want to relax and let their hair down and have a good time I think so stick a bit of Wyclef in there.
AH: You guys signed to Xtra Mile this summer right? Stoked? What does that mean to you?
LK: Great label, great roster, we bring something to the label and they are definitely going to help us along the way, they're great with British bands.
AH: Definitely. What's your favourite Xtra Mile releases?
LK: I'm a big fan of Straight Lines. They played with us in Manchester and they're coming out in Europe as well and I can't wait. BB: I've always like Frank Turner. I'm not gonna pretend any different, especially when he first coming out I was really into it.
AH: Have you heard the Mongol Horde stuff?
BB: Yeah, (pause) yeah it is really good, I would've liked to have been there at Reading/Leeds to see what it was like – I can imagine it's brilliant live.
AH: So we're going to talk about the new album a bit now. It is self-titled and is preceded by the first single, 'Virus,' which I thought sounded great when you played it earlier. Excited for its' release?
LK: Yeah that's right, this month is the single and next month is the album – it's all gone so fast for us, this summer. It's suddenly got chilly and I've come out to this festival in I think the shortest shorts I have ever owned!
AH: Let's talk about the new single 'Virus' for a minute. What was the thinking behind bringing that out first?
LK: It's a blueprint for the sound of the album really so we wanted to get it out there and say to fans and new people listening to it, this is what to expect when the album comes out.
AH: What's the message behind it?
BB: You have to really… try… to stay away from viruses. (laughs) The whole thing with the new album was not to be too specific in terms of the lyrical content, as in this song is about the 'fact that social workers aren't allowed to etc. etc.' In the past we have been very referential whereas with the new album, the whole challenge that I set myself whilst writing this album was to have something so your mum can hear it in the car and say "oooh virus, who sings this one? I like this one!" And that's what virus is about! (laughs) I want people to just be able to sing along to it!
I am loathed to kind of explain it too much because I think it should have a bit of ambiguity to it – It's about bloody Tory government to be honest! As soon as they get in, everybody from the rich people to the people on the street smashing windows, everyone gets more selfish and this kind of mentality prevails and we've seen it throughout the last 30 years, every time they come into power and introduce austerity measures there's riots and people are more "me, me, me" –that's not what we need to be to be moving forward as a human race. We need to be going on the Starship Enterprise and being a bit more open. There's a lyric in the middle that says "we all carry the virus ourselves" and that's what I mean.
LK: Don't give the ending away!
AH: Is it another concept album then?
LK: Oh God no, we've done that, we won't do that again!
AH: What were the influences behind this album?
BB: The whole idea with this album was to raise the game a bit. We have this core fanbase, this whole gaggle of people we used to play to, let's take it out of there and give ourselves a challenge. It would have been easy to write the same album for the fourth time but let's take it to a new crowd, let's take it to people who haven't heard it before.
When I used to listen to Rage Against The Machine when I was 15 I didn't know they were coming from a hardcore left wing, communist, activist point of view, I just knew that he had righteous indignation and it made me go like that in front of the mirror (Plays air bass and hums 'Killing in the Name of') – I didn't know what he was saying but I knew "Fuck you, I won't do what you tell me" and it resonated – but they just had the perfect mix of the ire from their political beliefs but it never felt like you had to believe what they were saying to get into the music. They were never small-time in terms of them being part of any kind of scene, there were always a big rock band and that's kind of where we wanted to take it where it's not like "we're representing the UK Ska-punk scene which is like what we used to be doing and now we want to go bigger.
AH: Saying that though, you are taking Imperial Leisure out with you later this year. I always think of you and them, along with The Skints, Mouthwash and the like coming from that angle?
BB: This is the big thing really. There has been times really where we've thought we love the ska-punk scene and we're proud of all of that – there's times when even in the discussions, especially with labels and managements, people have been saying – does that look a little bit ska?
LK: It's like a dirty word.
BB: In terms of the press interest and the radio support and stuff, does it look a little bit ska for that? But at some point we thought well most of the kids in the crowd are going to be into ska, but we are going to have new kids into us because we've been played on Scuzz or Kerrang! Or somewhere like that, we know that. Why not put a ska-punk band like Imperial Leisure? They're also a hugely entertaining, party band, and to go on after a band like that is what you want! We don't want a band with droopy fringes boring the crowd.
LK: From day one we've always been very passionate about the main support we take out on a tour. We've never done a tour where we haven't chosen the main support because it isn't about Sonic Boom Six, it's about the night being a party from the moment you walk through the door. The best gigs I've ever been to, it's not about the bands, it's about the night, It's about having fun with your mates, seeing 3 or 4 bands you like.
BB: The beauty of the punk scene is that every band is in it together. That is something we don't want to leave behind, there's so many positives in that scene.
'Sonic Boom Six' by Sonic Boom Six is available now on Xtra Mile Records.
Sonic Boom Six links: Official Website|Facebook|Twitter
Words by Tom White.  Photos by Sarah Louise Bennett.