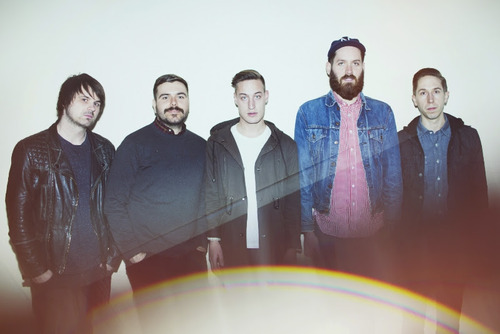 With 7 full-lengths and a handful of EPs to their name, Canadian post-hardcore band Silverstein have become one their biggest alternative musical exports since forming in 2000. However, after a lack of UK shows in recent years, the five-piece made a brief stop over for the recent Sonisphere Festival.
Having spent the past few weeks touring mainland Europe, guitarists Josh Bradford and Paul Marc Rousseau were in high spirits when we spoke to the pair ahead of their appearance on the Satellite stage.
The apologetic duo discussed the comparison between UK/EU and North American festivals, picking a festival setlist, being part of Hopeless Records and then apologised again for not coming to the UK more often. Thankfully they will be appearing at the Hevy Festival in August. Until then take a read of our interview.
AH: Just for the record, can I get your names and role in the band?
Josh: I'm Josh and I play guitar.
Paul Marc: I'm Paul Marc and I also play guitar in the band Silverstein.
Josh: Boom! Silverstein!
Paul Marc: Which is the same band he's in.
Josh: I'm also in the band Silverstein with my friend Paul Marc who plays guitar, while I play guitar. Together we play guitar.
AH: You've been round Europe, so I guess you've not seen much of Sonisphere so far?
Paul Marc: No we got here a few short hours ago.
AH: How was the trip over?
Paul Marc: Not long actually.
Josh: My favourite part is always the ferry. I think I do some of my best sleeping whilst rocking and rolling on those gentle seas.
AH: You get rocked to sleep?!
Josh: Yeah. It's quite nice.
AH: Where have you come from?
Paul Marc: We've come from Munster, Germany.
Josh: But originally we live in Toronto, Ontario, Canada (laughs).
AH: So you're back in the UK for the first time in quite awhile. How does it feel to be back here?
Josh: You know better than I thought, its quite nice actually.
Paul Marc: It's not raining yet.
Josh: There's a bit of sunshine. There are some great bands playing today.
Paul Marc: It has been a little easier to understand the general chatter around us.
Josh: Same language.
AH: That's always a good start.
Josh: Even though the accent is far different from ours here, it is much more familair.
Paul Marc: Our tour manager is from England.
Josh: So we hear him around. What can I say, it is a sunshiny day and I have a beer in my hand.
AH: What more could you ask for?
Josh: Sonisphere for the win!
AH: Have you played Sonisphere at all before?
Josh: Nope this is our first Sonisphere.
AH: What are your expectations for it?
Paul Marc: I go into everything with no expectations at all. You can't be disappointed that way.
Josh: I expect to drink a bunch of beers, and I'm on the right track.
AH: How does playing festivals in the UK and Europe compare to those in Canada and the States?
Josh: I think in the sheer volume of people that it is in. We don't have festivals like you guys do.
Paul Marc: 60,000 today isn't it?
AH: Yeah it probably is.
Josh: And this is a small one really compared to Glastonbury.
AH: Yeah, Glastonbury is huge and Download is bigger than this.
Paul Marc: So that is unheard of from where we come from. I mean occasionally you'll get some crazy big event, but I don't think it will be quite as big as any of these. It's marvellous. It's nice to see people supporting live music.
AH: Has the European tour been a mixture of festivals and headline dates?
Paul Marc: We did a few festivals and a few club shows routed around that. Its cool to be able to do both.
Josh: It is a nice balance between a massive stage in front of a shit ton of people, and then going down into a little club with a bunch of sweaty kids. It's nice running the gambit.
AH: You're playing on the Satellite stage later on. It's one of the smallest stages here. Are you more comfortable playing a stage of that size or would you rather be on the big stage?
Paul Marc: The big one is way better.
Josh: I'll take any of it. Big one is better but the small one will be nice though. Less pressure.
Paul Marc: We don't complain very much. We're from Canada, it's not in our nature.
Josh: We apologise more than we complain.
Paul Marc: We're sorry we're on the small stage. That must be something we did.
Josh: Sorry we did that wrong.
Paul Marc: Sorry.
Josh: Sorry.
Paul Marc: Woops!
Josh: We're Canadian. Always apologising.
AH: I noticed you're playing after a bunch of stand-up comedians. Is that something you've done before?
Paul Marc: Yeah we are very funny ourselves, so we are pretty much right at home in that situation.
Josh: Yeah it makes sense. Comedians tell jokes and are generally miserable people, and we make miserable music.
Paul Marc: The other way we looked at it when we saw the schedule this morning was "oh at least we will be the heaviest band!" (all laugh)
AH: The setlist on the recent European shows seem to consist of a lot of older songs?
Josh: We try and mix it up.
Paul Marc: We've been playing 4 songs from the newest record. We have so many songs, so many records.
AH: Yeah, isn't it 7 albums now?
Paul Marc: Yeah, so playing 4 from the band new one is actually pretty good. Especially when you're only playing 12 songs.
Josh: That's a good chunk.
AH: Because you've been playing a few festivals, is it easier to put a setlist together?
Paul Marc: No its harder.
Josh: Harder and harder.
Paul Marc: The shorter the set gets, the more difficult it becomes to try and please everybody.
Josh: You always feel there are certain songs you have to play for the audience. Then there are certain songs you want to play, and finding a balance between those two is damn near impossible.
AH: For a festival like Sonisphere, is it easier to pick out the songs people are going to know more?
Paul Marc: Sometimes we don't want the ones they're going to know more. Sometimes we want to play the ones we want them to know. But with a short set like today, you don't have to build in peaks and valleys. You got to have bangers, play the 6 fastest, heaviest ones and go from there. So in that way, it is a bit easier.
AH: So Paul Marc, the recent album, 'This Is How the Wind Shifts', is your first album with the band. How have you found being part of the band and contributing to the album?
Paul Marc: It was a pleasure. It was fairly smooth. I was able to contribute to the writing a little bit which was nice, I was hoping they would let me do that, and they did. I think everyone respected me just enough.
Josh: Yeah. We have a lot of experience together. Paul Marc toured with us for several years, we have known each other, respect each other a lot, so it was a natural move to bring him in, and the process of creating a record together was almost more natural than the things we done in previous years.
Paul Marc: I feel very comfortable and right at home.
AH: Do you all write as a band?
Paul Marc: Sometimes, sometimes.
Josh: We do it all. We dabble in every possible way.
Paul Marc: Whatever gets it done.
Josh: Even Paul, the drummer, wrote a song completely electronically like with synths and he sent it to me, and I made them all guitars (all laugh). I recorded it and sent it back to him and said to him, "How did this sound because that was impossible." It didn't get played on the record but it's a good song.
Paul Marc: Maybe it will come out someday.
AH: You've now been part of Hopeless for a few years now?
Josh: We've done a couple of records with them.
AH: How has it been part of that label because in recent years their roster has improved quite well.
Josh: Yeah. I mean they did really well with a couple of other bands when they were a smaller label, which propelled them to the position they could be a little crazy with who they bring on board. They have definitely been bringing a lot of older bands.
AH: New Found Glory, Taking Back Sunday…
Josh: Bayside.
AH: Bayside, of course.
Paul Marc: I say they have done a really good job of curating a label with artists that aren't just all the same.
Josh: It's very diverse.
Paul Marc: They built up a nice roster, and you've got to hand it to that. It's cool stuff.
Josh: Great label. Great Staff.
Paul Marc: We like them.
AH: After the European tour, you're heading back to Canada for a few dates and then work on a new album possibly?
Paul Marc: Oh yeah. We'll say it right here.
Josh: We are going to go home and work on some songs. New year, new album.
Paul Marc: Exciting stuff.
AH: Have you been playing around with any ideas?
Paul Marc: It's all up here.
Josh: Mostly in the mind for now. Soon they will come out.
AH: Any timeframe?
Josh: I would say probably early in the new year.
Paul Marc: We will start tracking it in a couple of months.
Josh: Spend the fall locked up in the studio.
Paul Marc: As soon as it starts to get cold, we will lock ourselves inside and work on some songs.
AH: Speaking of Canada, are you ice hockey fans at all?
Paul Marc: I'm huge hockey fan!
AH: What team do you support?
Paul Marc: I support the Montreal Canadiens, and Shane, our singer, supports the Toronto Maple Leafs. Huge rivalry.
AH: I'm a (Philadelphia) Flyers so…
Paul Marc: So you don't really matter to me (all laughs.) The Flyers are pretty good on the backs of a few very good Candians players.
AH: Yeah of course like (Wayne) Simmonds.
Paul Marc: (Claude) Giroux. No they're a fine team. I don't hate the Flyers but my Dad once when to Philadelphia in the 70's to see the Canadiens play the Flyers, and he was in the bathroom, wearing a Canadiens jersey, and the man next to him, turned and just pissed all over him. So I don't know if Philadelphia is that way, but I wouldn't go to a game after hearing that.
AH: Is there anything else you'd like to say to finish off this interview?
Paul Marc: We're happy to be back in the UK. I hope we can come back a lot next year.
Josh: Yeah it's about time. We've taken some time off. It's been long enough. We miss you guys. We want to come over.
AH: When was the last time you toured over here?
Paul Marc: We did just one London show earlier this year.
AH: You also played in Dublin recently with We Came As Romans?
Paul Marc: Yeah we have finally done Ireland for the first time on this tour, and that was lovely.
Josh: We owe it to you guys to come back and make good. Do it for real. We forgive you, if you'll forgive us. Lets make it happen. Lets be friends again.
'This Is How the Wind Shifts' by Silverstein is out now on Hopeless Records.
Silverstein links: Website|Facebook|Twitter
Words by Sean Reid (@SeanReid86)