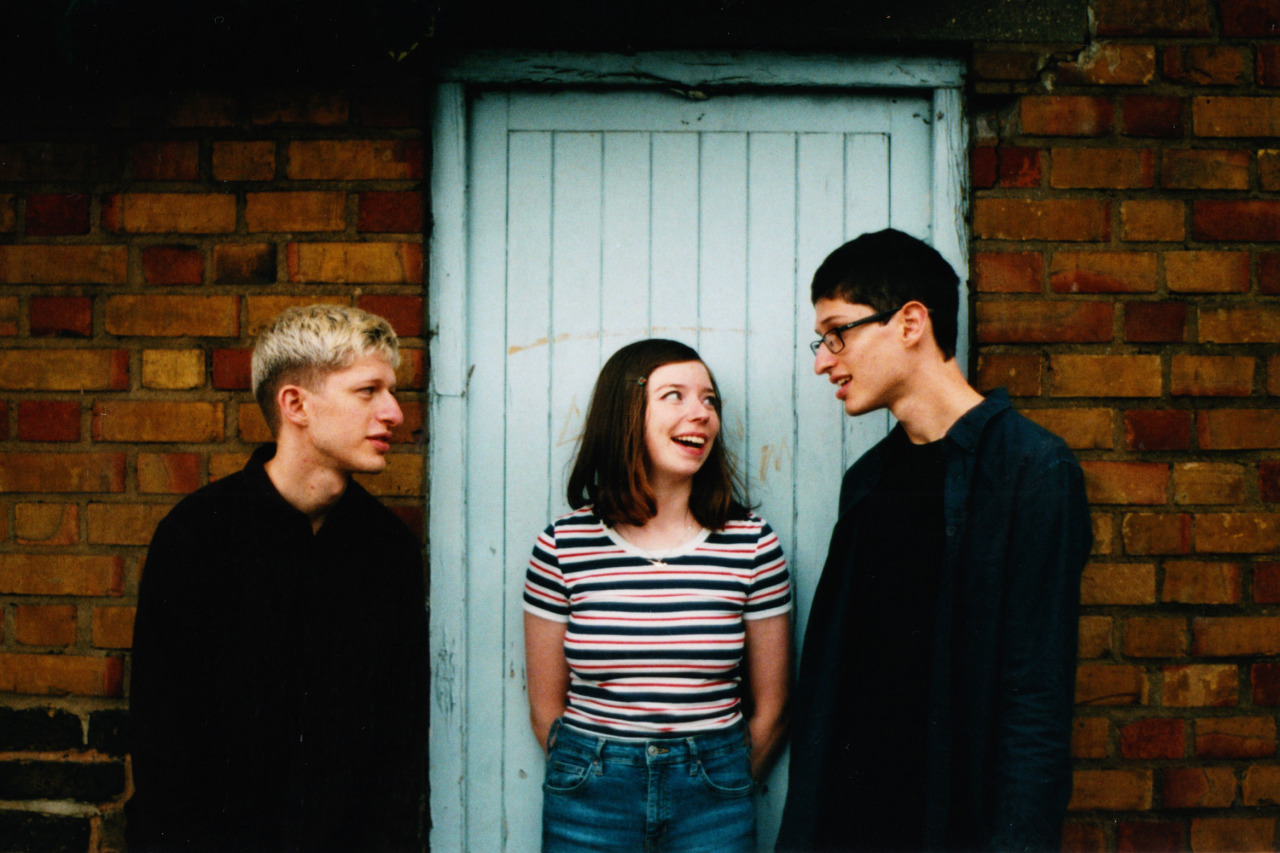 Time, when you think about it, is really a rather strange concept.
All that really exists is the here and now; the very moment that you live in; the past is everything that has taken us to this point, the future an unsketched blank canvas. It may seem an abstract leap, but much of 'Everything But The Here And Now', the second album from London indie-punks Happy Accidents, is somehow, linked to the passing of time.
Chronicling the journey into adulthood by three twenty-somethings, it's an album of growing pains and tough decisions; the desire for more free time but also the wish to do more with life. It's an album that wants to leave a lasting impression on the world – a legacy that stands the test of time – and succeeds thanks to its strength of character and the very different voices of Rich Mandell and Phoebe Cross.
Emerging from the rehearsal space after a bladder-busting four-hour practice to talk to Already Heard – shoehorned in around day jobs to ensure they bring their 'A' game to their upcoming UK tour – 'Everything But The Here And Now' is a different album than the one they intended to make, considers Rich:
"I think I anticipated in making a much weirder record than the one that actually came out," he says. "Every time, I think I aim for something that is somewhat unrealistic – and as a result we always end up sounding like 'us' – but it's an 'us' that's pushed two levels beyond what we would have done if I hadn't aimed for six levels beyond what we wanted to do."
And he's on the money. For the most part, 'Everything But The Here And Now' is unmistakably Happy Accidents, characterised by Rich's matter-of-fact delivery and some wonderfully infectious indie-pop tunes.
Yet it also successfully avoids being a remake of their first album thanks to some ambitious and striking songwriting and a much larger vocal presence by Phoebe. The result is an album that was collaborative, rather than a singular vision – and this tells on cuts such as the outstanding 'Wait It Out' and epic 'Text Me When You're Home'.
"It's been fun," says Rich, when asked about this collaborative process. "I feel it's taken the pressure off me. I don't feel like I have to make something from start to finish. This time around, I guess I had chords, and we collaborated on the words for all of the songs. It felt like much more of a band process – even Neil [Mandell] had more of an input – and I think as a result it's a lot more engaging and there's a lot more variation as well.
"Also, personally, I don't think I'm that interesting, so it's quite nice to have other perspectives on the record!"
This can be seen clearly on the likes of 'Different Views' and 'Float', which feature Phoebe on lead vocals. Rich half-jokes that his favourite part of the last record was the 40 seconds Phoebe sang – but here, given prominence, Phoebe's voice provides plenty of light to off-set Rich's rat-a-tat delivery. The result is an album filled with textures and subtle, shifting styles. This marries nicely with the broad plan with which they set out – "combining what worked on the last one with more textural stuff," says Rich. "It was all about taking what we usually do, and what our natural instincts are, and adding more texture to it."
Key to this was the work of producer Matthew 'MJ' Johnson (of Hookworms fame), seeing the trio relocate to Leeds for 10 days to work at his Suburban Home studio. Having already worked with the likes of Martha, Doe and Trust Fund – peers and friends of Happy Accidents – it was an ideal fit and one that clearly got the best out of the group, as Rich explains:
"We made it clear from the off that we wanted input – that we didn't just want someone who was just going to set up some microphones and press record and not say anything.
"He's someone that is involved in soundscapes [with Hookworms], and he was able to tailor how we brought the textures out. He had a big effect on the feel of the record. He got involved in some small arrangement things too on the record, which really benefitted us.
"We went up to Leeds, lived in a very damp-smelling AirBnB that was pretty cheap. It felt like a holiday. A really intense, semi-stressful, but ultimately productive, holiday."
"I've come to terms with what it is, and I think I needed that time to know that I really like it"
The results speak for themselves, and 'Everything But The Here And Now' is a clear step up on the group's previous output – bolder and broader, but no less immediate. Recorded 12 months ago though, Rich feels like he's needed to 'sit' with it to fully appreciate the intricacies and quirks of a very personal record. "I've come to terms with what it is, and I think I needed that time to know that I really like it," he says.
"When you hear something back through speakers for the first time it can be completely different to what you thought. Like, I'll have an idea of what I think it would sound like from the excitement of being in the rehearsal room, and sometimes hearing things back through speakers and not hearing what you expected can cloud over something that is actually really great anyway.
"There's always so many doubts when you get it back – that idea that expectations cloud it – so having had that time with it, and going through emotions with it – I've had all the time I need to know what it is and be proud of what it is and now I'm ready to show people."
The beauty of recorded music is it that it proves, unequivocally, the sound of a group at a certain point in time. Twelve months is a long time to sit on songs, meaning that 'Everything But The Here And Now' is, in some sense a time capsule, showing us the Happy Accidents of March 2017.
Yet it's also allowed the group to grow into this ambitious sound, ready to unveil it to a live audience, having only teased early demos over the last 18 months. "There a lot more stuff on this record, so learning the songs to play live has given it a new fresh perspective," considers Rich.
The point is, this tour is probably the last chance to catch Happy Accidents at this moment in time. In a further 12 months – if their ambitions continue to match their eye-catching musical growth – expect a much different experience from the one guaranteed around the UK over the next few months.
'Everything But The Here And Now' by Happy Accidents is out now on Alcopop! Records.
Happy Accidents links: Website|Facebook|Twitter|Instagram|Bandcamp
Words by Rob Mair (@BobNightMair)