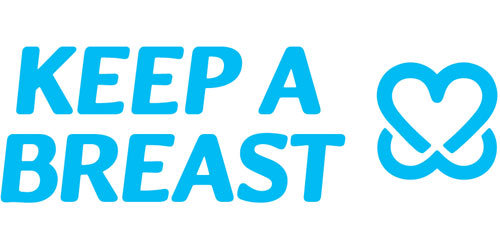 Since its formation Keep A Breast has become the leading nonprofit breast cancer organisation, raising awareness of breast cancer using various methods that are focused and relatable to young people.
From the beginning, founders Shaney Jo Darden and Mona Mukherjea-Gehrig have incorporated art, music and sport to raise awareness throughout North America and Europe. Most noticeably the organisation has been part of the Vans Warped Tour since 2001, cementing its place within the alternative music scene. In recent years Keep A Breast has also worked with Macbeth Footwear, which saw them unite for an online auction of plaster casts of the female torso painted by top musicians and artists.
Now as Keep A Breast heads into its 15th year, the organisation is expanding with the UK being one of the first countries of its natural growth. To mark the launch of Keep A Breast UK, the organisation teamed up with a variety of UK and US bands to release a free compilation entitled 'Check Yourself – Volume 1'. The album features songs from the likes of Say Anything, Four Year Strong, The Story So Far, Finch, and Moose Blood. The title of the compilation also coincides with Keep A Breast's #CHECKYOURSELFIE social media campaign.
Already Heard recently spoke to KAB Founder Shaney Jo Darden about the organisation, the UK arm, the influence of social media and their plans for the future.
Already Heard: For those who aren't familiar with the organization, can you tell us what Keep A Breast is about?
Shaney Jo: The Keep A Breast Foundation was founded in response to the growing need for breast cancer awareness programs that focus on educating young people. My friends were being diagnosed in their 20s, and I had no prior comprehension of how early in life breast cancer could strike. It flipped a switch in my brain and I realized that it was my purpose to start this conversation with young people about breast cancer prevention. I wanted to do something that spoke to my peers. I use art and artistic expression to inform young people about methods of prevention, early detection and support. Through our programs, Keep A Breast exists to change the global conversation around breast cancer among young people by empowering them with breast health education, which we hope will ultimately to inspire them to adopt healthier habits.
AH: Over the years we've seen KAB work closely with bands from the alternative music world and has been part of the Vans Warped Tour. How and why did the relationship between KAB and the alternative scene develop?
Shaney Jo: The Warped Tour is a very special place – a home for punks and misfits. Kevin Lyman is the founder of the Vans Warped Tour and had read about Keep A Breast in a magazine. As this is a cause close to his heart after losing his mother to breast cancer, he invited us along to educate all the fans on breast cancer prevention. We have been out on the road every summer with our program The Keep A Breast Traveling Education Booth since 2001. Thanks to Kevin we have been able to educate thousands of teens every summer about breast cancer prevention. It's important for us to educate teens in their own environment, in a place where they feel comfortable and can be themselves. The Warped Tour fosters this type of environment and hosts many charities every year.
AH: More recently you've launched a UK arm of the organisation, and to coincide with the launch you released a free compilation. Are you excited about the future for Keep A Breast in the UK?
Shaney Jo: The UK is a natural and exciting place for Keep A Breast to grow. There is a need for information for young people on cancer prevention that I think we can help fill with our unique mission. In the past 4 years we have brought our traveling education booth to many UK festivals like Slam Dunk and Warped Tour and the response has been really great – so we decided to build our community in the UK. We are looking for partners, volunteers and support! Shout out! To everyone in the UK! Let us know if you want to get involved. We have a partnership with Carry the 4, a music PR company in the UK and they had the idea to bring together many of their artists to create the Check Yourself comp featuring The Story So Far, Finch, Four Year Strong, Natives,The Xcerts, Moose Blood, State Champs and a ton more incredible bands.
Keep A Breast UK Presents: Check Yourself! – Volume 1 by Various Artists
AH: You've also launched the '#CheckYourSelfie' campaign which is heavily based around social media and continues recent trends such as the ALS ice bucket challenge. How influential has social media become for organisations like KAB?
Shaney Jo: We believe that the best way to spark the attention of young people and spread the message of a monthly self-check is through social media. While selfies are an increasing activity, they are often shunned as "self-indulgent" and "narcissistic." Through the #CHECKYOURSELFIE campaign, KAB is asking people to put the selfie to good use — to find the time to be not "self-indulgent," but "self-aware" when it comes to knowing your body and your breasts. We are asking people to post a selfie, placing three fingers to their breast, symbolizing their monthly commitment to self-check. It's all about turning awareness into action by downloading our free self-check app! checkyourselfie.org.
AH: Besides the compilation and '#CheckYourSelfie,' what else does Keep A Breast have going on right now and in the near future?
Shaney Jo: Next year is our 15th anniversary and we will be celebrating all year long. We will be hosting pop up spaces globally with our newest program called Non Toxic Revolution, which is all about educating young people about the toxins that are in your everyday life that are linked to cancer. We will be focusing on this campaign as a priority for 2015. It's a bit different look than KAB, all the design was done by Shepard Fairey and his agency Studio Number One. We have broken down something that is really complex and scary into bulleted, easily digestible information so you can be empowered to make simple changes in your life that will help reduce your risk of breast cancer. Only 10% of new cancer diagnoses is linked to family history, so we have to continue to ask ourselves why is this happening and direct more research funds to proving the link of carcinogens to cancer.
AH: Do you have any final comments to share with the Already Heard readers?
Shaney Jo: Even though it's breast cancer prevention month, this is a conversation that Keep A Breast has all year long. Download our app and set the automatic monthly reminder, and don't forget to #checkyourselfie. Tell a friend.
'Check Yourself – Volume 1' is out now and can be downloaded for free here.
Further information on Keep A Breast UK's #CHECKYOURSELFIE campaign can be found here.
Keep A Breast links: Website|Facebook|Twitter
Shaney Jo Darden links: Twitter
Words by Sean Reid (@SeanReid86)