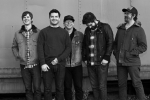 2012 sees New Jersey's Senses Fail celebrating their 10th anniversary, and to celebrate the occasion the band recently announced plans to record new material for a 'best of' album entitled 'Follow Your Bliss: The Best of Senses Fail'. In addition the band will be reissuing 2004's 'Let It Enfold You'on vinyl, as well as heading out on this summers Warped Tour.
Already Heard recently spoke to vocalist Buddy Nielsen to find out more about the bands recent activity. Nielsen discussed the bands recent material, working with producer Brian McTernan again, how the band has developed over the past 10 years, Warped Tour and more.
Already Heard: Could you introduce yourself and your role in Senses Fail?
Senses Fail: Buddy Nielsen. I sing in Senses Fail.
AH: It seems like there has been more activity in the band lately. You recently announced you're recording some new songs for a best of album. What can you tell us about these new songs?
SF: Yeah we have some stuff in the pipeline right now. Over the last couple months we have been working on some new material and getting back into the writing process. Im excited about the songs, it has been a totally different experience now that Garret is no longer with us. He was the main songwriter in the band and with his departure our approach to writing has changed. I think it's been really fun to write with the new members of the band and also Brian McTernan, is in the mix as well. I am very optimistic that people will enjoy these new songs as much as any SF release, if not more.
AH: You're going to be recording with producer Brian McTernan again. What made you want to work with him again and what does he bring to Senses Fail's sound?
SF: He's our dude in every sense. He's become a very close friend and our band is now made up of current members of other bands Brian has worked with, which makes it even easier to be in the studio with him. He is also like a band member at this point. His input to the songs is just as important as everyone else's. I think working with someone else might be cool but I just don't think we will get the level of commitment and passion from anyone else.
AH: As for the 'Best of' release. Will it consist of material from just the 4 albums or can we expect some b-sides/rarities or some tracks from the 'From the Depths of Dreams' EP?
SF: It will consist of songs from everyone of our releases.
AH: You're also releasing 'Let It Enfold You' on vinyl. Why have you decided to reissue now?
SF: We put 'The Fire' out on vinyl and it did ok. I was expecting it to do a little better but Im not sure how many of our fans our into vinyl even with the recent resurgence. Once we put that out, a lot of people were asking for 'Let It Enfold You,' so we decided that it might be something that people would be into. I enjoy it, I like having that big physical piece.
AH: Over the last 10 years, how has the band grown and what have been your stand out moments?
SF: Well I could probably write a book about how I have grown and all the things Senses Fail has been through over the last decade. I can really only speak for myself when speaking on the past but it has been a ride. I've learned a lot, met a lot of great people, played a lot of great shows and of course had a lot of crazy things happen. I think a stand out moment for me is that we are still hear and still doing it. Not a lot of bands are able to stay around for ten years and it was always a goal of mine to be a band as long as possible. Im just happy to still be making music.
AH: This summer you're heading out on Warped Tour. What memories do you have from previous Warped Tour's?
SF: To many to list. Im very excited about this year, we have so many friends on the tour and I look forward to playing music and hanging. We've done it some many times that now we know exactly what to expect and exactly how to prepare so it makes it fun.
AH: The line-up for this year's Warped Tour is filled with great bands. Are there any bands you're looking forward to seeing or touring with again?
SF: I'm especially looking forward to seeing Man Overboard, Everytime I Die, Ghost Inside, Transit, Polar Bear Club, Make Do And Mend, New Found Glory, Taking Back Sunday, and more.
AH: Warped Tour is now in it's 18th year. What do you think its still a popular tour?
SF: Because it is run well and Kevin (Lyman – Warped Tour founder) knows what bands are up and coming. He's got his ear to the ground of this music scene, and is able to establish and break bands who go on to do very well. I think it has sort of become a staple of the American Summer.
AH: What do you have planned for the rest of the year after Warped Tour?
SF: We are going to record a new record in the fall.
'Follow Your Bliss: The Best of Senses Fail' by Senses Fail will be released on June 19th through Staple Records.
Tracklisting:
1. Wolves At The Door
2. Can't Be Saved
3. Lungs Like Gallows
4. Buried A Lie
5. Shark Attack
6. Lady In A Blue Dress
7. The Fire
8. Rum Is For Drinking
9. Calling All Cars
10. Bite To Break Skin
11. Priest And The Matador
12. Bloody Romance
13. Family Tradition
14. Cute When You Scream
15. New Years Eve
16. 187
Bonus Disc:
1. War Paint
2. Vines
3. Early Graves
4. Waves
'Let It Enfold You' (Vinyl Release) by Senses Fail is released on May 15th.
Senses Fail links: Official Website|Facebook|Twitter
Words by Sean Reid