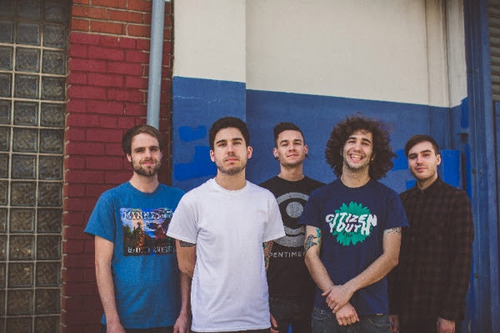 It seems a longtime coming, but this summer Illinois' Real Friends finally release their debut full-length. Entitled 'Maybe This Place Is The Same And We're Just Changing', the pop-punk five-piece have been gathering a massive following since independently releasing their 'Everyone That Dragged You Here' EP in early 2012.
Since then, Real Friends have gone from strength to strength with more digital releases and relentless touring in the US. Last November, they made their UK debut supporting The Wonder Years and this past month saw them return once more for their first set of headline dates.
Their UK and European dates concluded with an appearance at the Slam Dunk Festival, and on the final date of the festival in Wolverhampton, Already Heard spoke to vocalist Dan Lambton and bassist Kyle Fasel to question them about the new album, joining Fearless Records, their return to the UK and preparing for this summers Vans Warped Tour.
AH: So you've just been on your first headline run in the UK. How Has it been?
Dan: It's been awesome. We never got to play mainlan Europe before. Our previous trip was just a week in the UK, so it was nice to spend some more time in the UK, and also be able to see mainland Europe and see what those shows are like and what the culture and the crowds have to offer. It's been great.
AH: How has it been compared to playing shows in America?
Dan: It's definitely a lot more tame in certain markets. I know we played a couple of shows out here that are 18 and up, so its like all the 18 year old kids, all the younger ones would be up at the front and all the older kids, that are our age, would be in the back drinking a beer, and actually watching the show.
AH: It's not been too long since you were here supporting The Wonder Years. Do you have a better idea this time around what to expect?
Dan: We didn't really know just because we got to play a lot of awesome bigger rooms on The Wonder Years tour, but for the first time headlining, you just never know because we play the super small places. The shows did really well, and we had a great time. We didn't really know what we were up against.
Kyle: I think this time around it's a different atmosphere with the smaller rooms. I just feel we're more at home in those smaller rooms with all the kids mashed together, that's still where we feel most at home.
AH: I was the Leeds date of The Wonder Years tour. Was that your first UK show ever?
Dan: Yeah.
AH: You looked a bit suprirsed by the reaction of the crowd. What do you remember about that show?
Dan: It was awesome. Leeds was sick.
Kyle: Yeah. Leeds was great. Yesterday was Leeds right?
Dan: No the day before was Leeds.
Kyle: The day before then; Leeds was cool. It was cool to go back there. Leeds always holds a special place for us as that was our first UK show, so it was really cool. Those kids get wild.
AH: How have you found Slam Dunk the past 2 days?
Dan: It's been great. It's lived up to its reputation.
AH: What did you know about it beforehand?
Dan: All of our friends told us its one of the best festivals you do. You're going to have a great time, great set, great kids. That's it and they were all right.
Kyle: I remember seeing videos of bands playing Slam Dunk, and everytime I see a video it would be wild. So it's really an honour for us to be asked to play, and it has definitely lived up to all of those memories I had from watching it on the internet.
AH: Is there anything like it in the US?
Dan: There are like scattered festivals that are like 3 days. In Chicago we have Riot Fest, and then there's Bonnaroo and a bunch of different ones that are over a weekend, but those ones are on a bigger scale. I would say we have a similar Slam Dunk-esque.
AH: How about Warped Tour?
Dan: I would say so just because there's all these different bands, all these different kids who listen to all different bands coming together.
AH: It's the same atmosphere?
Dan: Yeah if the kids are going to have problems with each other, they'll be civil. They'll be over here watching these bands, and these other kids will be over here watching these bands. It's still cool that everyone can be at the same show together.
AH: So the album is finally coming out this Summer. What can you tell us about it?
Dan: We definitely tried some new things, because we didn't want to put ourselves in a box. You know you never want to write the same album twice. So there's a lot more softer sides to it, a lot more aggressive sides to it. A lot of these songs go up very high energy then they also back off and have certain points that make sense to be softer and have a more intimate atmosphere.
AH: Like I said, the album has been in the works for awhile having released 2/3 EPs in the last 2 years?
Dan: In the last 2 years, I wanna say 4/5 EP's.
Kyle: Like a lot of them weren't proper EP's. We did an acoustic EP of other songs. Technically we had 2 proper EP's released, but we released other music digitally.
AH: Has the success of the EPs and the band's growth in popularity influenced the record in anyway?
Dan: I wouldn't think so. Everything we do is still the same as we started. Obviously we've made improvements to how we write the music, and what we do to the band in general, but we're still the same dudes, doing the same thing. We also signed to Fearless, and they wanted to keep us the same. They said, "You do you, it's working right now, we're just here to help." I don't think anything has changed though.
AH: Like you mentioned joining Fearless Records, what drew you to joining that label?
Dan: They were able to let us be us, and they can give us the attention we need. They don't do too many releases a year compared to other labels. They really like to give an album its full cycle, and have ideas to give it its life and everything until the next record. They're very committed to it. They trust it to have control over how it's going to look and sound. They're just there to help put it out.
Kyle: Liked we talked to a different couple of labels and they (Fearless) were definitely the one we were most comfortable with. They believe in what we were doing. Like Dan mentioned earlier about not wanting to change us, we didn't go in there and they were like, "Ok guys you got to do this, and this and that." We told them we wanted to keep the way things the way we are doing them, and they respected that. As a record label, they have experience and resources to put us out to more people. We don't want anyone to come in and change the way we do things. We will always be who we are.
AH: Do you think some people were surprised you signed with a label like Fearless?
Kyle: Yeah definitely, they don't have any bands like us, which I think is cool. If you actually rewind back to when Fearless started, they were a punk label and that's whats cool. They told us we are that band that took them back to their roots in a way, which is awesome. And us in general as a band, as we tour more and meet more people, we give a big message that comes across to fans that you don't need to pigeonhole yourselves. Just because we're on the same label as Breathe Carolina, they sound nothing like us, that's nothing to be mad about. If there fans don't like us, then whatever and vice versa. I think, if anything, overall in the spectrum of Real Friends, in a way we're trying to get across is open your mind up a little bit, and I think signing with Fearless has got us on that path.
AH: Next month you're back on Warped Tour. What are your expecations to do it for a second time?
Dan: Yeah we only did about 2 and half, 3 weeks last year but it's going to be a lot fun (this year.) We've got a lot of friends on the tour. I've been going to Warped Tour every year since 2006, so to be on the entire summer is awesome. So everyday is going to be a lot of fun. It's going to be a lot of hard work because of the heat and all that, but overall we're going to have a lot of fun.
AH: Any advice for new bands on the tour?
Dan: I would still consider us a new band on the tour…
Kyle: It depends if they're driving or not. If you're on about a band in a van, it's not as bad as everyone makes it out to be. Last year we were in a van for 3 weeks, and people were like, "You're in a van?!? Oh my gosh! How are you still alive?" Just drink a lot of water, and don't party too hard I guess.
Dan: Don't drink beer on the hot days.
Kyle: Get in a set schedule of who's going to drive and everything. It's definitely smart, as I know there were days we were have it all scheduled, then we would get in the van and everyone would be asleep.
AH: So be more organised?
Kyle: Yeah. Organisation on Warped Tour is huge.
AH: Any other plans to come back to the UK before the end of the year?
Dan: Not right now. I would hope in the first half of 2015, we would be able to make it out here.
AH: Any final comments to close this interview?
Kyle: Starbucks in the UK should have iced coffee. That's it.
Dan: I would have to agree.
Kyle: That's the final words.
'Maybe This Place Is The Same And We're Just Changing' by Real Friends is released on 22nd July on Fearless Records.
Real Friends links: Website|Facebook|Twitter
Words by Sean Reid (@SeanReid86)