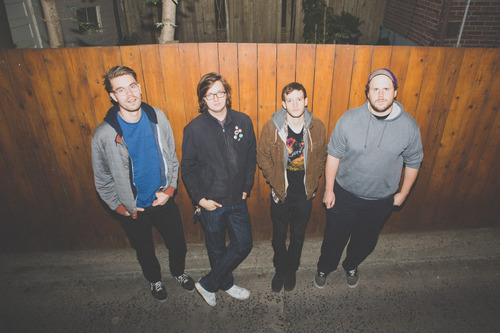 Canadian punk rock quartet PUP have had a slow build to the start of their career, but now look ready to start making waves. Having recently re-released their self-titled debut (originally out in October 2013), the young band tagged along with Frank Carter's post-Gallows project Pure Love's last tour.
Already Heard caught up with singer/guitarist Stefan Babcock and drummer Zack Mykula before they played Banquet Records' weekly Kingston-Upon-Thames indie night, New Slang.
Already Heard: A lot of our readers won't be very familiar with your band; could you give us a potted history of PUP?
Zack Myulka (ZM): Me, Steve (Sladowski, guitarist) and Nestor (Chumak, bass) grew up in our own little insular scene in the West End of Toronto, and all started playing together in high school – we started a shitty ska band, as you do! We played a few gigs, and it turned out that Stef (Babcock) was in the same scene, he was in his own shitty ska band, so we were always in the same sort of world. Nestor and Stef both went to University at the same time which eventually caused both bands to dissolve, and having played with Nestor and Steve forever, it naturally just fell together when Stef needed a band and we were looking for a project – classic high school shit!
AH: You brought up there that you grew up in Toronto, certainly a fertile ground for punk bands, producing the likes of Fucked Up, METZ, Death From Above 1979 and, not too far away, Alexisonfire. What is it about Toronto that makes it such a productive place for punk groups?
Stefan Babcock (SB): Kids in the suburbs are really pissed off, and there are a lot of suburbs! Another reason is that when we were growing up and the generation before us, there were tons of all-ages venues in Toronto.
AH: In Canada, you guys get quite a lot of arts grants from the Government as well, don't you?
SB: Yep, and this led to DIY venues, proper all-ages venues putting on punk rock shows every weekend, so when we were 14-18 year old kids, before we could get into bars in Canada, we were able to go see punk bands. I remember going to see all of the bands you've just mentioned, bar METZ because they're newer, seeing them when I was 15/16 years old thinking "Holy shit, maybe this is something I can do!"
A big part of having an all-ages scene is all those kids who got to see punk music every weekend when in their teens, when they turn 21/22 they all started their own bands. So, in that way, Toronto and the surrounding area has been cranking out bands like crazy because of the all-ages scene – all of the kids we used to see at those shows all have their own bands now. Unfortunately, there's not a great all-ages scene anymore for punk – I'm personally afraid it's all gonna dry up in 5 years, when all of the bands who are active now have called it quits or moved on or whatever and there aren't any younger bands coming in to take their place.
AH: Canada is such a vast country with great swathes of nothing – you get cities like Toronto that produce a shitload of bands because few places elsewhere can – does it get insular at all in its scene?
ZM: Not really; people are super supportive of each other – obviously there are very separate scenes, but when the groups encounter each other there's a natural friendship – the thought is that "You come from the same place I do, why wouldn't we be friends". We're not like enemy gangs or anything!
SB: We're not restricted to playing with other punk bands.There's another band from Toronto called The Strumbellas who are a folk band, but we really like their band and they really like us, so we play together sometimes and while it's not a good match sonically, sometimes it's just fun to play with other bands that don't sound like you rather than having 4 loud bands in a row.
ZM: There's the same shared spirit.
AH: That must be something you're experiencing with Pure Love, because while Frank (Carter) and Jim (Carroll, formerly of The Hope Conspiracy and The Suicide File) come from a punk background they aren't necessarily a punk band themselves – how have these shows been for you?
SB: Well, we've only played one—
ZM: But it was awesome!
AH: Where did you play last night?
SB: Lincoln – best show of the tour!
ZM: They (Pure Love) definitely represent the kind of energy that we aspire to bring, they have wild shows and musically they're awesome – they fit a lot better (with us) than I thought they would, and it's great.
AH: This is your 2nd time in the UK – how do you like the British shows?
SB: They've been fun. This is our second tour, our first tour was before the record came out so it was a little more difficult, those shows were a fair bit smaller, but it's really novel for us to come across an ocean and have kids show up and sing our songs, scream them into our faces, which has been pretty cool. We're just having fun and enjoying it, we're grateful that press here has been good and the fans have been receptive – I think your country loves loud rock music!
AH: We do indeed!
ZM: The other cool thing is that the British aren't afraid to interact, whether it's negative or positive; it's largely positive, but they razz you in very creative ways! They're "big brothers" to us, random guys who come to our shows and tease us – it's not mean, but they propel us to keep playing.
SB: Every time we play a show in Canada everyone is so polite, they just clap and say "Thank you! Thank you!"
AH: That's the Canadian stereotype all over – you'd punch one in the face and they'd say sorry for getting in the way of your hand! The way you've built an audience has been quite organic – you dropped the record last October as a free download on Bandcamp, and only recently signed to SideOneDummy and put the record out again – did anything inspire that choice? Was it a conscious decision to do things that way?
SB: No, I think that it was in line with our expectations; we made a record and we put it out in Canada, did a Canadian tour and that was kind of it – we put it out in Canada like we intended to because we couldn't get a broader reach at that time. It just spread from there; we got on a couple of big American shows in the north-east close to Toronto, and now we're here and feeling really lucky.
AH: So who have you been touring with in the US?
SB: We just finished a tour with Solids who are awesome, we've done tours with bands like Cancer Bats, played with Fucked Up and Titus Andronicus. It's amazing that we suddenly got to play with some of our favourite bands in the world, which is pretty unreal.
ZM: I remember the second time we played with Titus (Andronicus) in Toronto, they're one of all of our favourite bands because they're obviously great. I got plastered for the show, it was such an experience for me and I was screaming the entire show so my voice was gone but at the end of the set I got up on stage and Pat (Stickles, Titus Andronicus singer) was trying to pack up, and he had been sick, and I came up to him (in a drunken voice) "Hey man, you're one of my favourite bands, and I can't believe we get to play with you, how are you doing man?!" and he says "My throat actually kind of hurts", and my arm was around him so I was totally invading his space. So I said "Okay, it was great to talk to you, I really love your band" and stumbled off—
AH: You were totally "That Guy"!
ZM: He was super appreciative though, just said, "Thanks man!" when he probably really wanted to say, "Fuck off, stop breathing into my mouth!"
AH: I've had many a brush off from a band when I'm drunk as fuck and shouting "I love your band guys!"
ZM: Yeah, feels good, man!
AH: Another question for the benefit of those who aren't very familiar with your band and might not know – could you explain the back story of your band's name?
SB: Oh man, sorry Grandma, we're gonna make you look bad again. We're called PUP, which doesn't stand for anything, but the origin of the name was Pathetic Use of Potential, and the band was called that for a brief second. When we first started we had a different name, we all quit our jobs to do this band thing full time, they were pretty good jobs and there was a rough time where, once you quit your jobs to play music and people ask you what you do, you say "I play in a band" and when you have to tell them the band has no name, they say (in sarcastic tone) "Sure, you play in a band!". It was a pretty dark time for all of us, my family is so supportive of what I do, but they tease me, saying "Oh, you quit your job, gonna go play in a punk rock band, isn't that a bit of a pathetic use of your potential?", referring to me having a pretty well-paid job before, going from that to being broke as shit, which is how the name came about. It's "pathetic" in the sense that we all quit good jobs that paid a lot and we're now broke as fuck and have nothing, but it's not pathetic in the sense that we're all having a really good time. 
ZH: We just played a freaking awesome show at a record shop (Banquet Records) in the UK and we're a shitty punk band from Toronto, that's pretty astounding!
AH: You're living the dream of every guy in their early to mid twenties who wants to quit their menial job and be in a punk band, so fair play!
SB: Just for the record, my family is incredibly supportive!
AH: What have you guys got coming up? You're doing Groezrock this weekend [at the time of interview], what else does this summer have in store for you?
SB: During our UK tour with Pure Love we're also doing Live At Leeds on our own, and after this tour we're going to hop on an American tour with The Menzingers, which is about 6-7 weeks, and after that we're doing a bunch of festivals in the US, coming back to the UK to do Reading & Leeds and Pukkelpop which should be really fun – we're planning to come back to Europe as much as possible.
AH: Awesome! Thank you very much for your time today guys – I heard Pure Love mention Nando's, and you definitely don't want to miss that!
'PUP' by PUP is out now on SideOneDummy.
PUP links: Facebook|Bandcamp|Twitter
Words by Ollie Connors (@olliexcore)