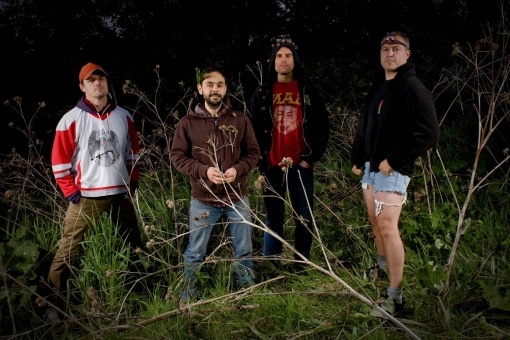 Since 1986, Canadian punk band Propagandhi have gone from strength to strength, building on their brand of thrash influenced melodic skate punk. Forward thinking and politically active, the band are about to return to the UK for a string of dates with Comeback Kid, Shai Hulud and War on Women in support of their latest album 'Failed States'.
We caught up with vocalist and guitarist Chris Hannah discussing their upcoming UK tour, the importance of supporting younger bands, the band's musical consistency and growth, and the band's admirable stance on not sacrificing their integrity.
Already Heard: Hello, who am I speaking to and can you please tell us your role(s) in the band?
Chris : You are speaking to the person inside of Reagan. my name is Chris. I am the resident idiot clown and guitarist/vocalist.
AH: You are about to head on tour for the majority of the April month in Europe and the UK. Having toured this side of the Atlantic a number of times do you know what to expect in regards to the atmosphere at shows here or does an essence of the unexpected occur on each visit?
Chris: It's different from night to night, but not really from hemisphere to hemisphere. We always expect unbridled wildness but will accept polite, detached applause in a pinch.
AH: As well as playing with Shai Hulud and fellow Canadians Comeback Kid on the UK dates, you are taking Baltimore punks War on Women. It certainly is admirable when an older and established band such as yourselves take on younger bands especially in the punk and hardcore genres. How vital would you say it is to pass on the torch to the next generation?
Chris: I think it's good to show people that art/ music can more than a distraction or a passtime. War on Women, specifically, are a band that not only rocks hard, but directly challenges the tired, old male-dominated schtick of a typical heavy rock show. I think they are an exciting band and am eager to see what the Old World makes of them.
AH: Your new album 'Failed States' was released last year to widespread critical acclaim and praise; how has the latest material been received in the live setting in contrast to the rest of your back catalogue?
Chris: I think pretty much the same. Usually with our records, people are lukewarm to them out of the gate, then a few months later start to come around and hear it for what it is rather than what they hoped it would be; a exact duplicate of the previous album.
AH: Like Fugazi, you've managed to become one of few bands to get consistently better with each release. Is it luck or is there a secret ingredient for this consistency?
Chris: Well thanks for saying so. That is high praise. I think we have an advantage over a band like Fugazi in that our first record was so bad that there was no where to go but up. We've just simply stayed interested and haven't worried one iota about current trends or anything happening outside of our practice space. I agree that the arc has continued upward so far. There will come a time when it won't, that's life, and we'll quietly wrap it up when that happens.
AH: Since 'Potemkin City Limits' you've been mastering this blend of melody and aggression which has evolved into a perfected and contrasted relationship as shown on the new record. How has this dynamic helped to enhance this delivery in the band's themes?
Chris: I think we've gotten a little better at adding a touch of depth and dimension to the songs, especially since Beave joined the band. keeps things a little more fresh I think.
AH: One of the most admirable things I've found about your band is that you've managed to build a strong following and fan base without the slightest hint of sacrificing your integrity. For instance you've refused to play festivals like Groezrock due to its corporate sponsoring, something that few bands in your position who hold similar ethical stances say no to. Would you agree?
Chris: We'd love to play those festivals. It's just too bad so many festivals are so dependent on selling their audience to so many lame corporations. We make a lot of compromises as a band, and as humans, within this insane economic framework that we've been born into, but sometimes you have to practice saying no to the almighty dollar and say no thanks, I don't want to schill for your stupid, useless, planet-destroying, people-exploitng products you fucking slime-ball piece of shit capitalist sociopath…but thanks for asking.
AH: Do you have any advice for any up and coming bands who are reading this interview?
Chris: Learn to sew. Learn how to grow a garden. Help your neighbours. Be kind to people and animals. Everything else will fall into place.
'Failed States' by Propagandhi is available now on Epitaph Records.
Propagandhi links: Official Website|Facebook|Twitter
Propagandhi will be touring the UK later this month. Support comes from Comeback Kid, Shai Hulud and War On Women
April
15 Rock City, Nottingham 
17 The Electric Ballroom, London
18 Garage, Glasgow
19 Corporation, Sheffield
Words by Aaron Lohan.