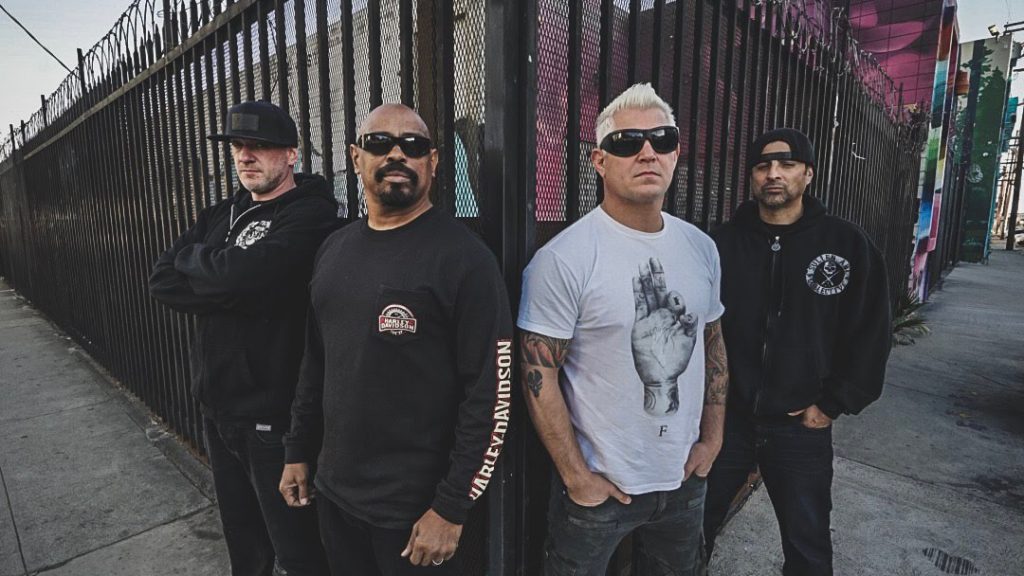 When you put together members of hardcore metal punks Biohazard, hip-hop giants Cypress Hill and industrial metallers Fear Factory, you're certain to get a hot melting pot of rap-metal. That's just who and what Powerflo are all about.
Although they only formed two years ago, their roots can be traced back to the '90s via various guest spots. Fast forward to 2015 where Cypress Hill's Senen "Sen Dog" Reyes and Roy Lozano of L.A. rap metallers Downset formed Powerflo. With the addition of Biohazard's Billy Graziadei and former Fear Factory member Christian Olde Wolbers, Powerflo would release their self-titled album last summer.
With elements of 90's hardcore, 2000's nu-metal, and Cypress Hill's playful charisma, 'Powerflo,' is exactly what you'd expect its members to serve up – riffs, rhymes, breakdowns with a hint of nostalgia.
This weekend they'll be making their UK debut at the Download Festival. Schedule to open the Zippo Encore Stage on Saturday where they'll be sharing the stage with Parkway Drive, BabyMetal, Asking Alexandria and more. However for guitarist and vocalist Billy Graziadei this won't be his first time at Donington.
As he prepares to return, and for the first time with Powerflo, we spoke to Graziadei about what we can expect from their UK debut, their new 'Bring That Shit Back' EP and who he'll be checking out after their early set.
AH: Undoubtedly members of the band have played various UK festivals in the past but this is going to be Powerful's first time at Download. What can festival-goers expect from your set?
Billy: I've always equated festivals as going to Vegas, you plan on winning but you won't know how it will play out until you're actually there. This thing we do is fly by the wire, rock n' roll isn't meant to be safe, if it is, you're doing it wrong! As with my first time playing at Donington with Biohazard, you never know how things will turn out! We'll have to wait and see.
AH: A few of your other/older bands have played at Download before. What are your memories of your previous visits to Donington?
Billy: Donington stage invasion for Biohazard! No one knew us and no one forgot us!
AH: You're going to be opening up the Zippo Encore Stage on Saturday. Is there much pressure on you as openers?
Billy: I always bet on the underdog! I hit the stage with the power and vigour of a headliner no matter where in the lineup we fall.
AH: Your appearance at Download is being preceded by the release of an EP called 'Bring That Shit Back'. Besides the remixes, what can you tell us about the two new tracks; 'Bring That Shit Back' and 'Get Up Stand Up'?
Billy: We came off tour and I had an idea to do a few songs so Sen (Reyes) and I jumped in my studio and did up a demo of 'Get Up Stand Up'. We had a good time doing it, so we jumped in the studio to record it for real and it came out pretty cool.
I was working with some electronic bass artists and we decided to release a little twist to our music and throw it all together on a release. 'Bring That Shit Back' pays homage to electronic remixes of the past we've all have done and liked.
AH: As you're on early, what other bands are you hoping to watch while at Donington?
Billy: So many! Unfortunately, we're missing the first day. Corrosion of Conformity, L7, Baby Metal, who I've never seen! Guns n' Roses, Ozzy, Hatebreed, Cradle of Filth, Rise Against, Meshuggah, Body Count, Kreator, Baroness, Dead Cross… you asked!
'Bring That Shit Back' EP by Powerflo is out now on New Damage Records.
Powerflo links: Website | Facebook | Twitter | Instagram | Bandcamp
---
Download Festival 2018 takes place at Donington Park from 8th – 10th June.
Tickets are available here.
View more of Already Heard's Download Festival 2018 coverage here.
Download Festival links: Website | Facebook | Twitter | Instagram | YouTube
---
If you have enjoyed reading this article and would like to help us produce more content and promote more great new music, please consider donating to our Patreon page.