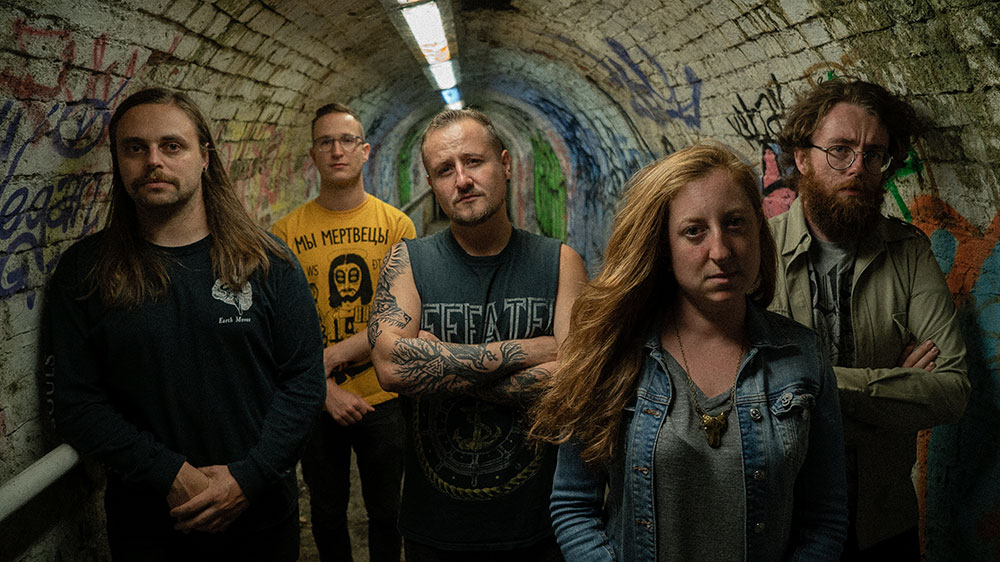 Grief and loss are things that almost everyone has experienced. It is a shared feeling that humanity goes through. But what is unusual about this common feeling is the way the people process. For Mancunian metallers Pijn, their new expansive double LP, 'Loss', is not just about the band telling their story, but the stories of the wider metal community who contributed to the record.
Starting out as a three-piece, Pijn have created a family mentality to their music, bringing in contributors as and where they can to add to the wall of sound they create. This community element has continued over into the new record; the embryonic stages of the album saw the band put out a call to arms for fans to contribute art, voice clips, music or just written notes about losses they have experience in their lives.
"In the music videos and album artwork there is a lot of transcribed stuff that we got sent," drummer Nick Watmough tells Already Heard. "There is a lot of deeply personal stuff that we were sent, but we were very careful to edit out anything that would have been identifiable or just stuff that we thought was just too much.
"There were some things that were just unpleasant, and for Joe (Clayton, guitar/vocals) there were some conversations that, during the mix of the album, had to listen to over and over which was really difficult."
Watmough added: "It was amazing that people wanted to share these messages and stories with us, it was super interesting, and those particular bleak bits are in the record in some form, they are just obliterated by walls of sound, but it is in there so those people know it is in there."
One thing that has been integral to the process which Pijn create music is the idea of collaboration. Even from their first EP, 'Floodlit', the band have looked for interesting ways to create sound, and along the way have evolved and accumulated more members.
When it came to 'Loss', even though there may be fewer players on the record, every member has their moment to shine on the record. Watmough continued: "This was our first conscious effort to map out a record. We knew it was going to be long, loud and drawn out. But that comes from having a lot of people on the album.
"When we first started, we always said we just wanted one guitar so if we wanted a different sonic layer, we knew we would have to find them elsewhere. We didn't want to be pinned down from just guitar and riffs. This is when Claire (Northey) came in on violin, and she was an absolute beast when it came to recording. We drove down to Bristol and a lot of the tracks were done in the first take. We did it in two chunks while her child was sleeping."
The band's upcoming tour with Vennart is the first time the band will hit the road as a full six-piece. But Watmough admits this is a rarity, but they will not be restricted by schedules when it comes to playing music. "We don't want the band to be a chore for anyone," explains Watmough. "For example, Claire is a new mum and she recently got married, so to tour is never going to be a full-time thing, so it is purely down to who is available where and when and we go from there."
Pijn have always been a band that did not want to be restricted by anything when it came to creating their music. So, when Holy Roar backed their idea for the double LP, it gave the band a bit of creative freedom, which led them to crashing a live Facebook feed. For the track 'Distress', the band released a one-hour looped video with the with the single buried within, only for it to be taken down. "Maybe Zuckerberg was trying to help us," laughs Watmough.
The record has been a labour of love for the band, and Watmough said that some of the tracks have been worked on for longer than Pijn has been a performing band.
He added: "Some of the tracks were written before we had actually played live. They may not be in the form that you heard them now, but the idea is there and it is just been reworked, tweaked and come back to with a fresh approach."
With the subject of loss, the messages submitted may have given those contributing a chance to get things off their chest and move on, and an experience which the band has shared in. "It has been a cathartic thing at least for me personally," Watmough said.
"I would be interested to hear if those who reached out to us, later down the line, feel that contributing to us has helped them in any way…"
'Loss' by Pijn is out now on Holy Roar Records.
Pijn links: Website | Facebook | Twitter | Instagram | Bandcamp
Words by Tim Birkbeck (@tim_birkbeck)