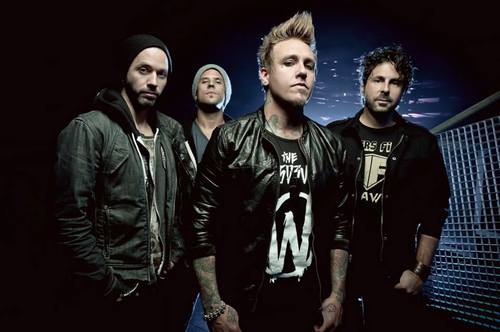 On paper Papa Roach aren't your typical Reading and Leeds Festival band, so it's no surprise their appearance on the main stage last month was their first time playing it since 2001.
Back then they were one of the hottest new names in the "nu-metal" world, but in the years since the quartet have become a mammoth hard rock band with the songs to match. In recent years they've made a smattering of UK appearances, so when they played on the main stage at Leeds Festival, it wasn't something to miss.
Having thoroughly delivered on their return to Leeds Festival earlier in the day, we grabbed a quick word with bassist Tobin Esperance where he discussed the band's return to the festival, taking a different approach at a festival and more importantly, the band's new album.
AH: First of all can I get your name and role in the band?
Tobin: Yo! I'm Tobin and I'm the bass player in Papa Roach.
AH: This is your first time back at Leeds Festival since 2001. How does it feel to be back here?
Tobin: It feels great. We had a really good show and we made a lot of new fans, playing in front of a different kind of audience because we've been doing a lot of different festivals like Download and Sonisphere, the more heavier side. This is what we wanted to do this time and it's really exciting to be back. Finally!
AH: How do you think the set went?
Tobin: I think it went over well. Obviously playing this early is something we're not used to but I think we warmed them up, then halfway through the set they were going crazy. I don't think they're going to forget about us.
AH: You've been playing some European shows recently. How have they been?
Tobin: It's been great. We started a week ago, just doing a quick run. I mean touring Europe and doing the UK is where we have our best shows. We always look forward to coming over. We're actually coming back in October. We're doing a tour with In Flames and While She Sleeps. We're going to be doing Scandinavia, Germany and some other places.
AH: Is that going to include the UK as well?
Tobin: No not in the UK but we will be back because we have a new record coming, beginning of next year in January.
AH: In terms of a festival, do you take a different approach with the set list?
Tobin: We have to condense everything down because when we play our own headline show we play for an hour and a half, so tonight was forty-five minutes and it was the hardest thing trying to figure out what songs to play and not to play. We got out there and smashed it. We were in and out of there very quickly.
AH: Do you think it is a different energy compared to when you play headline shows?
Tobin: Yeah. I think the festivals make you want to bring it and make it even more intense because you want to win over new fans. You know you're playing with a lot of other bands, a lot of your peers, a lot of younger bands, so you have to go out there with something to prove.
AH: Do you thrive off that challenge?
Tobin: Yeah we're the type of band that is totally up for it.
AH: At a festival, do you like playing "the hits"?
Tobin: Yeah. We pretty much looked at the set list and thought "all of these songs are top ten singles" but at the same time we wanted to throw in a couple of special songs that people have never heard us play live, and we did that today. It was fun. We always mix it up, like six songs from our first record then some newer songs and everything in between.
AH: I'm guessing this is the end of 'The Connecton' album cycle. You mentioned there's a new album. How's that going?
Tobin: The record is done. We just finished it up. I'm super excited about it. We're very proud of this record. It's a very heavy record in every way. It is a spirtiual record but it's got a heaviness to it. It's a very promising record. Sonically it sounds fucking huge. It's going to blow people away. I think it's one of the best sounding records we've ever done. We're exciting to come back and play those songs live.
AH: When can we expect to hear more about the record?
Tobin: 'Face Everything And Rise' ('F.E.A.R.') will be out January 20th, so we will be back.
AH: Any final comments you'd like to share with the Already Heard readers?
Tobin: Thanks for the support over the years. We'll be back with this new record, smashing it. So look out for 'Face Everything And Rise'. That record is coming January 20th.
'F.E.A.R.' by Papa Roach is released on January 20th 2015 through Eleven Seven Music.
Papa Roach links: Website|Facebook|Twitter|YouTube
Words by Sean Reid (@SeanReid86)