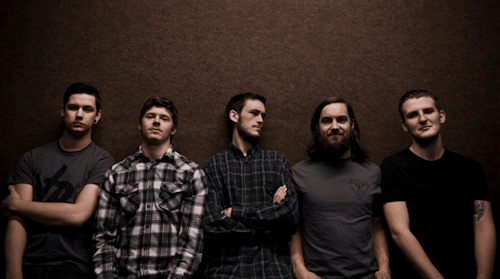 2013 was a hectic year for Woking's Palm Reader. Having released their debut album, 'Bad Weather', last Spring to critical acclaim and then spent the rest of the year relentlessly touring, which included appearances at Download, Reading and Leeds and a whole host of other festivals, as well as shows with Devil Sold His Soul and We Came As Romans.
Now 12 months on, the Hardcore five-piece recently wrapped up work on album number 2 and they're once again set to hit the festival circuit. To kick the summer off, Palm Reader recently played the Hit The Deck Festival, and during the Nottingham date, Already Heard spoke to vocalist Josh Mckeown.
Mckeown discussed the band's forthcoming LP in detail, working with producer Lewis Johns again, the advantage of playing festivals like Hit The Deck, and more.
Already Heard: It's your first time at Hit The Deck. How are you finding it?
Josh Mckeown: Yeah it's been good. Yesterday was pretty cool. I wasn't too keen on walking in between the venues.
AH: Yeah I heard it's more spread out compared to Nottingham.
Josh: Yeah, it's not a bad thing, but it's just a lot easier here.
AH: Did you see any bands yesterday?
Josh: Yeah, there were a few bands on our stage that we stuck around for. They're friends of ours and we really like what they're doing. We saw Dead Harts, Bastions, Baby Godzilla. A couple of us split up, and some of us went to see Kvelertak and Brand New. We spent a lot of time meeting up with old friends, and seeing people we haven't seen for years.
AH: This is the first show of the festival season and you're playing other festivals such as Sonisphere and 2000 Trees.
Josh: We're doing Sonisphere. One called 'Kin Hell Fest in Leeds, Alt-fest, and Festivile in Sheffield. I think we're going to be getting some other little bits and pieces in that as well.
AH: What are your expectations for Sonisphere?
Josh: I've never been myself so I can't really say. I don't know what to expect really.
AH: Have you been to any festivals of that size?
Josh: Well last year we played Download, Reading and Leeds, Greenfield, and Pukkelpop Pop. So I've been to a few big festivals now.
AH: So you know what to expect?
Josh: Yeah, almost.
AH: How was Download?
Josh: It was insane. We were playing the same time as Architects. We were shitting ourselves because anyone who might watch us, will probably watch them. But then it rained so everyone came in the tent and saw us. Brilliant.
AH: Out of all the festivals you're playing, which one are you looking forward to?
Josh: Well at 'Kin Hell Fest we've got Cradle of Filth playing. So for the novelty factor, I'm going to go and watch them. No interest in that band whatsoever because I think it'll be just stupid. There's all sorts. I mean at Sonisphere there's Gallows, Mastodon… I'm not entirely sure what day we're playing yet, so we're waiting to hear about that, so we can find out who we can go and watch.
AH: How do you approach a festival show compared to a normal show?
Josh: They tend to be a lot more relaxed because there's not quite as much focus on one particular line-up like 5 bands. There's so many bands people want to see. It's kind of like a floating audience. You don't have to worry about them being particularly there to see your band, so it takes the tension off a little bit. I'm not saying you perform any differently, it does take the tension off. I enjoy festivals quite a lot.
AH: For a band like Palm Reader, how important are festivals like Hit The Deck?
Josh: It feels like those are the kind of festivals in the UK, are for the people that we play to on a regular basis. It's not by any means an enormous crowd or devoted following. It's a smaller sort of deal.
AH: Is it more important for you to introduce yourself to new fans?
Josh: Yeah exactly. That's the level we want to be at. We want to be able to pretty much stand in front of people, and metaphorically shake their hands and introduce ourselves.
AH: I think festivals like Hit The Deck and Slam Dunk are becoming more widespread, and it's easier for bands like yourselves to introduce fans in those areas.
Josh: Yeah, definitely, because there are a lot of people who can't afford the bigger festivals, or they can't get there. I don't want to focus on the size too much, because I feel like I'm disrespecting the festival.
AH: Of course not. I think because festivals like Hit The Deck are more intimate and more to what you're used to rather then playing Sonisphere where the stages are bigger.
Josh: Yeah, that's fucking scary. Those festivals scare the shit out of me.
AH: Moving on to the new album, which you've recently been recording. How did that go?
Josh: Really bloody good. I'm really happy with it. We finished it 2 or 3 weeks ago. We finished all the vocals and everything. It hasn't been mixed yet, we're in the process of doing that, but it's sounding pretty big. I'm really excited for people to hear it. We're playing a few new songs at Hit The Deck.
AH: How have they gone down so far?
Josh: Obviously because people come down and know what to expect, it's nice to see there reaction to a song they've literally never heard before. People seem to take a step back and go "fucking hell!" So its good.
AH: You worked with Lewis Johns again. How was that?
Josh: Fucking brilliant. We love him to bits. He's perfect for what we want him to do, for the last album and this album. He definitely has the band's best interest at heart.
AH: Yeah we recently ran a feature on him, and he's got a lot of knowledge on bands like yourself. I think that's important when you're working with a producer who knows what you're about as a band.
Josh: Yeah we're on the same wavelength both in the type of music we're playing and the way we're playing it. He's ideal. He's a good lad Lewis.
AH: I asked him about the new album. He said you "stepped up the songwriting".
Josh: Yeah, we took a little more time in writing, recording and releasing it. We're just trying to make sure it's exactly the way we want it to be done.
AH: With it being your second, do you think there is any added pressure compared to the first?
Josh: Not so much in an artistic point of view. It's just the time frame is where the pressure came from. We didn't feel pressured to write anything in particular. We've always done whatever the fuck we want. There's no point in writing songs unless you do what you want to do.
AH: I'm guessing as a band, it's better to take your time rather than rush it?
Josh: Exactly. The last album we didn't have a drummer until 2 weeks before recording it. He had to write, learn and record most of an album in 2 weeks. So this time round, we've been playing with him as our drummer for a year, so as a band when it came to writing songs, not just playing them, you have a bit more intuition with other members.
AH: Did you write it as a collective?
Josh: We lock ourselves in a room, and hit our heads together repeatedly until something musical comes up.
AH: How was the recording process like this time compared to 'Bad Weather'?
Josh: It wasn't that much different. There was little bits we wanted to focus on, like guitar tones, drum sounds or recording vocals for a particular songs. We wanted each song to sound a little bit different, so that wasn't a consistent level.
AH: In a way you wanted to challenge yourselves?
Josh: Yeah, challenge ourselves. It gets boring if you're essentially playing a different version of the same song over and over again. So we've written as many songs that are loosely bound together, in the fact that we play them. It's difficult to say. We've basically tried to write an album that is varied, but also as a collective, sounds the same. I'm pretty confident we've done that.
AH: How would you compare it to the first album?
Josh: I don't know. It's difficult to say. The first album was a swift kick in the bollocks to say "we're here, we're Palm Reader. This is what we do." This one feels like we're standing up a little bit and going, "This is what we're really about."
AH: In a way, Chapter 2?
Josh: Yeah, Chapter 2, quite literally. It's the second set of recordings of a period of time later than the first album.
AH: You're not the "new band" now, more people know who you are.
Josh: Yeah, and if they don't, then this gives them more of an idea of what we do. It's a progression.
AH: Is there a release date you're aiming for?
Josh: I think we're looking for later in the year, around October or something like that. There's a lot up in the air; artwork, album title, track names. So the finer details are quite cemented.
AH: So you've got the festival season to get people to know the new songs and get the band out there?
Josh: Like I said, we've got the festivals I mentioned earlier, but I think we're going to be getting a couple of more tours in before the album is out. If not, we'll definitely be playing quite a lot of shows once it is out.
AH: Is the album going to be out on Small Town again?
Josh: Yes. We love Pete. Lovely guy.
AH: They seem to be a label that has a good knowledge of up and coming UK bands.
Josh: Yeah, they're not scared of releasing a band that they honestly care about. There's varied styles, like bands you wouldn't necessary put together with us, but we don't care. We don't consider ourselves better or anything. We love them because they're fucking awesome, not because they're a "cool" label. We're a band of nice guys that like to deal with nice people; management, booking, labels, any of the industry shit. If you can't make friends with them, then they shouldn't be on your side.
AH: Anything else you want to add to finish?
Josh: I don't know. Just listen to Palm Reader, just a little bit if you fancy it. It's pretty good fun. I like it haha.
Palm Reader links: Facebook|Twitter|Tumblr
Words by Sean Reid (@SeanReid86)