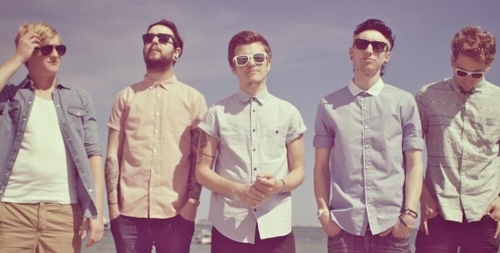 With their latest EP, 'Stand For Something' set to be released in the coming weeks we caught up with New Forest band Natives at the recent Hit The Deck Festival. It's the start of a busy period for the quintet, in addition to the EP release, the band have just completed a tour with Mallory Knox and are currently out on the road with The Summer Set before playing numerous UK festivals ending with the release of their much anticipated album later this year.
The band discussed working with longtime collaborator Duncan Howsley, the importance of being surrounded by people who care about the band, the new EP and album, the UK rock scene, the transition from being Not Advised to becoming Natives and much more.
Already Heard: How have you found the festival so far?
Andy White: Really good so far.
Jack Fairbrother: We've never played in Nottingham or Bristol as Natives, so we expected to play to no one particularly yesterday when we were playing this boat which was awesome but it was on the other side of the city to the other venues. We were expecting to walk out and no one to be there but there was loads of people there, and they loved it. We were expecting the same again today but by the end of the site the Rescue Room was pretty full.
AH: I heard the venues in Bristol were 10-20 minutes apart.
Jim Thomas: The one we were at was a good 15 minute walk away from the main venue.
Jack: It made it better that people seemed to know who we were and made the effort to come and see us, especially when there were plenty of other established bands playing.
AH: What bands have you watched yourself?
Jack: We saw Canterbury who were amazing.
Andy: Don Broco and a little bit of We Are The In Crowd. They were all good man. We're trying to see a lot more today as we played a lot earlier.
Jack: We're going to try and watch We Are The Ocean and hopefully Pure Love later.
AH: Your new EP 'Stand For Something' is coming out soon. What can you tell us about that?
Jack: It's four tracks that are completely exclusive to the EP and won't be on the album that is coming out afterwards. The single, 'Stand For Something', was recorded and produced with Jim Lowe at Kelly Jones' (Stereophonics vocalist) house which was nuts! I don't know how that happened.
AH: I saw the video for the single. Was that made with Duncan Howsley?
Jack: Yeah he pretty much should be in this band. Since we've started he's been our "sixth member". He does all of our photos.
Andy: Everything you see, is him.
Jack: He's really good at translating our ideas.
AH: He designed our website.
Jack: He's good. He knows his stuff.
Andy: Yeah he's a great guy. We try and get involved in the creative process as much as we can but none of us can work a camera at all, so its good to have a close friend who is really good at it and we can then channel our ideas.
Jack: Its the same in the studio, we really get involved with the production side but we really don't have an understanding, so by working with Jim, John (Feldmann) and Brandon (Paddock) who have produced for us, they're like Duncan,  you give them an idea we want and they get it.
Andy: Duncan's on our wavelength. We all get each other.
Jim: it's definitely the people we try and surround ourselves with – like minded people.
AH: Is it important to get the right people round you?
Jack: Yeah but you've got to be selective about it as well. Duncan is our artist, we trust him and is a good friend same as the producers but also bands always go in cycles especially with hype and stuff. I think it's really important that the people who work for you are in it for the long haul and love your band like you do, and don't just think "this could do well" otherwise it's not caring enough. Like our agent, Ed has been with us since day one and has worked so hard for us and has been a good friend. We get tours because of it because he cares about the band and same goes for our PR guy Mark (James) – he loves the band. He's not just about making a quick buck because there's no money in this band (laughs) and same goes for our management. It's important to surround yourself with people who care.
AH: Going back to the video. How did the concept with people holding up cards come about?
Jack: Its about how to make an interesting music video with no money. We thought let's make something from nothing, so we had this idea which would be cool and the signs just came about. Originally it was just going to be one day in London but that didn't work out.
Andy: We wanted to make it really interactive. All of our ideas always start big; we want to do this, this and this but when it comes to it Duncan brings it back down and makes it realistic.
Jack: It was good because it coincided with a tour, so we got to shoot with the fans all over the country and in different cities which was really nice as you want to involve everyone. Some people thought it was staged but we never told anyone what to write on those cards and no one saw it before, Duncan went up to a person and simply asked "what do you want? Write whatever you want on this card" and it came out with this quite powerful video promoting a lot of emotion and that's just real people writing real things. That isn't our doing, that's just us having good fans.
Andy: We were really happy with how it came out.
AH: It makes it more genuine?
Jack: It's completely genuine and it gives a good balance of lots of things.
Andy: It's more interesting then watching us just play instruments.
Jack: It makes the song more powerful. If you listen to the song whilst watching the video, it brings the song to life really well.
Andy: The medium worked really well.
Jack: Yeah we nailed it man! Go us!
AH: So with the EP coming out in June, I hear there is an album to follow?
Jack: September is the plan. It's all recorded. It's been a long journey but it's done.
AH:You recorded it with John Feldmann right?
Jack: It was with lots of people. It started in New Forest practise room then we went to California with John and went to Tommy Lee's house to record drums, then we came back went to Kelly Jones' house and did some stuff there. We then rented out a studio in the New Forest and then Brandon who had worked with us in California flew over and we finished tracking with him last month. So that's being mixed at the moment, so yeah it's all done.
AH: I remember you recorded with John when you were still Not Advised. What has changed from being that band to being Natives?
Jack: It was really difficult to get our heads on it at first but I think we've got it now. We certainly not going to pretend Not Advised never existed, I hate it when bands do that it's really lame, and it's clearly the same five people making music but we kind of did start a new band. We stopped at a point, for various reasons and started something new.
Andy: It lifted the lid off.
Jack: It was kind of a trail run and we learnt loads from that doing that band but we just weren't happy, so we started completely afresh as Natives.
AH: Is there more freedom?
Jack: Yeah.
Andy: No expectations. You can do what you want.
Jack: We got to a point where Not Advised was never going to get to anywhere. It was turning into something we didn't want it to be, and with Natives it's been great to start afresh and work with some awesome people and do what we want to do. We're a lot happier for it.
AH: Has it been difficult for fans to understand the move away from Not Advised?
Jack: Obviously at first there were people at first who knew us from Not Advised but we've been very lucky with the tours we've had, and it's now at the point where there's certainly more people know us as Natives because they've seen us. We also have an amazing fan base who are very accepting. We've not had many people who have said "I love Not Advised but you guys suck now." I feel like Natives is everything Not Advised wasn't to be and I can't really see how they can like Not Advised and now think this sucks.
Andy: I'm sure there is people…
Jack: Yeah and they're welcome to it but overall it's been pretty easy.
Andy: It's been a good transition.
AH:You're just heading out on tour with Mallory Knox. Are you looking forward to it?
Andy: Yeah it's going to be a good tour, like five of shows are sold out.
Jack: Yeah its sold really well and we were saying before we're playing new places which is our favourite thing to do and we worked it out since last July, we've only been on tour with American bands and that's great but its good to be on tour with some UK bands.
AH: Obviously Mallory Knox seem to be getting bigger by the minute which is a good thing.
Jack: Hopefully it's a new audience for us.
Andy: Flying the flag for UK rock!
Jack: yeah it's nice to do that.
AH: When you talk about UK rock, you see more bands getting Radio 1 airplay etc. Is it opening the door for more up and coming bands like yourselves?
Jack: Yeah I think so. There was this big press thing "UK rock is dead" but that's been a good thing because suddenly everyone went "no it isn't" and all these bands come out. I think there's always going to be cycles of things being cool and not cool. If you're a good band then you can get on the radio, we're lucky like Radio one are so supportive of a lot of these bands like our friends in We Are The Ocean, they're getting A-Listed on Radio One, and Twin Atlantic, they're great bands but its good to know that the support is there when you need it.
Andy: We're still tied to the old school way just by going out on tour and the whole getting radio and press is good but we try and see that as a bonus. If we can just write the best songs and we can get round the country playing it, meeting people face to face and build those foundations.
Jack: Meeting someone at a gig who doesn't know your bands and turning them into a fan is much more valuable then a 100 people following you on Twitter or liking you on Facebook.
AH: Do you have any other UK festival plans?
Jack: We're doing Burnout, Takedown and a few more regional ones. We didn't think we would do any as the album is released after the summer, obviously you tour the release after, so for all these festival bookers to ask us to play, we're up for it so they keep asking us.
AH: Going back to the whole UK rock scene thing, there's plenty of similar festivals like Hit The Deck about.
Jack: Yeah there is. We keep getting offered them and we're thinking "where do these come from?" and its great.
Andy: Yeah every city should have one.
Jack: We thought next year when we planned for festivals but we're getting all these offers. Its great.
AH: Any final words to close this interview?
Jack: We've been saying this a lot but thanks to any of our fans reading this. Thanks for so patient with us, we're not easiest band to be a fan of with all the things we go through. We take awhile to get stuff out and there's not much music out there yet all these people come see us and say hello and help us a lot, so we appreciate that, so cheers.
'Stand For Something' EP by Natives is released on 27th May.
Natives links: Facebook|Twitter
Words by Sean Reid.