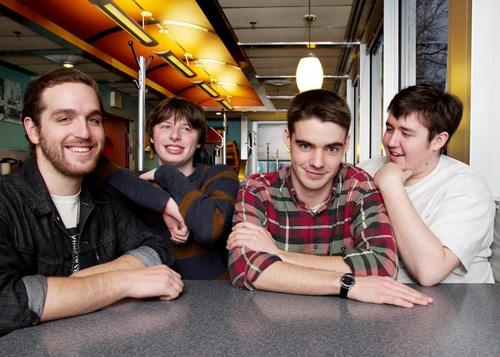 Modern Baseball are on the verge of big things. They've got a brilliant new record out on Run For Cover and tours with The Wonder Years in the US and Real Friends in the UK booked up and ready to go. Being young, emotional, and from Pennsylvania might seem to be the ultimate recipe for success at the moment but of course there's more to it than that. There's hard work, absolute dedication, and the ability to pen emotionally all-encapsulating records that need to be checked off too. It's hard to claim when listening to either of Modern Baseball's self-recorded full lengths that they're lacking any of the necessaries.
We gave their latest offering, 'You're Gonna Miss It All' a full five marks last month. They made our ones to watch list two years running – not an error, they really can only keep going up in 2014. This is the year they make it to Europe. Touring in May with Real Friends and You Blew It! on what is surely going to be one of the Summer's best tours. Having exhausted our Google-searched synonyms for best, love, majestic, and yes-please-more-right-now it seemed that all we could do was ask Modern Baseball themselves what they thought about things right now.
So, if you want to know what it's like writing a hotly anticipated sophomore record for one of the scene's most consistent labels; what UK bands Modern Baseball are digging right now; or who they'd team up with RHCP/Bruno Mars style to blow your mind, read on.
Already Heard: Hello, Modern Baseball. How's it going?
Modern Baseball: Suppy, Dawg!
AH: You've entered the Billboard 200 at number 84, number one for vinyl; did you ever think you'd be such legitimate pop stars?
MB: Nope! We are just stoked that everyone likes the new record so much!
AH: How did the writing process differ from 'Sports' to 'You're Gonna Miss It All'? Did you feel the pressure of being on such a consistently solid label as Run For Cover or did you take confidence knowing that they were ready to put out your next record?
MB: With 'Sports', Jake (the other songwriter) and I had around 25 songs, demoed acoustic, and then after cutting 25 songs down to 12 songs we went into the studio, and almost made everything up as we went along. With 'YGMIA' we had 15 songs that we had written acoustic, then we demoed full band then went into the studio with a plan to make sure we could utilize our time to the fullest; something we had trouble with when recording 'Sports'.  Also with 'YGMIA' we had the objective of making a second full length, while with 'Sport's we had a ton of songs that we wanted to be an album ~ I hope that makes sense haha. As far as RFC, we felt no pressure because they were such welcoming people, though that just made us want to make an even stronger record.
AH: It feels as though some of the songs on this record come from very personal places. Do you find it easy to go deep or does it take a big effort?
MB: That has always been our style, so it wasn't hard to dig deep. It is a little different now that more people are listening to us and because of that when first meeting us bring up intimate details about our lives but it's cool haha.
AH: Do you ever worry that people you've written songs about (the asshole with the iPhone for example) will realize you've written about them and get pissed? 
MB: They have! 
AH: How long did 'You're Gonna Miss It All' take to write? It's been a pretty quick turn around between albums and it seems like you had a busy 2013. Did you have to write solidly in breaks or did it piece itself together bit by bit?
MB:
We started writing 'YGMIA' right after recording 'Sports' and then casually wrote the record until we were about to go into the studio. Jake and I have always had a pretty laid back writing style, which has been prefect with our super busy schedules recently. Never wanna push it, ya feels?
AH: You recorded 'Sports' yourselves and it turned out great. The first press of that album was 300 records and you've said before that you didn't really expect to sell all of those. You recorded 'You're Gonna Miss It All' yourselves, too. With a first press more than ten times that of 'Sports' and presumably with little doubt that you'd move them all. Were there any extra nerves in the studio this time around? 
MB:
For sure! This time we had a lot of help from our boy Pat Loundas who plays bass in this awesome band called The Hundred Acre Woods. He helped engineer the drums, which was a huge focus while we were recording. Jake and Ian also had improved so much as students that this time around was much easier and way more fun than stressful. Luckily any mistakes we may have made in the studio were covered up by the magician Jon Low who mixed 'YGMIA'. Dude received a Grammy nomination for The National record…that's wild!
AH: You're two albums in and both have referenced baseball at some point ('Play Ball!' / 'Two Good Things'). That's basically a tradition. But were they both deliberate and are you already working on the smoothest way to reference the game for album number three?  
MB:
Haha we definitely meant to have the baseball references; though we have no ideas yet for our next release ~ any ideas? 
AH: Did you use any weird instruments (like that stand up bass, totally weird) on any songs that will mean we won't be treated to them live?
MB: This time around we can play almost any song on 'YGMIA' and though songs like 'Pothole' won't sound exactly the same to the recorded version, stripped down stuff is always real cool.
AH: In May you'll be in the UK for the first time. What, other than the shows, are you most looking forward to about the tour? Have any of you been over before? 
MB: I've actually never left the U.S. before so I am just really excited to travel in general, just to get out and see other parts of the world is going to be incredible.
AH: According to Google it's 3,534 miles from Philadelphia to your first UK show in Kingston. Have you ever travelled farther than that to the first stop of a tour? Reckon it'll be worth it?
MB:
I know Ian has travelled that far for food before and he said it wasn't all that bad, so I'm guessing it'll be worth it, haha.
AH: Are there any UK bands you're particularly into at the moment? 
MB:
Love Nai Harvest and Moose Blood. After their split with Moose blood and having our roommate Emily showing me some songs, I checked out Departures a have been listening to them a lot too. Then the always wonderful Los Campesinos!, who Jake and I loveee. Also…. BASEMENT REUNION WHATS UP!!!!
AH: That concludes my obligatory album / tour questions. On to more pressing matters: The Red Hot Chili Peppers were involved in this year's Super Bowl half-time show, quite openly not actually playing their instruments. Say the Commissioner of Baseball decided that the World Series could use a similar event and, taking a liking to the name, wanted you to play – with mimed instruments mandatory – would you do it? 
MB:
Of course! I read that little journal entry type thing that Flea wrote regarding all of controversy and he basically said "yo it's the Super Bowl, we knew what was going down, they record everything but vocals prior to the real halftime show, who cares" I think that pretty much sums up how I feel about it. Bruno Mars can dance though, for real.
AH: If you could team up with any current pop star to put on that one mega show, who would it be? 
MB: Miley Cyrus. I love that girl. 
AH: And finally: If you could either be the world's greatest musician but have crippling stage fright, the world's greatest baseball player but never be able to win a World Series, or have the ability to fly but you're frequently put on trial for witchcraft, what would you choose?
MB: Haha damn! What a great question. I would choose flying, because I mean if things ever got weird during a trail i'd just fly out of there. Bail in style, ya know? 
'You're Gonna Miss It All' by Modern Baseball is out now on Run For Cover Records.
Modern Baseball links: Facebook|Twitter|Tumblr
Words by Thomas Knott (@thislifeishuge)