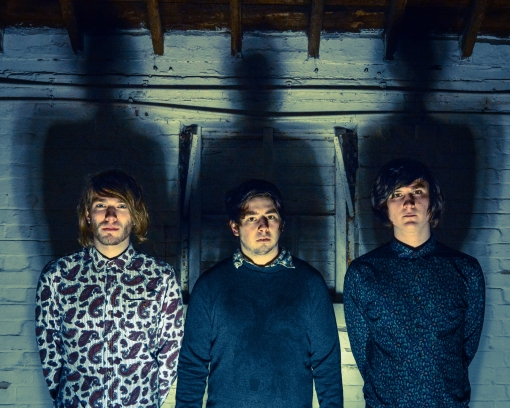 Eastbourne's Let's Talk Daggers are ready to open their doors even further to a flood of music fans. Armed with a new mini-album 'Fantastic Contraption,'released next week via Tangled Talk Records, this trio shows no limits to their brand of noisy chaotic punk.
We caught up with drummer Steven Berry and bassist/second vocalist Jim Francis to talk about their new release, work on their upcoming debut album, and their thoughts on the British music scene.
Hello, who am I speaking with and can you please tell us your roles in the band?
Let's Talk Daggers: Hello! Steven (Drums) and Jamie (Bass/2nd Vocal) here.
For those who are unfamiliar, can you give some background info on the band from the very start?
LTD: We became friends at school and played in other bands without really taking it too seriously. We used to be a 5-piece playing different music and eventually heading toward the direction we're at now. Other members lost interest and we tragically lost our front-man David in 2008. It was a very difficult time for us but after a long period of confusion and being undecided about the future, we felt that we should carry on doing what we love but that we'd never replace David. We've been a 3-piece ever since.
Your newest mini album 'Fantastic Contraption' is about to be unfurled on the 25th March. How have the reactions been to this record so far?
LTD: The album has been very well received so far. We've had some glowing early reviews, air play, and exclusive features with Rock Sound and Front Magazine. I'm not sure people get what we're all about straight away.
It certainly was a record that blew us away at Already Heard with its unpredictability. Interesting hard hitting time signatures and bite form the core, whilst something fresh creeps in on each song, whether it's the xylophone on 'The Bear of Bear News' or the use of horns on 'Have a Gabble'. Would you agree that "playing it safe" musically isn't an option as far as your band is concerned?
LTD: We've never intentionally written anything that sounds particularly unusual. It's only ever been what we think might add an interesting dynamic to a song. We've never wanted or tried to appeal to either a niche market or particular audience which means we can write without letting our ideas hold us back.
Would you agree that the sound and energy of the band was captured perfectly by the production efforts of Martin Ruffin from The James Cleaver Quintet?
LTD: Most definitely. Martin is amazing to work with. His patience, ideas and passion really helped shape the outcome of the album. We've achieved a truly organic sound which we're all so proud of. It kind of felt like Martin was a part of our band and that we could all share our ideas comfortably because we don't really take anything seriously and you'll know that when you read the lyrics from our album.
In regards to the ambition, quality and drive displayed on this record, has the bar been raised on the output of your debut full length?
LTD: It has but we're very confident in what we're coming up with. We're already half way through writing for the full-length and we've managed to keep the pace. We always want to make everything the best thing we've ever done.
When do you expect this first album to be released?
LTD: We're not aiming for a particular date just yet but we will be recording demos within the next couple of months. We might be looking at mid 2014.
How has the reaction of this material been so far in the live setting?
LTD: Initial reactions are outright praise. Usually people tell us that they don't know what to make of it and compare us to bands that we don't necessarily listen to but it's mostly well received.
As a band, you are part of a minority that manage to mould a balance between passion and innovative creativity without boundaries. Contrasting this with a music scene where the majority "play it safe," would you say that such a formula is needed more than ever in such dire surroundings?
LTD: It's always refreshing to play with a band that stand out. We play with a lot of hardcore and metalcore bands so it's nice to see other bands just doing what they want and escaping what is perceived as forward thinking and new.
Labels such as Holy Roar and your label Tangled Talk certainly have boasted a roster of interesting bands and releases in the British music scene. Would you regard these as vital stepping stones in pushing out mediocrity in the musical landscape?
LTD: Yeah. It's amazing to have independent labels that are able to give these bands a chance to get out there. The scene is slowly building it's way up and bands are getting more and more exposure this way. We're more than happy to be where we are, doing what we're doing. It's a pleasure to be a part of the Tangled Talk family.
Is there anything else that you would like to add?
LTD: How does Moses make a cup of tea? Hebrews it.
'Fantastic Contraption'  by Let's Talk Daggers is out on the 25th March on Tangled Talk Records.
Let's Talk Daggers links: Facebook|Twitter
Words by Aaron Lohan.