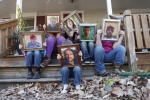 Based out of Lawrence, Kansas, Lasorda are a new "supergroup" consisting of Matt Pryor (The Get Up Kids, The New Amsterdams), Nate Harold (fun., Koufax), Dustin Kinsey (The New Amsterdams), Mike Strandberg (Kevin Devine and the Goddamn Band, Brian Bonz and the Major Crimes), Josh Adams (Ghosty) with Suzannah Johannes coming in on vocals.
However unlike the members previous indie rock-based projects, Lasorda is a synth-driven group spearheaded by the songwriting talents of Pryor and influenced by the likes of Kraftwerk and Depeche Mode. Even though the record was written and recorded a year ago, 'Lasorda' will finally see the light of day on December 11th.
We recently grabbed a few words with bassist Nate Harold to discuss Lasorda's formation, how the projects fits around other commitments, the departure in sound compared to previous bands and more.
Already Heard: Hi Nate. How are you?
Nate Harold: I am great, alive and well in Norfolk, VA.
AH: Lasorda is a new band consisting of people from a variety of bands. How did you all get together?
NH: We all have roots in Lawrence, KS (except Mike) and have admired each others work. I've toured with Matt, recorded with Josh and Dustin and the rest of it just kind of fell together.
AH: Compared to your previous projects, Lasorda's sound is different. What is Lasorda's sound influenced by?
NH: For the most part it feels to me like a summation of influences we may not get to express in our day jobs. Bands like Kraftwerk and Can and Duran Duran or Depeche Mode are influences that we may (or may not) share and this seemed to be a suitable outlet for that.
AH: You're releasing your self titled album next month on Clifton Motel. How did the record come together? Was it difficult due to other commitments you all have outside of Lasorda?
NH: I am fairly confident that we've not all been in the same room at the same time. Matt kind of spearheaded the idea and before we knew it, we were in the studio fleshing out the instrumentals. After some time with those tracks, Matt somehow came up with lyrics and melodies over these crazy songs and we decided that we wanted our friend Suzie to sing on it, on top of Matt's vocals. It ended up sounding so perfect that we used that approach for most every song. The record was surprisingly easy to make given our potentially volatile schedules and was written and recorded in the span of just a few weeks.
AH: In terms of the songwriting, how was that approached? Was it a collective effort or just one member?
NH: Matt wrote lyrics and melodies over instrumentals that were mostly led by Dustin. Everyone certainly contributed a great deal but the two aspects of songwriting fell largely on those two.
AH: A handful of songs have already appeared online. What is the feedback been like so far?
NH: I've noticed very little feedback. A lot of time passed between the recording of the songs and the release so I think we'll have a better grasp on that, once the record is out.
AH: Do you think due to members being previously involved in acclaimed bands adds expectation to Lasorda?
NH: If it does, it's misguided. I don't think fans of any of the bands we've been involved with would instantly recognize these songs as a product of us.
AH: Two songs on the album, 'The Age of Wonder' and 'Interlaid' appeared online last year. Have these tracks changed at all on the album?
NH: To be honest, I'm not sure but I doubt it. They have certainly been mastered and will obviously sound better on wax.
AH: The album is being released on Clifton Motel. How did you join up with the New York-based label?
NH: That came as a surprise to me. I've toured with a few bands on their roster but was unfamiliar with the label. Over a year had passed since the songs were recorded, and I suppose I had given up on the record being commercially released when we got an email from Matt saying he had been contacted by them.
AH: Can we expect to see the band in a live capacity anytime soon?
NH: I think we would all love for that to happen but right now our schedules are far too chaotic and opposing. I would be happy with just a single show but we're all very busy and are all just thrilled that other people get to hear something we worked so hard on.
AH: Any final words to close the interview?
NH: Listen to Coast to Coast AM as much as you can.
'Lasorda' by Lasorda is released on 11th December on Clifton Motel.
Lasorda links: Facebook|Soundcloud
Words by Sean Reid