"I'm the funniest guy in the world, it doesn't mean that I can't have feelings"
"In order to help other musicians, we all have to be vocal about it. That's why I don't mind talking about it," states Bowling For Soup frontman Jaret Reddick, as he opens up to Already Heard about both about his own mental health issues, and a wider issue which has rocked the music world over the last year or so. "Sure it's the funny guy talking about these heavy things, but just because I'm the funniest guy in the world, and I know that we all agree on that, it doesn't mean that I can't have feelings," he quips. His trademark tongue in cheek humour lightening the mood a little, but not detracting from the passion of his words one iota. In one observation Reddick may have got straight to the heart of just why depression, and in its most extreme cases, suicide, have been such an overlooked problem in rock music for so long.
By their very nature rock star's are expected to be larger than life, successful people who take excess in their stride. A view not lost on Reddick, and one which made the response to Chester Bennington's suicide, in some quarters, especially hard to listen to. "I just thought this is a fucking epidemic, this is a really big problem. You can be that asshole that says well he has all the money in the world and his band is famous. But that doesn't matter.
"That's like saying that every doctor that has money is perfectly happy, doctor's kill themselves all the time. Or every lawyer that has money. It's not fair to hold somebody to a different standard just because they're famous. In fact, you almost have to be more sympathetic because often they can't share those feelings, instead they go out on a bender and if they get arrested everyone is going to know about it. Or like with me, if they gain 80 pounds everyone is going to be talking about that. You don't know what might be going on in that guy's life," he explains.
Although he may now be comfortable with discussing his issues openly, this wasn't always the case. Something which in the past his relative fame and life on the road made him increasingly aware of. "I sank into a hole for several years and some people knew and some people didn't," he recalls. "And the thing about it is you get into this pattern. If I walk into a store and I'm buying something for example, I can just be in my own head. But if a fan walks up to me and says 'hey man,' I'm instantly Jarret from Bowling for Soup. I'm never going to disappoint anybody. Out I come 'Hey man, how's it going? Let's take a picture.'"
At this point Reddick is keen to stress that this wasn't simply a case of putting on a front. "It's not fake, it's just me. It's a separate thing. When you do that, it's easy to feel lonely even when people are in the room. It's so easy when you're surrounded by people that love you to feel like you're by yourself. I think a lot of the time when someone is in the public eye a lot, that happens. It's because people around you alienate you without knowing because your job is all that they want to talk about," Reddick says in a manner which suggests he has come to terms with these feelings himself, but will be heart-breaking to learn for his fans.
The loss of Chester Bennington devastated music fans and musicians around the world alike, but Reddick suggests that one thing we can learn as fans and critics is the manner in which we react to artist's creative output. "It hit me really hard the Chester thing and it upset me a lot. It upset me a lot because he had started doing some different things musically. The pop song that they had done with whomever it was (Kiiara), I think a lot of their fans were pretty mean to him about it. Not that I think that lead to anything, but these things can mount up," he muses.
Difficult though such loses can be for fans, the impact for those within the industry can be even harder. Particularly when they are peers, or in many cases mutual acquaintances or friends. "Chris Cornell is one where I get chills just talking about it. It really hit me out of left field. We had a lot of the same friends, I know people that have played in his band and worked for him and all of that. I never met the man but I'm sure he was very nice. So that one hit home, and when it happened I put it out there 'gosh if you're having those feelings you need to talk to someone.'"
But it was the loss of Chester, a musician whose band had risen to prominence and success at a similar time to Reddick and his own, that hit home the most. "I found out when I was walking into a play called Finding Neverland and I got a text. I went into a full panic attack and my wife sat out with me. She said let's just sit out here for a second while you figure things out. I had met him a few times and I peed next to him one time," Jaret remembers fondly.
It was another of the rock world's biggest names that brought some unexpected positivity and solace. "It's funny, I read a piece that Corey Taylor did on depression recently," Reddick says. "I sent him a text message saying I'm not sure if you read about my shit, but this is awesome and we've got to get this stuff done. He said 'no I didn't hear about your stuff, but are you ok right now and do you need me to call you?' That's fucking Corey Taylor from Slipknot. So, I think that those of us that are dealing with it, putting it out there, is getting past the haters saying but you've got everything."
For Reddick, Taylor's gesture really added a sense of perspective. "When you find out Corey Taylor has depression, it's like 'Jesus Christ that guy is in like four bands that are huge and he played in front of 300,000 people in Mexico. That guy has everything." But no, that's not the way that it works," he adds.
For all of the stories with unhappy endings, Jaret's has become one with a hopeful message. It is possible to facedown the black dog of depression and send it scampering with its tail between its legs. And he is hoping to use his experiences to help provide hope and inspiration to others. "I've been through a lot. I've put it out there about my battles with depression and anxiety and going through a divorce. Through all that I ended up on meds and gained some weight. It's nice to be able to come out of the other side of that and be in a situation where I'm really happy now in my life. I'm getting my shit together and I'm on the right medications" he states, radiating positivity.
"It's nice to be able to come out of the other side of that and be in a situation where I'm really happy now in my life"
Bowling For Soup's previous decision to initially stop touring internationally a few years ago, could be seen as the first outward sign of things needing to change for the band. But now as a rejuvenated Reddick continues to reflect, he see's it more as the members of BFS learning to balance their lives at home and on the road, as well as taking stock of what's important. "The thing that has changed is kids come into the picture and you start to get older and life happens. You have to tap the brakes a little bit, you have to start thinking about what's important at home. We're gone far less than we used to be. That was the whole point of the farewell tour. It wasn't goodbye, it was us needing to slow down. We were going to spontaneously combust like every other band that burns out," he admits.
Adding "The last thing that I wanted to have happen to Bowling for Soup after 20 years was for us to be another burnt out band that went off into the sunset. Fuck that, I want to make it 25 years. I love that I used to say that it wasn't like I was going to be telling fart jokes at 40 and now I'm 45 and I'm still telling fart jokes for a living. I love it. It's amazing, how can you beat that? I wasn't going to let it blow up."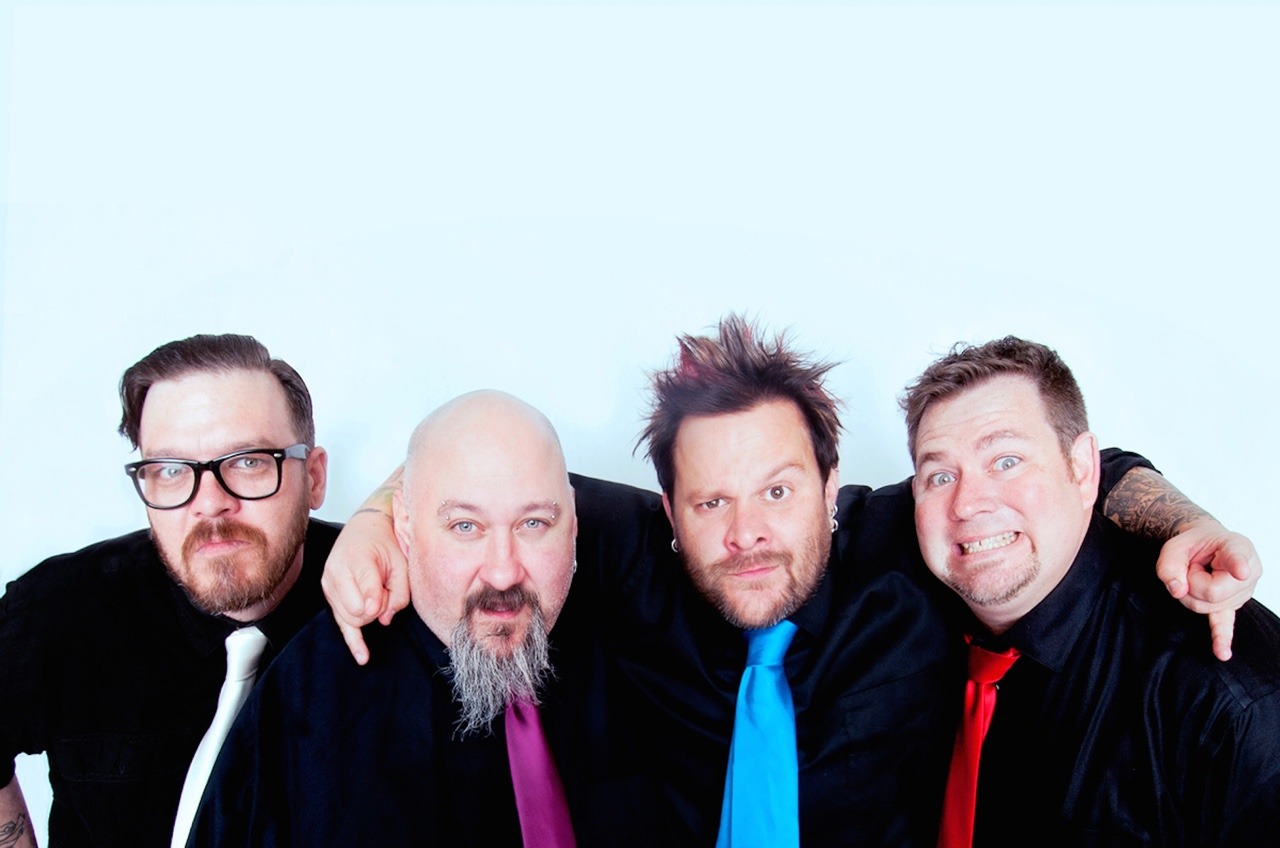 There may still be fart jokes and beers aplenty when Bowling For Soup return to the UK this week, but it's a band who's members have a distinctly more adult outlook on life and touring. "That farewell tour happened and we took two years and just got our shit together. It was awesome," Reddick recounts.
"Now when we show up for shows it's like day one every single time, you wouldn't believe the vibe. Not that our vibe was ever fighting or anything like that, it was just heavy because of life at home. We were still trying to tour like we were 25. That's really what changes with our approach to what it is that we're doing. We have to maintain that [their life at home] and this happens between that. This isn't driving everything, everything else is driving this," he continues.
That's not to suggest that Jaret would necessarily change anything about his life up to this point, for all his trials and tribulations, he is a man who has come out the other side as someone visibly happy and content with his lot. "You can't have any regrets. Because with every single mistake that I have made and every decision that I have taken, that brought me here talking to you, that brought me to my wife at home who loves me and is coming out on the road in a few days," he says smiling.
"I have three wonderful kids, three amazing dogs, a nice house and cool neighbours. I have a golf cart. I have a recording studio in my house and I'm Chucky Cheese! I know a lot of people don't know what that is, but you do if you're American! The one thing I would say is I wish I had enjoyed some of the stuff a bit more and not stressed as much. I would say don't stress the small shit because it will all be worth it. But there are going to be some speedbumps!"
And he is also taking immense pride in the fact that, by speaking out about his own struggles, he is helping others across the world come to terms with their own mental health. "I pay attention to all of the posts that say 'I read what you wrote and I called my doctor immediately and I've got an appointment on Monday.' That fucking feels good," he grins. Proving that The Get Happy Tour is far from just a catchy tour title, for Jaret Reddick it's becoming a way of life, and one that he's on a mission to spread.
'The Get Happy' UK tour 2018 with Bowling For Soup, Army of Freshmen and The Aquabats! kicks off today in Glasgow and finishes at London's O2 Brixton Academy on February 17th.
February
9th O2 Academy, Glasgow
10th O2 Academy, Newcastle (sold out)
11th O2 Academy, Sheffield
12th Rock City, Nottingham (sold out)
13th O2 Academy, Birmingham
14th UEA LCR, Norwich (sold out)
15th O2 Apollo, Manchester
16th Motorpoint Arena, Cardiff
17th O2 Brixton Academy, London
Bowling For Soup links: Website|Facebook|Twitter|Instagram|YouTube
Words by Dane Wright (@MrDaneWright). Photo Credit Will Bolton.
---
There are a variety of services that provide advice and support to those with mental health issues. It is important we remove the stigma of mental health and be open and honest. The following services are available:
Samaritans:
Website
Call: 116 123 (Open 24 hours a day, 365 days a year)
E-Mail: [email protected]
CALM:
Call: 0800 58 58 58 (Open 5pm – midnight, 365 days a year)
Website|Facebook|Twitter
MIND:
Website|Facebook|Twitter
Rethink Mental Illness:
Call: 0300 5000 927 (Mon-Fri, 9.30am-4pm)
Website
SANE:
Call: 0300 304 7000 (daily, 4.30-10.30pm)
Website|Facebook|Twitter
If you are in the US, contact the National Suicide Prevention Lifeline on 1-800-273-8255.